Coronavirus
What you need to know about getting tested for COVID-19 in New York
How to get a test, who qualifies, and the state's testing capacity.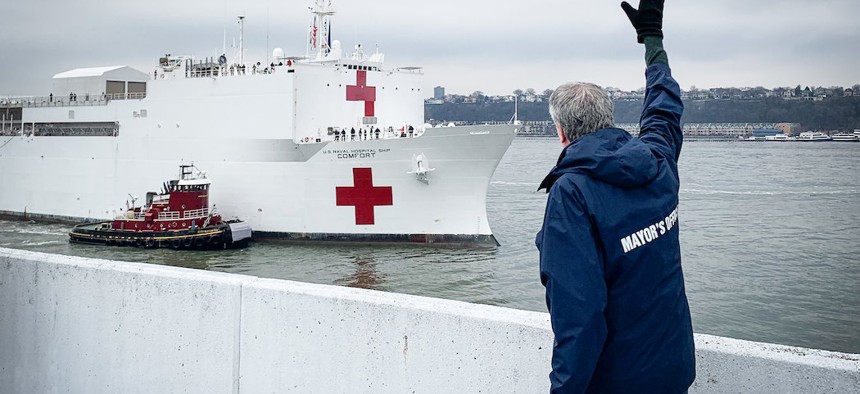 New York has tested more people for COVID-19 than any other state in the country. And on March 21, Gov. Andrew Cuomo announced that New York is now conducting more tests per capita than China and South Korea. 
While the state's testing capabilities have ramped up, many New Yorkers still have a lot of questions when it comes to getting tested for the highly contagious new coronavirus. We've compiled answers to some of the most frequently asked questions about COVID-19 testing, such as how you can access a test, how long it takes to get test results back and what the state's testing capacity is.
How can I get tested for COVID-19?
Getting tested for COVID-19 has never been easy. At the beginning of March, a combination of factors such as displaying symptoms of the virus, having been in contact with someone COVID-19 positive, having recently travelled to an infected country or being particularly vulnerable met the Center for Disease Control's initial requirements for a test. On March 24, the CDC stated that hospitalized individuals and symptomatic health workers were first priority when it comes to testing for COVID-19.
Now, most patients in New York City will not be given a COVID-19 test unless they've been hospitalized – even then being tested for the virus isn't a guarantee. Several people have already shared their accounts of being deprived of a test, despite displaying symptoms of the virus, presumably because the state must ration tests, which remain in relatively short supply.
Most health officials have advised those experiencing mild symptoms, such as a cough or fever, to assume they have COVID-19 and to stay at home. Even medical workers who have been exposed to the virus have been advised not to take a test at all. 
Where can I go to get a COVID-19 test?
Most COVID-19 tests in New York City are being reserved for those who wind up being hospitalized, but community-based health centers, acute care and testing centers and drive-through testing centers are still conducting tests throughout the city. However, anyone interested in getting a test will need to speak with a medical care professional to determine if they qualify. Unless you're seriously ill, it's unlikely you'll make the cut.
City residents have been encouraged to reach out to a doctor to assess their symptoms before heading to a hospital or urgent care center for testing or medical care. If you do not currently have a doctor, there are several tele-health options that can connect you with one or you can call 3-1-1. State coronavirus hotlines can also be reached to determine what you should do if you suspect you are infected with the virus. As of March 20, however, all city health care providers have been asked not to recommend any patients for testing unless they have been hospitalized. You can also turn up at a walk-in testing site but that's not a guarantee you'll be tested, considering many city testing sites have been running out of testing materials and are now saving tests for hospitalized individuals. 
Outside of the city, residents of Westchester, Nassau, Suffolk, Rockland and Orange Counties can get tested for COVID-19 at drive-through testing centers, as long as they have an appointment and were pre-screened by taking the state's online assessment to ensure that they're eligible for testing. 
What does being tested for COVID-19 entail?
The COVID-19 test is conducted by licensed medical professionals in hospitals or other "medical settings," who collect samples from patients. The samples are collected from the nose and throat and "lower respiratory specimens like sputum (phlegm)" may also be tested, according to New York City Department of Health and Mental Hygiene's deputy press secretary Stephanie Ruhle. The samples are then sent to a lab to be processed. 
Prior to the state's COVID-19 outbreak, only doctors and nurses were allowed to administer the test. Now other health care professionals are being trained to conduct the delicate procedure. 
How long does it take to get COVID-19 test results back?
Unfortunately, there isn't one straightforward answer. Test results can be received within 24 hours or a few days time, depending on where and how the test gets processed.
The state currently relies on the aid of diagnostic testing companies such as BioReference and Northwell Health, as well as 28 private labs to conduct thousands of tests a day. It has also been using the state's public lab, the Wadsworth Center, which has developed its own test based on the Center for Disease Control's protocol. Some hospitals in the city contain their own labs and are able to process samples on-site. "Not all COVID-19 tests for NYC residents are done at the NYC Public Health Lab," Ruhle said in an email to City & State. "Some hospitals in New York City have their own labs where they process tests for COVID-19, and other hospitals and medical facilities send out their patient specimens to be processed at commercial labs."
But faster testing technology could soon speed up the testing process. "On Friday, March 27 the FDA approved the first point-of-care test for COVID-19, which was created by Abbott Labs," Ruhle said. "This is reported to allow doctor's offices to get test results within 15 minutes rather than sending out samples to a lab."
Can I be tested to see if I already had COVID-19?
New York has been working on a test to determine if someone has previously contracted the virus by testing blood serum to discern what their antibodies reveal. However, a test is not currently available.
How many COVID-19 tests have been conducted?
As of Sunday, 186,468 people had been tested for COVID-19 in New York and about 66,497 tested positive. Many New Yorkers, however, have shared that they are clearly displaying symptoms of the virus but have not been tested for COVID-19, so there's reason to believe that the number of positive cases reported is below the actual number of infections.
According to the state Department of Health's website the state is able to conduct about 6,000 tests each day but the exact daily number of tests conducted daily remains unclear. "Wadsworth has conducted more than 18,500 tests to date," New York State Department of Health's public information officer Jill Montag told City & State in an email. "Samples from New York State residents are also being tested by numerous laboratories which are conducting thousands of tests each day." 
Does New York have enough COVID-19 tests? 
The U.S. is experiencing a shortage of materials required to conduct the test. The majority of nasopharyngeal swabs used to conduct COVID-19 tests are manufactured in Lombardy – the epicenter of Italy's massive COVID-19 outbreak – which has made keeping up with global production demands difficult. Labs throughout the country have also stated that they're running low on crucial chemicals known as reagents, which are required to prepare samples for testing. "The availability of those reagents is obviously being looked at," CDC Director Robert Redfield told Politico, in early March. "I'm confident of the actual test that we have, but as people begin to operationalize the test, they realize there's other things they need to do the test."
The city's Public Health Laboratory began using a COVID-19 test developed by the Wadsworth Center, after the city ran out of supplies needed to run the CDC's test on March 13, according to Ruhle. "Some of the supplies needed are provided by a private manufacturer, not the CDC, and that manufacturer was facing a global shortage due to very high demand." she said.
Northwell Health is currently processing about 1,700 samples per day for New York and has extended its testing to about six of its hospitals, allowing it to process a few hundred additional tests. It has also come up against a shortage of testing kits – but did not specify if they were their own kits or the CDC's. "The shortage of testing kits has certainly been an obstacle, which is why testing is still limited to those who are either hospitalized or are symptomatic and were exposed to an infected individual," Terry Lynam, Northwell's senior vice president and public relations and chief communications officer, told City & State in an email.
Neither the city nor the state has publicly indicated that they're experiencing shortages when it comes to materials required for testing. 
Isn't testing good? Why are people being discouraged from seeking out a test?
Yes, testing is key to suppressing COVID-19. Mass testing was used in South Korea to determine how many people had COVID-19, even if they were asymptomatic, which allowed the country to curb the virus' spread. Because the country quickly administered tests for the virus they did not need to enforce as extreme social distancing practices as the United States has. 
However, the number of resources available to test those who suspect they have the virus in the state are becoming increasingly limited, as testing also requires medical staff that are needed to help COVID-19 patients. That is why some politicians have been urging people not to seek out a test unless they are seriously ill. There's also the possibility that those waiting to be tested could spread infection, especially as the number of people clamoring for a test steadily increases. Regardless, testing is not likely to change what a doctor advises you to do unless you are very sick.