New York City
Cuomo keeps co-opting de Blasio's ideas
The governor has a tendency to dismiss the NYC mayor's suggestions, and then implement them himself.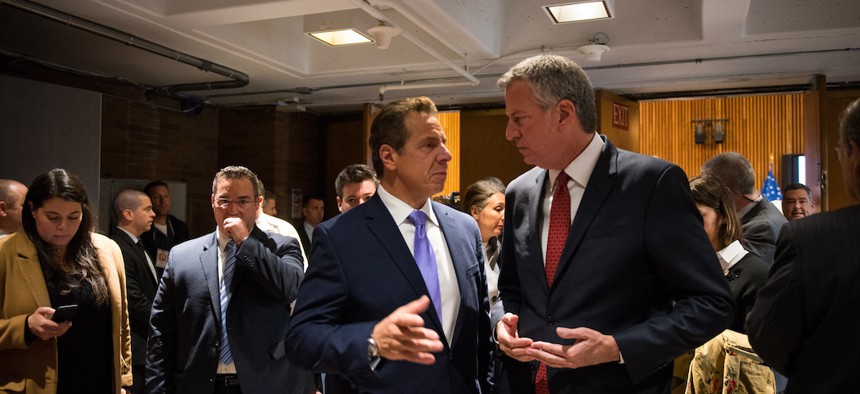 When Gov. Andrew Cuomo announced on May 1 that schools statewide would remain closed for the rest of the academic year due to the coronavirus pandemic, observers might have experienced déjà vu – New York City Mayor Bill de Blasio had made the same announcement weeks early on April 11 for city schools. At the time, despite the apparent inevitability of the decision, Cuomo shot de Blasio down, saying only the governor could make decisions about whether schools would reopen. (Some legal observers question that assertion, noting that New York City has the authority under current state law to declare emergency closures – snow days, for instance – without state approval, although Cuomo could always take away that power through an executive order.) 
But on May 1, Cuomo passively admitted the mayor made the right call in April.
This isn't the first time the governor has undercut the mayor. Previously, even since New York's outbreak of COVID-19 began, Cuomo has taken de Blasio's idea and made it his own. School closures is just the latest example. 
The two have feuded off and on since de Blasio took office in 2014, despite the fact that they are former friends who had worked together in the U.S. Department of Housing and Urban Development under then-President Bill Clinton. 
Below are some of the notable times that New York's governor has co-opted an idea from New York's mayor.
Closing schools for the rest of the academic year
When de Blasio announced on April 11 that city schools would not reopen for the remainder of the academic year, Cuomo immediately pushed back on the announcement. He said de Blasio had no authority to make that decision, saying that only he could decide when schools reopen, never truly acknowledging that de Blasio simply wanted to keep them closed longer out of caution. (Scientists from organizations such as UNICEF warn that reopening schools during this academic year could cause an outbreak of COVID-19.) At the time, schools statewide were only set to remain closed only through April 29 by executive order, but the governor resisted the long-term call that seemed inevitable even in mid-April. On April 16, Cuomo extended the closures until May 15. Finally, on May 1, Cuomo came around to what he derided de Blasio for over half a month earlier, when he announced that schools would remain closed for the rest of the academic year. In the end, de Blasio may have jumped the gun in Cuomo's eyes, but the governor ultimately accepted the mayor's conclusion, albeit weeks later.
Partial subway suspension/closures
De Blasio on April 27 released a plan asking that the Metropolitan Transportation close 10 terminal subway stations between 12 a.m. and 5 a.m. to get homeless New Yorkers off the trains and to "deep clean" those stations. On April 28, the same day that de Blasio first publicly spoke of his newly proposed plan, Cuomo agreed that something had to be done to address an increase in homeless people on the subways. However, he offered no original ideas, nor an opinion on de Blasio's proposal at that day's press conference. The MTA, which Cuomo controls, didn't commit to de Blasio's plan. Days later, on April 30, Cuomo and the MTA announced the authority would go several steps further: All overnight subway service would be suspended between 1 a.m. and 5 a.m. in order to disinfect trains and equipment. The announcement did not directly address the issue of homelessness. On April 29, the MTA had issued new guidance meant to decrease the number of transient New Yorkers on trains and in stations, such as banning shopping carts.
Shelter-in-place
This is perhaps the most prominent recent example of Cuomo effectively co-opting an idea that first came from de Blasio. Unlike the decision to keep schools closed, when the governor bristled at a challenge to his authority but did not go so far as to say schools would open sooner, Cuomo actively dismissed the idea of a "shelter-in-place" order before issuing his own. De Blasio said on March 17 that New Yorkers should expect a shelter-in-place order in the coming days, similar to what the Bay Area in California had just enacted. On the West Coast, nonessential businesses closed and venturing outdoors was limited to exercise or essential shopping. Hours after de Blasio first raised the possibility, Cuomo said the city would not "quarantine itself." When de Blasio attempted to differentiate between a quarantine and a shelter-in-place, Cuomo dismissed any difference, saying "There's not going to be any, 'You must stay in your house,' rule.'" But on March 20, Cuomo declared the state to be on "pause" through an executive order, banning all nonessential gatherings of any size, closing all nonessential businesses and requiring people in public to remain six feet apart beginning the evening of March 22. He also urged people to remain home as much as possible, with the exception of necessary expeditions such as buying groceries, picking up medicine or engaging in solitary exercise. Despite the semantics that Cuomo harped on, he issued a shelter-in-place order by another name.
Universal, pre-kindergarten
De Blasio campaigned on reducing inequality and his signature proposal in 2013 was to provide full-day, free preschool for all four year-olds, paid for by taxing very high-income earners. The enactment and launch of universal pre-K remains one of his biggest accomplishments as mayor. He launched his "Pre-K for All" initiative his first year in office in September 2014 after procuring the necessary funding from Albany. Initially, Cuomo included $1.5 billion over five years in his 2014 budget for a statewide universal pre-k program, not mentioning de Blasio by name. The governor resisted de Blasio's demand for a new tax on wealthy New Yorkers to pay for the city program. In the end, the city got $300 million in funding without the new tax. Cuomo still presented the money as part of a bigger package of $1.5 billion spread out over five years for a statewide program. The budget was undoubtedly a success for de Blasio, allowing him to implement his signature policy proposal even without a new tax on the rich. However, Cuomo also took credit for passing a progressive agenda item long supported by the Assembly, but one that the governor had never prioritized before de Blasio. A year before, in 2013, Cuomo provided funding to allow some low-income districts to offer full-day pre-k at the recommendation of an education commission he had convened. But the $25 million one-time investment that year was a far cry from the $1.5 billion over five years he would commit in 2014 when the mayor came knocking. Years later, 2018 gubernatorial candidate Cynthia Nixon faulted Cuomo for failing to live up to his 2014 promise, at least partially co-opted from de Blasio, of expanding free, full-day pre-k across the state. She noted that 79% of four-year-olds outside the city still did not have access to it.
$15 minimum wage
Cuomo often takes credit for raising the minimum wage in parts of the state to $15 per hour, but the push arguably started with de Blasio. In 2014, the mayor called on Cuomo for the authority to increase New York City's minimum wage, only to have the governor shoot down the idea. Cuomo said such matters should be left to the state and that localities should not have different minimum wages. The goal, with Albany's help, was to raise wages in the city to over $15 an hour by 2019. A year earlier in 2013, Cuomo and the state Legislature had struck a deal to increase the statewide minimum wage to $9 an hour, up from the nationwide minimum of $7.25, by the start of 2016. Yet in January of 2015, Cuomo proposed setting a higher minimum wage for New York City, suggesting $11.50 for the city and $10.50 for the rest of the state by 2016. It was the same principle de Blasio had wanted, only that time it came from Cuomo instead. In response, de Blasio advocated for an even higher minimum wage in the city of $13 by 2016 and $15 by 2019, something that had not yet been proposed by the governor. De Blasio finally implemented a pay rate of $15 dollars an hour for city employees in January 2016, several months before the state Legislature passed a law to increase pay statewide. It increased pay to $15 an hour in New York City by the start of 2020, with the same level for Long Island and Westchester by 2022 and $12.50 for the rest of the state by 2021. However, de Blasio's action still came after Cuomo directed the state Department of Labor to increase fast food workers' wage to $15 an hour in May 2015, phased in over several years, upon the recommendation of a panel. Technically, this marked the first $15 minimum wage action in the state, and Cuomo took credit for leading the charge for that change in New York, counting the increase as his own victory.
Powered By
NEXT STORY: Upstate's role in reopening New York City