Campaigns & Elections
Nothing special about Tuesday's Bronx election
And more coverage of key 2021 races.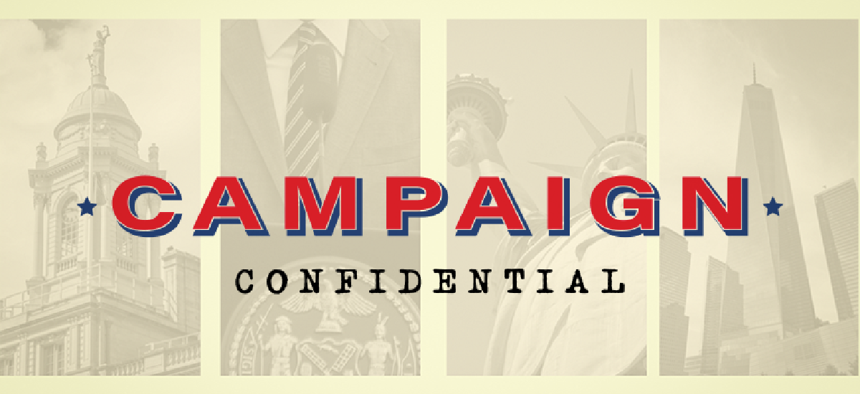 Like Campaign Confidential, our new weekly email taking a look behind the curtain of the 2021 NYC elections? Share it with friends, colleagues and rivals and have them subscribe here!
6 months until the 2021 Democratic primaries
The newsletter is taking a week off next Tuesday for the holidays, but Campaign Confidential will be back in 2021. Did a friend share this with you? Subscribe here to make sure you get the next edition on Jan. 5.
Nothing special about this election
Tuesday's special election to replace expelled former City Council Member Andy King in District 12 in the northeastern Bronx is the end of an era: the last special or primary election to be held without ranked-choice voting. But the city's political establishment is hoping it's not the end of another era – when well-connected political insiders could easily win elected office.
The central figure here is Kevin Riley, community relations director for Assembly Speaker Carl Heastie, one of the most powerful politicians in the state. Riley's campaign has three times the money of his nearest competitor, Pamela Johnson, the support of all the biggest elected officials in the city and endorsements from at least 10 major unions. And in a debate on BronxNet, the third candidate in the race, defense attorney Neville Mitchell, said he had a problem with how labor endorsed in this race.
"I feel like I'm running against Carl Heastie, because that's how the endorsements came," Mitchell said, adding that the unions never talked to him or Johnson before they endorsed Riley.
"Mr. Riley, presumably you want to respond to that?" moderator Gary Axelbank asked. "No, I don't," Riley replied. Comfortable in his leading position, Riley didn't even feel the need to defend himself.
Riley is well-regarded in the district and beyond, and it won't be hard to outshine the scandal-plagued King, or the council member before him, Larry Seabrook, who was convicted on fraud charges. But Riley's candidacy also means a lot to the Bronx's political establishment, which has seen some high-profile losses recently. Jamaal Bowman and Rep. Alexandria Ocasio-Cortez unseated favored incumbents, and favorite son Bronx Borough President Ruben Diaz Jr. is retiring. A huge Riley win on Tuesday – in new Bronx boss Jamaal Bailey's backyard – could prove the establishment still has juice.
By the Numbers
$17,263,525
The amount of public money that was handed out to 61 candidates for city office last week, the first matching funds distributed this cycle. But what about candidates who didn't get the money? Comptroller candidate Brian Benjamin had enough money and enough donors, but didn't get money from the New York City Campaign Finance Board because of a paperwork issue. One insider said, "If your whole shtick is 'I'm a smart man who understands fiduciary duties and accounting mechanisms,' and you can't file paperwork to get free money, that's just sad."
But Benjamin wasn't alone. Manhattan Borough President candidate Mark Levine and Brooklyn Borough President candidate Robert Cornegy Jr. are each leading their races in private fundraising, but neither submitted the right paperwork. And about two dozen City Council candidates seemed to be in the same boat. So dot your i's, cross your t's, and double-check those forms. Nobody wants to miss out on free money.
But the real heartbreaker? Bronx Borough President candidate Fernando Cabrera, who needed at least 100 in-borough donors to qualify for the first round of matching funds and got – by my count – exactly 99.
"Shocked, shocked to find that gambling is going on in here"
Last week's Crain's New York Business forum promised to have "political savants handicap the city-wide elections," but there wasn't a bit of discussion about gambling odds or payouts! Luckily, PredictIt, a gambling site run by Victoria University of Wellington in New Zealand, opened a market for the mayoral race on Dec. 2. As of this writing, Andrew Yang (the internet's favorite not-yet-candidate) is leading with a 29% chance of winning. Adams is next at 21% and then Stringer at 14%. City & State also asked a Queens political savant, who has been closely following the race, to handicap the election. They had Stringer on top at 2-1 odds, followed by Adams at 5-2, Raymond McGuire at 4-1, Maya Wiley at 6-1 and Yang at 10-1.
Platform rollouts aren't easy 
If you want to reflect on mayoral candidate Maya Wiley's gun violence prevention plan, check out Harry Siegel's column, which features an eye-opening look at Wiley's personal experience with street violence and the NYPD's response. But if you want to find praise of Wiley's plan … don't check Twitter. After the plan was released on Dec. 2, the campaign sent more than 40 supporters a link to 11 "sample tweets" with language like: "This gun violence plan is groundbreaking." A search on Twitter suggests that not a single supporter used the sample tweets, or tweeted about the proposal at all.
We didn't want your endorsement anyway
Six of the seven candidates running for Council Member Andrew Cohen's District 11 seat in the Bronx – everyone other thanEric Dinowitz – signed a letter that said they didn't want the Benjamin Franklin Reform Democratic Club's endorsement. There's infighting over the process, of course, but long story short, it's because the club seemed destined to endorse Dinowitz, who is the son of longtime Assembly Member Jeffrey Dinowitz. It was a similar story to Erik Bottcher's opponents teaming up recently in Manhattan. Three makes a trend, so keep an eye out for additional groups of candidates banding together against a perceived "political insider."
Stringer who?
Most mayoral campaigns aren't taking the latest poll of the race too seriously – it was commissioned by Education Reform Now Advocacy New York, a pro-charter school group, it was done by robocall, which isn't considered as reliable as other methods, and it didn't even include all the major candidates. But it showed Yang and Adams in first and second, respectively, with Stringer tied for fifth. The Adams' campaign preferred this poll to last week's Slingshot Strategies poll that showed Yang in first and Adams and Stringer tied for second. So Adams' campaign couldn't help but take a shot at the comptroller who fancies himself a front-runner. "Right now, it looks like a two-person race," their fundraising email on Tuesday said, making it clear those two people were Yang and Adams.
Endorsement Watch
Our Time Press, the Brooklyn-based newspaper focused on Black New Yorkers, endorsed Eric Adams for mayor in the first media endorsement in the race … Council Member Ydanis Rodriguez also endorsed Adams … Rep. Jerry Nadler endorsed Scott Stringer, who used to work for him, for mayor … Assembly Member Richard Gottfried backed Stringer too … the Working Families Party endorsed Brad Lander for comptroller and Jumaane Williams for reelection as public advocate … Make the Road Action, New York Communities for Change and VOCAL-NY Action Fund endorsed Lander and Williams … Make the Road Action backed Antonio Reynoso for Brooklyn borough president … Lambda Independent Democrats of Brooklyn, Central Brooklyn Independent Democrats, the 504 Democratic Club and retiring state Sen. Velmanette Montgomery endorsed Assembly Member Jo Anne Simon for Brooklyn borough president … Run for Something endorsed 18 more City Council candidates – including Shaeleigh Severino and Felicia Singh, who are both running for District 32 in Queens … YIMBY organization Open New York endorsed eight candidates for City Council, including Juan Ardila, who is challenging notorious NIMBY Council Member Bob Holden in District 30 in Queens, and Sara Lind, who is running in District 6 in Manhattan against Borough President Gale Brewer, who has a history of opposing density.
Poll Sight
Most voters in the South Bronx said they didn't know the city's voting system will be changing next year – and even fewer Spanish speakers knew about the change than English speakers. That's according to a poll run by City Council candidate Amanda Farías, who's running for retiring Council Member Rubén Díaz Sr.'s seat in the South Bronx. She said 4,025 residents of District 18 responded, split about 50-50 between those who took the poll in English and Spanish.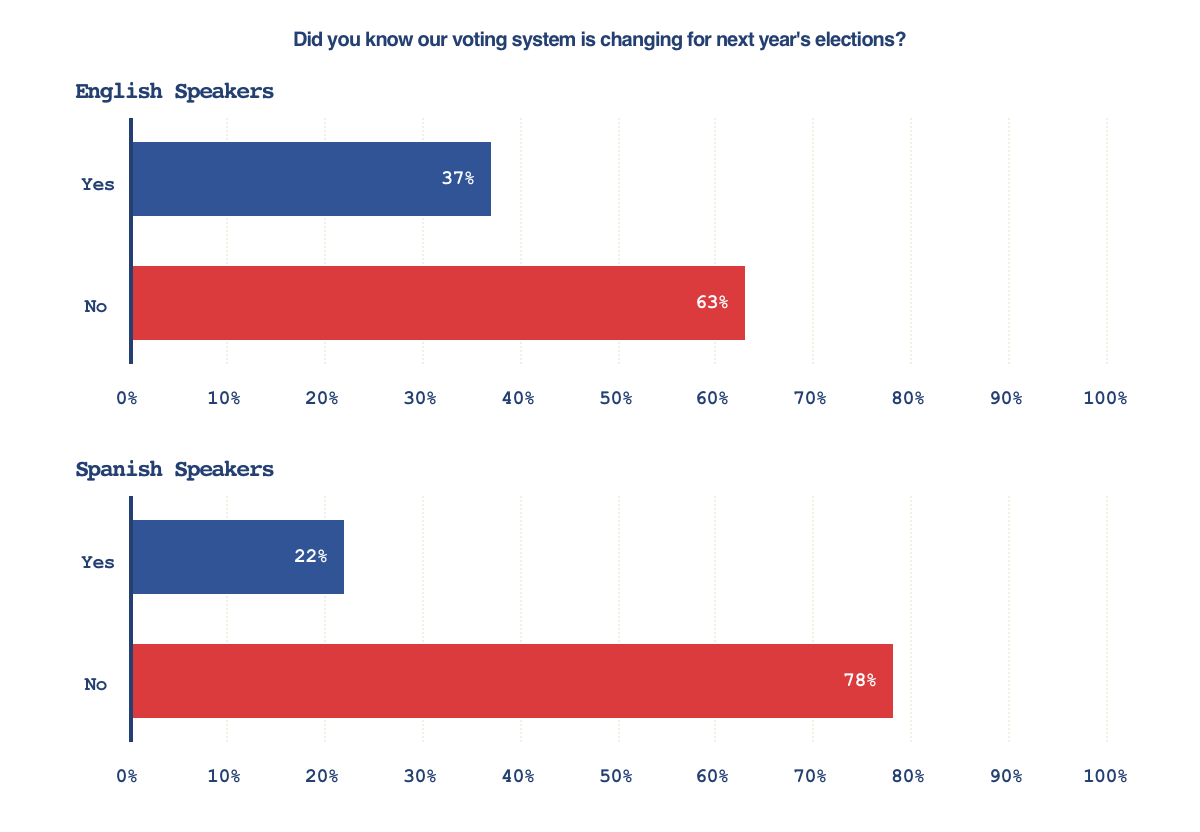 Staffing Up
Prisca Salazar-Rodriguez, who was once deputy chief of staff to Bronx Borough President Ruben Diaz Jr., is joining Ray McGuire's mayoral campaign as senior adviser for Latino operations … Eliza Orlins' Manhattan district attorney campaign announced a handful of hires, including Daniel McNamara as campaign manager, Sophia MacMaster as finance director and Winston Nguyen, who was formerly incarcerated on Rikers Island, as special projects adviser … For Isaac Wright Jr.'s mayoral campaign, Reginald Darby is the campaign manager and Eric Marmon is the communications director … Leanna Ballester is serving as campaign manager for Brandon West's City Council campaign in District 39 in Brooklyn … Ramón Cabral is the field director of Amanda Farías' City Council campaign in District 18 in the Bronx and Rebecca Nieves, former chief of staff to Assembly Member Harvey Epstein, will be Farías' outreach coordinator … Edda Santiago is campaign manager for John Sanchez's City Council campaign in District 15 in the Bronx.
Got tips? Email JColtin@CityandStateNY.com or dm me @JCColtin
District Data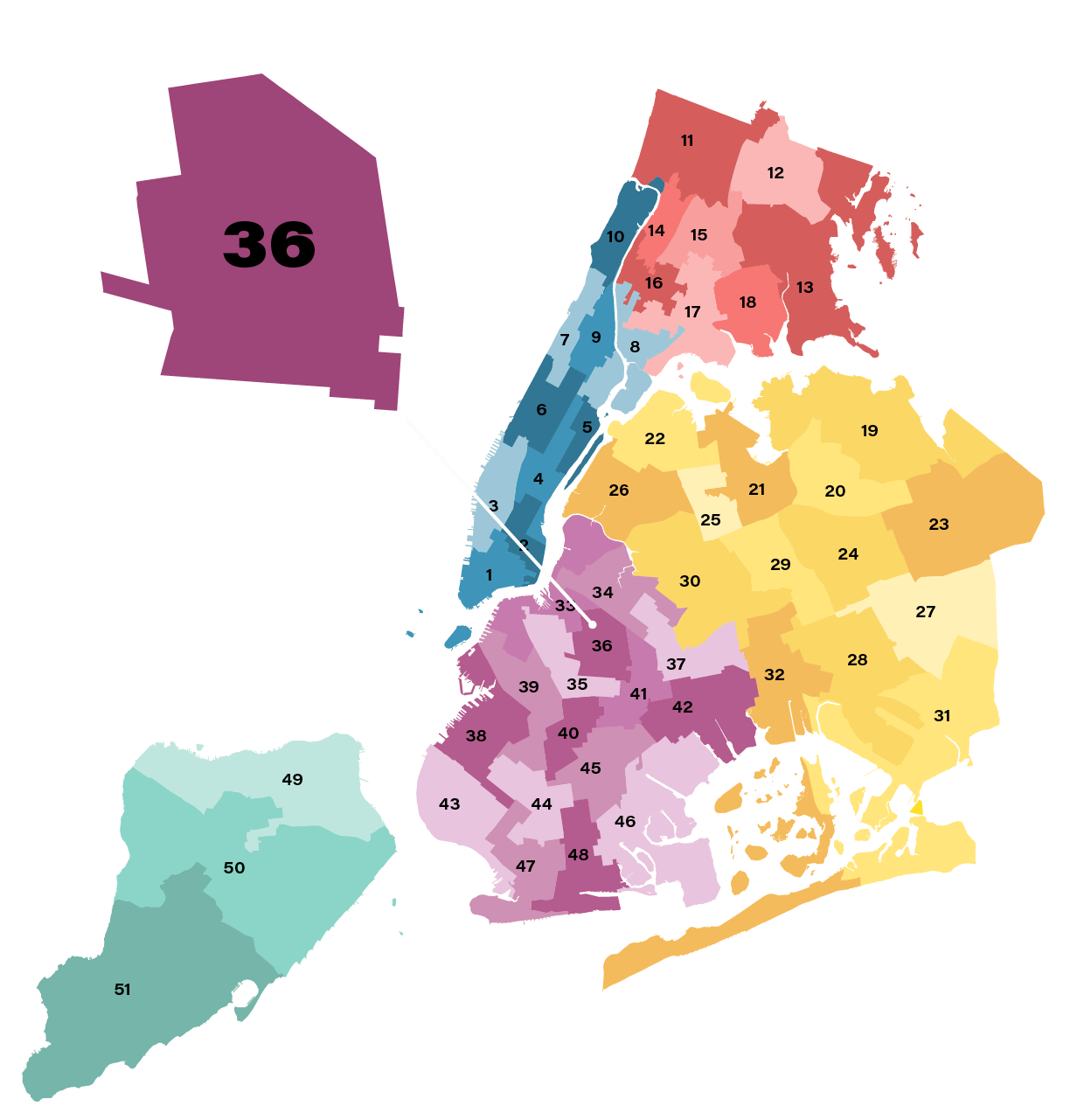 City Council District 36 in Brooklyn, covering neighborhoods including Bedford-Stuyvesant and Crown Heights
Current council member: Robert Cornegy Jr., since 2014, who is term-limited at the end of 2021
2010 census demographics: 70% Black, 18% Hispanic, 7% white, 2% Asian
Housing: 84% renter-occupied, 16% owner-occupied
2013 primary election results: Cornegy 30.3%, Kirsten John Foy 29.8%, Robert Waterman 21.8%, Conrad Tillard 13.3%, Reginald Swiney 4.7%
2017 primary election results: Cornegy uncontested winner
Who's running: Henry Butler, Ronald Colter, Regina Edwards, Gregory Green, John Joyner Jr., Tahirah Moore, Chi Ossé, Shadoe Tarver, Jason Walker, Robert Waterman and Ralph Yozzo. Henry Butler – a district leader, community board district manager and political club leader – couldn't be more plugged into local politics. He ran and lost to Council Member Alicka Ampry-Samuel in the neighboring council district in 2017. Robert Waterman, a pastor at a local church, also lost in this district in 2013. Tahirah Moore is well-connected in Bed-Stuy after working in government, and both Chi Ossé and Jason Walker are trying to win with young progressive activist energy in this gentrifying district.
Twitter Posting
Strong words from @DavilaAssembly: "We wasted a whole nine hours — whole nine hours — I went to the Bronx and came back and we are still dealing with the same stuff. We are the laughing stock of this entire city... Thank you for nine hours of nothing."

— Kevin Duggan (@kduggan16) December 17, 2020
Powered By
NEXT STORY: What to expect in the 2021 state legislative session