Andrew Cuomo
Majority of likely voters say Cuomo should resign
A poll by Data for Progress is the latest to highlight diminishing support for the embattled governor.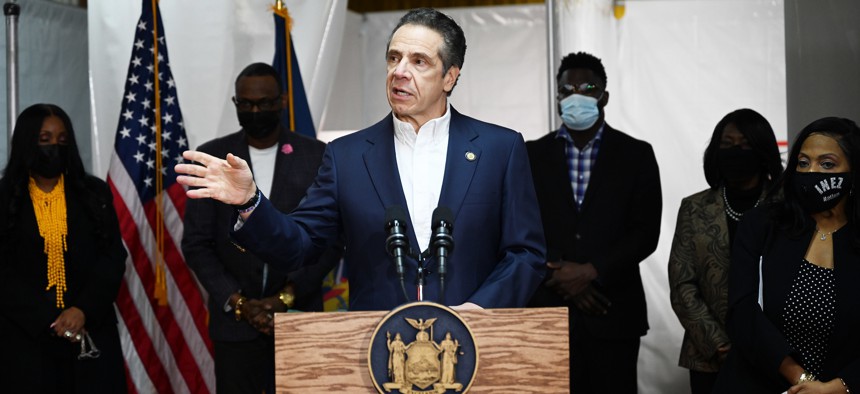 A new poll – exclusively obtained by City & State – shows a majority of likely voters want Gov. Andrew Cuomo to resign.
The poll is the latest to show declining public support for the embattled governor, who faces allegations of sexual harassment and assault from multiple women as well as an ongoing scandal over all alleged cover-up of COVID-19 deaths in nursing homes. 
Just 18% of likely Democratic voters said they would vote to reelect Cuomo to an historical fourth term, according to the Data for Progress poll, which also showed 41% of respondents saying they "strongly" or "somewhat" approve of the job he is doing as governor. That is a big change from weeks ago when Cuomo's job approval was unquestionably still above water following a year when he received much praise for his handling of the COVID-19 pandemic. 
However, the findings of the new poll from the left-leaning think tank must be taken with a grain of salt. The survey was conducted online, which could explain why its findings show more antipathy towards Cuomo than a Quinnipiac Poll released yesterday that showed 49% percent of registeredvoters saying Cuomo should resign. That is the same percentage as respondents in the Data for Progress poll who said the governor should resign when the question was put this way: "Do you think Andrew Cuomo should resign immediately, or that he should not resign?" 
The number of respondents calling on him to resign immediately rises to 58% and 59% respectively once the question includes mention of the outstanding sexual misconduct allegations or the fact that nearly every elected state and federal leader in the state has already called on him to step down even before an ongoing probe by state Attorney General Letitia James concludes. Despite these numbers, there are still some reasons for optimism within the Data for Progress poll, which was conducted between March 13 and March 16. 
Cuomo has said he is not going to resign, especially considering his ongoing support among Black voters and registered Democrats in general. While the new poll has a relatively small sample size of 484 people, it shows both groups still supporting him in higher numbers than likely voters overall. About a third of Black voters and likely Democratic voters say he should be impeached if he does not resign.
The governor appears to be playing for time as he awaits the results of the James probe and a nascent impeachment inquiry in the Assembly, but the Data for Progress poll is the latest sign that while he does not appear to be in immediate danger of losing his job midway through his third term in office, things sure look like they are getting worse by the day. Federal investigators are probing the liability protections for nursing homes that the Cuomo administration inserted into the state budget. A March 18 story in the New Yorker highlights additional instances of alleged sexual misconduct. 
A week ago, there were not any polls that showed a majority of likely or registered voters wanting him to resign. Two polls in the past day have suggested that somewhere close to half of New Yorkers want him to do that. If the survey from Data for Progress shows anything, it is that things just keep getting worse for Cuomo as he and top aides like Secretary to the Governor Melissa DeRosa continue to fight for their political survival amidst the ongoing scandals.
A previous version of this article has been clarified to better reflect the results of a Quinnipiac Poll released March 18 
Read the crosstabs of the Data for Progress poll below.