Campaigns & Elections
City Council District 37 race readies for a rematch
Darma Diaz won the Brooklyn seat last year unopposed, and now her then-opponents who were kicked off the ballot are looking for a round two.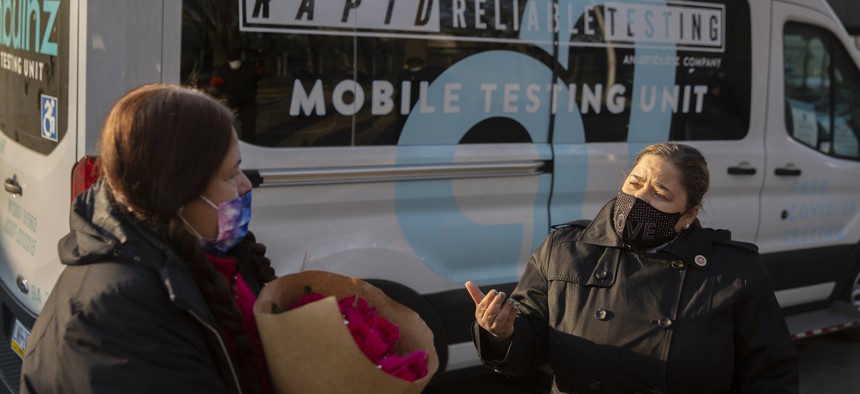 The majority of New York City Council seats are up for grabs this year as term-limited members leave office, prompting countless candidates to compete in competitive open primaries. But in Council District 37 in northeast Brooklyn, the June primary represents something of a do-over for an election that never was last year, as a six-month incumbent attempts to hold onto her seat against a slew of candidates looking for a second shot at the seat.
The 37th Council District seat, encompassing the neighborhoods of East New York, Bushwhick, Cypress Hills and Brownsville, opened up last year when former Council Member Rafael Espinal left to lead the Freelancers Union. He stepped down in late January, before the coronavirus pandemic had its grip on the city. But when the time came to fill the seat, the pandemic was at its height and causing a lot of confusion when it came to elections. And it left the district without representation for close to a year.
A special election scheduled for April last year was postponed until June, before Gov. Andrew Cuomo ultimately decided to cancel it since the primary was happening on the same day. Due to a combination of technical mistakes and confusion over how many petition signatures were needed after Cuomo reduced the requirements, now-Council Member Darma Diaz – a former district leader supported by the Brooklyn Democratic Party – ran unopposed in the primary. Diaz allies had successfully challenged the other candidates' places on the ballot, and the courts upheld the Board of Elections' decision to remove them. After winning the November general election, she was sworn into office in December. 
With just six months under her belt after her district went without representation for so long, Diaz now must defend her seat against the very same people her supporters were able to get kicked off the ballot. Facing a competitive election that never happened last year, Diaz expressed confidence that both her history in the community as a homelessness nonprofit leader and her short tenure in office will secure her reelection. "I've gone from being a community advocate to a policymaker," Diaz said, citing eviction prevention as her top accomplishment during her months in office. "It's definitely been a very busy couple of months." Diaz currently ranks second in the fundraising game with nearly $35,000 raised, has almost maxed out public matching funds and considered environmental justice among the key tenets of her current campaign.
But Diaz faces staunch competition among those looking for a rematch. Chief among them is Sandy Nurse, a community activist, carpenter and favorite of the progressive left. She won endorsements from nearly every major union in the city, including 32BJ and 1199 SEUI, as well as the Working Families Party, leftwing groups like New York Communities for Change and prominent lawmakers like state Sen. Julia Salazar and Rep. Nydia Velazquez. She leads in fundraising with over $66,000 raised and has maxed out public matching funds. Nurse's platform includes progressive priorities like support for eliminating the 421-a tax abatement and divesting $3 billion from the NYPD.
It's the classic narrative of progressive insurgent vs. party machine – a characterization that Diaz vehemently opposes. After last year accusing the Brooklyn Democratic Party of colluding with the BOE to ensure Diaz ran unopposed (something both the party and Diaz have denied), Nurse is still looking to take on the party-backed candidate. "This is going to be the chance for voters finally to have a say in who represents this district," Nurse said, adding that she's not overly concerned about Diaz's status as an incumbent "Most people don't know that anyone's even in office… so I think it's still very much a wide open race." Tension between Diaz and Nurse has been building in recent months, with Diaz making headlines in March for accusing Nurse – who describes herself as Afro-Latina – of switching racial identities for political clout. 
Diaz is not shy about criticizing other candidates either, even if she often focuses on Nurse. In an interview with City & State, she also said that several candidates don't even live in the district. She declined to name who, although Nurse has been criticized as a transplant in the district (though she has lived in Brooklyn for over a decade), and her home address is just one block away from the district line. Diaz also accused other candidates of stealing from her campaign platform, again without providing specifics. "I'm not giving them my message," Diaz said when asked about issues unique to her district that need to be addressed. "They're gonna have to work as hard as I am, or harder." And last year, she told City & State her opponents are "opportunist" (singling out Nurse) who simply didn't work hard enough to get on the ballot and were trying to use the pandemic as an excuse.
But Nurse has also faced criticism from another candidate in the race who has taken issue with the focus on the fight between herself and Diaz in the race. Rick Echevarria, a former Department of Housing Preservation and Development official who says he was fired for being a whistleblower, said he's running after witnessing corruption firsthand, and thinks a degree of corruption is at play in this race. "I feel like I'm running against two machines," Echevarria, who was kicked off the primary ballot last year on a technicality, said. He said that there is a party establishment, but there is also a "professional left establishment that tends to serve their own interests." He said he shares the progressive values, but feels he is the only "authentic, grassroots candidacy" in this election. Echevarria does not boast of any major endorsements, progressive or otherwise, on his website and currently trails well behind both Diaz and Nurse in fundraising. 
Nurse defended the support she has received from prominent progressive groups. "I'm incredibly proud of the coalition we built," Nurse said. "I believe that the progressive left needs to continue to build power, I believe in these organizations that have been built through oftentimes by poor women of color." Diaz also pushed back against the narrative that she has been propped up as part of the Brooklyn Democratic machine, while still echoing Echevarria's criticism of Nurse. "I earned the support of those that are supporting me and standing with me," Diaz said. "I'm not a puppet for anyone, and if anyone is getting party machine support, it's Sandy Nurse."
Three other candidates are part of the race as well, including Misba Abdin, co-founder of a Bangladeshi American nonprofit. Abdin, whose campaign did not return a request for an interview, is yet another candidate looking for a rematch this year after getting kicked off last year's ballot. Having raised over $27,000, the third most in the race, and maxed out on public funds, Abdin has been running an active campaign. However, he faces an uphill battle strictly based on the demographics of the district, which is nearly 90% Black or Hispanic. He shared a similar sentiment as Echevarria with the Brooklyn Paper in February, telling the outlet, "I bring a fresh spirit to this campaign, I am not beholden to any party or any ultra-progressive groups."
Neither of the last two candidates running – Chris Durosinmi and Heriberto Mateo – have qualified for matching funds, with just two chances left to get public dollars before the June primary. Durosinmi, who has raised less than $9,000, said his small warchest belies what he said is growing support. "I will say that we've been picking up momentum, Durosinmi said. "The benefit that I have in this race is the fact that I've been working in the community for the last 16 years… working on issues pertaining to housing, education and workforce development." Mateo, who has no online presence and could not be reached for comment, previously ran against Espinal in 2013, when he got 12% of the vote.