Wanted: Doctors
In his 2008 State of the State Address Eliot Spitzer, recognizing the growing problem of a dearth of doctors in rural areas of upstate New York, proposed a new program called Doctors Across New York. In his speech, he referred to it as a "Peace Corps" for doctors designed to give young medical professionals student loan relief in return for them working in underserved areas.
"There should be a family doctor, and there will be, for every family in New York," Spitzer bellowed from the podium. Despite his resignation months later in a prostitution scandal, his plan passed in the 2008 budget. However, six years later the program and subsequent efforts have had unsatisfactory results.
The Council on Graduate Medical Education recently called the tendency for physicians to choose to practice in affluent urban and suburban areas rather than in rural and inner city areas one of the "most persistent characteristics of the American health care system."
Like Spitzer, policymakers across the country have tried to provide financial incentives for graduating medical students to entice them to move to high-need areas, but critics question how effective a short-term financial incentive is when potential doctors can earn larger salaries working in cities and wealthy suburbs.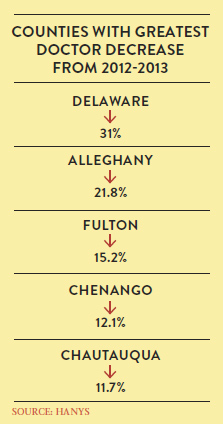 The Healthcare Association of New York State's annual physician advocacy survey released in April revealed that the doctor shortage is only expected to get worse in the near future as the current primary care workforce ages out and an aging population with an increased life expectancy creates a larger demand. Also adding to the problem is the influx of people receiving insurance through the Affordable Care Act.
HANYS' report found 51 percent of rural hospitals eliminated or reduced services as a result of the physician shortage, and 71 percent of upstate hospitals reported there are times when certain specialties are not covered in their emergency rooms, requiring them to transfer patients elsewhere.
Doctors who have their own solo practices are much more common in rural areas, but they are also aging out, and experts say fewer physicians are going into solo practice. A recent report released by the New York Public Interest Research Group found that nearly 25 percent of the U.S. population resides in rural areas, but only about 10 percent of the nation's doctors work in them.
"For a number of reasons, mostly around quality of life issues, rural areas have a much more difficult time recruiting physicians to work there, and primary care physicians are particularly difficult to recruit," said Sherry Chorost, director of workforce at the Healthcare Association of New York State.
The chair of the state Senate Health Committee, Kemp Hannon, said the single most important factor in rectifying this problem is incentivizing doctors via Doctors Across New York.
"This has been a target of concern for the [state] Senate," Hannon said. "Obviously, for the Republicans in the Senate, the majority of our districts are over there in the rural part of the state, and I think the main thing we've focused on is a program called Doctors Across New York. We made the funding [available] so that we would be giving grants and loans to hospitals so they could attract doctors, they being the focus of healthcare."
State legislators also have been working with hospitals to expand health services using physician assistants and nurse practitioners, as well as through telemedicine, which can provide health services by means of two-way video, email and other technology to remote locations.
Hannon said the financial crisis upset the funding for the Doctors Across New York program, but the 2014–15 budget increased funding for the program by $2.5 million, a fivefold increase.
The Doctors Across New York program offers incentives such as $150,000 in loan repayment for physicians who commit to a five-year service obligation in a high-need area—a very enticing incentive for potential doctors who, according to the Association of American Medical Colleges, are graduating with an average of about $170,000 in student debt.
"I think by making someone have a five-year commitment in an area, the hope is that they get acclimated, that they enjoy it, they raise a family there, and all those social issues. That's the hope, which is why they did it for five years," Chorost said. "For some doctors, they didn't want to commit for five years, so they didn't even apply for it, because they thought [the commitment] was too long."
NYPIRG Legislative Director Blair Horner argues the Doctors Across New York program fails to retain doctors in the long run, however.
"Historically, what the state has done, and what the federal government has done, is to try to create financial incentives to get doctors to practice in those areas, sort of a Northern Exposure approach to recruiting doctors," Horner said, referencing the television program, in which a New York City doctor made a life in Alaska. "And to some extent, obviously, it must have some effect, but it clearly doesn't have a long-term effect, because the same areas are still having shortages, and these programs have been around for a long time."
Opponents of the Doctors Across New York program argue that it is not getting to the root of the problem causing the doctor shortage in rural areas in the first place.
"We think we need to look at this beyond just pure financial incentives, and to try to attack the issues of the quality of life, which we think in many ways are the most important elements that doctors or any professional is looking at when they choose to locate their practice," Horner said. "They tend to want to practice where they want to live, and if the areas are lacking in cultural amenities or educational achievement, those doctors aren't going to want to move there—and to just compensate by offering a financial incentive is inadequate."
Chorost said HANYS is aware of the shortcomings of the program, but contends that overall it has helped a lot of people. The organization is also looking at alternative solutions to the dilemma, she said, beyond just tapping into financial motivations.
Nonetheless, all the parties involved admit there is no easy solution to the problem, which is exacerbated by a number of complications. For example, doctors are up against the prospect of longer hours, smaller salaries, and have pointed to isolation and even the colder weather as reasons they would not want to practice in rural areas.
"Those are all the reasons people don't want to go to those areas. Which is why I think one of the strategies we should try to employ is to get kids interested in an early age in these rural communities, because they've lived in these communities and they are much more likely … to return," Chorost said. "But there's a lot of changes that go into that. And it's a lot easier said then done."