The subways are a mess. Can congestion pricing help?
Illustration by Guillaume Federighi
The subways are a mess. Can congestion pricing help?
3 top transit voices weigh in
Gov. Andrew Cuomo has put his considerable political clout behind congestion pricing, which would implement fees for drivers entering the southern half of Manhattan in order to improve traffice while also raising much-needed revenue to fix the city's aging subway system.
The proposal has divided state lawmakers in Albany, and it's unclear whether there's enough time – or the appetite – to include it in the state budget that's due at the end of the month.
As the debate continues, we reached out to three key officials – New York City Transit President Andy Byford, New York City Transportation Commissioner Polly Trottenberg and Assemblyman Robert Rodriguez – to get their take on the proposal and its chances of passage this year.
Polly Trottenberg
Commissioner, New York City Department of Transportation
C&S: As New York City's transportation commissioner, could you give us your take on congestion pricing?
PT: The mayor has started to show more openness to the idea. It's not a secret that he was a skeptic about it and particularly asked questions about fairness and equity. But as the governor has put the preliminary details of his plan out, the mayor has signaled to openness. And as he was just up in Albany testifying on the budget, (he) made a point of saying, "To the extent that we might be looking at congestion pricing, we want to make sure that those revenues collected in the city stay in the city to improve our subway and bus system." Which I would certainly agree with as DOT commissioner.
C&S: Pedestrian safety advocates have praised New York City for Vision Zero, and the accompanying reduction in traffic fatalities, but also criticized the fact that the city appears not to be on pace to fully eliminate traffic fatalities by 2020 as it had hoped. What are your thoughts on how to potentially improve the rate of progress?
PT: I would say our advocates have been phenomenal allies for us, and really the wind in our sails on so much of the Vision Zero work that we do. And they also keep us honest. They criticize us when they think we're not doing enough. I'm pretty proud of what the de Blasio administration has done in terms of Vision Zero. In the past four years, we have seen on the streets of New York, traffic fatalities have gone down 28 percent; pedestrian fatalities have gone down 45 percent. Meanwhile, on the national level, roadway fatalities have gone up around 15 percent. So we have bucked the national trend. Very few other large cities are seeing the kind of fatality reductions that we are. I think that we have done amazing work. There is always more to do.
Andy Byford
President, New York City Transit
C&S: What's going to be the most challenging thing about your new role?
AB: The challenges are similar to those I've faced in other jobs in London, Sydney and Toronto. What's unique about New York is just the scale of the system. Everything is exponentially bigger. This is also what makes the job so exhilarating and why I took it. I did my homework before taking on this challenge and I'm excited to tackle the challenges head-on.
C&S: What's the first thing on your to-do list?
AB: I'm focusing on four core things with equal resolve at the moment, and we've really hit the ground running. One is a comprehensive plan to improve bus service. Another is making major improvements to station accessibility for customers with disabilities. I'm also focused on fully implementing the subway action plan set out by Chairman Lhota last summer and in improving employee morale. In order for us to do this difficult job, it's imperative that our workers are given the respect they deserve. At their core, each of these priorities is about improving service for customers. That's what I am here to do.
C&S: Do you think congestion pricing is a sustainable option for New York City?
AB: We need to look at all options and put everything on the table to make sure we get this right. We need to identify sustainable funding sources. I'll work with whatever resources I'm given, but the reality is that increased funding can absolutely help expedite the pace of improvements and make the system work better. If congestion pricing is the way to do that, I'm all for it.
C&S: What else is necessary to fund the MTA and the city's subways?
AB: I'm not a politician and as I've said before, I'll leave politics to the politicians. My job at its core is an operational one and I will maintain a laser focus on the nuts and bolts – doing the little things extraordinarily well each and every day so that we can improve service for the millions of New Yorkers who depend on this system. That said, I am completely committed to working with anyone and everyone in order to achieve that goal. I'm going to be visible and continue to make the case for transit. I'm going to argue that high-quality transit is absolutely essential to this city and that our customers deserve nothing less than world-class service.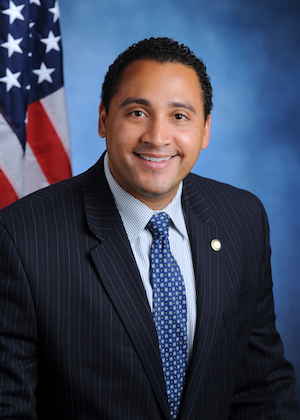 Robert Rodriguez
Assemblyman
C&S: What do you think of the congestion pricing plan that the governor's task force proposed?
RR: I think it is certainly a thoughtful proposal. It differs from the original legislation that was introduced. But I think it adds to the conversation about what are possible alternatives to create the revenue that is necessary for us to deal with congestion and to deal with mass transit options. So I think it has some of the elements that are there, but obviously takes a quite different approach from the old (Move) New York proposal that we introduced and continue to advocate for.
C&S: Given opposition from some lawmakers in both parties, how likely is it to pass or not? What changes could be made for it to pass?
RR: I think there are a lot of changes that are certainly being considered right now. I think it will be important to recognize that what people are working pretty hard to figure out is how do we fund mass transit needs, knowing that there is a significant underinvestment, and a significant need at the moment. I think right now there is a good chance to get some proposal passed that addresses the revenue shortfalls for the MTA and for mass transit, while dealing with congestion. Still, (the Move) New York proposal, some of the parts of it, some of the parts of the Fix NYC plan that was put forward, or accomodation of different parts and potentially new revenues.
But I think what is a consistent theme, among not just legislators but among the public, is that we have to do something. We have to do something to fix the transit issues that we are currently experiencing, and that we will no doubt continue to experience, and probably in worst measures. I think there is still a very robust discussion, and now, probably better than even previous years, there is a serious conversation about how do we do that, how do we bring revenue to fix what is clearly broken.
C&S: What else should Cuomo be looking at legislatively when it comes to transportation?
RR: I think what he should focus on (is) improving the system. I think (when) you talk to riders who commute into the city ... there is still reliability issues and then I think there are access issues that could be addressed. But we are talking about people in parts of Queens and Brooklyn that could do better with better access, and we are talking about folks in the East Side of Manhattan, Second Avenue Phase 2, there are access issues and service issues that the public wants to see addressed. There are significant places where people need and expect better service, and deserve better service. Those are the areas to focus on ... now and making sure that we get some of the benefits that come along with investments in transit.