Low-income New Yorkers unaware of programs protecting workers' rights
Drop of Light/Shutterstock
Low-income New Yorkers unaware of programs protecting workers' rights
Low-income New Yorkers are unaware of programs protecting workers' rights
A majority of eligible low-income workers in New York City are unaware of their right to sick leave, according to a new report by the Community Service Society, an advocacy group for poor New Yorkers.
In recent years, New York City and New York state have passed legislation to expand workers' rights. Yet a report to be released Tuesday by CSS shows that often the citizens who would most benefit from these policies have little to no awareness of them. The report is based on the findings of "The Unheard Third," its annual survey tracking the views and experiences of the one-third of New York City residents who live below twice the national poverty level.
CSS interviewed over 1,700 New Yorkers by phone in English, Spanish and Chinese for the report, "Expanding Workers' Rights." Respondents were asked about their awareness of the city's paid sick leave law, and statewide paid family leave and minimum wage increases.
The report's co-writer Nancy Rankin, the vice president for policy, research and advocacy at CSS praised the city and state for passing progressive laws that increased workers' protections, and said that CSS was not criticizing them for low levels of awareness among poor New Yorkers.
"I think actually in New York that the city and state have made greater efforts of outreach than (government) in some other places, and they understand the need for it, but we also have to do our job as advocates to track," she said. "Is it getting through, is it enough, do we need to do more? Do we need to amp it up?"
RELATED: The deadly world of private garbage collection
The findings in "Expanding Workers' Rights" suggest that the city and state could do a little more amping. Irene Lew, the other co-writer of the report and a policy analyst at CSS, said that their survey is uniquely helpful to state and city government, because it identifies the gaps for low income New Yorkers, showing where action is needed to improve the programs. "Passing these laws is just the start," Lew said. "If workers and employers don't know about them, then the benefits are limited in terms of who they're reaching and who they're impacting."
Paid Sick Leave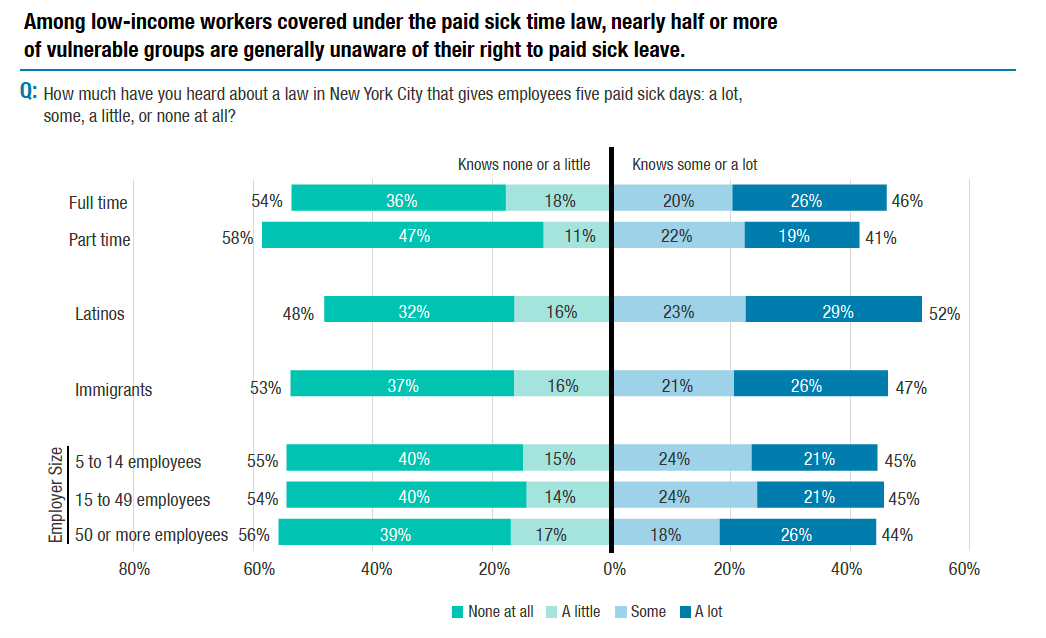 (Community Service Society)
The Earned Sick Time Act was passed in June 2013 and was expanded to cover workers at smaller firms and manufacturing workers in March 2014. It went into effect the following month. The report notes that the share low-income workers in New York City who are covered with paid sick leave has greatly increased in four years, climbing from 47 percent in 2013 to 71 percent in 2017. However, the survey finds that 54 percent of low-income full-time workers, and 58 percent of low-income part-time workers, know nothing or a little about this law.
"If workers are not aware of their rights, they're not going to raise these issues, they're not going remind their employer they should be getting a paid sick day," Rankin said. She noted that increasing awareness can be a challenge in New York City, where there are hundreds of thousands of employers, a diverse population and decreasing media coverage of local laws.
In 2014, when the policy was first rolled out, the city Department of Consumer Affairs did an extensive campaign with paid print, TV and subway ads. Today, the DCA still does literature, training and workshops on the law, but does not buy paid advertising.
In a statement provided for City & State, DCA Commissioner Lorelei Salas said that there is still more work to be done to make sure that low wage and immigrant workers in particular are aware of their rights, even though they are eligible.
"Developing strategies to strengthen enforcement for these vulnerable workers, including innovative outreach and education, is a top priority of our Office of Labor Policy and Standards. We will work to ensure that all New Yorkers – regardless of immigration status – are aware of and benefiting from New York's minimum wage, overtime, fair scheduling, and paid sick leave laws," Salas said.
RELATED: Spotlight on construction
The report suggests reintroducing paid advertising. In her interview with City & State, Rankin also expanded upon another recommendation in the report: requiring posters about the right to paid sick leave in pharmacies, doctors' offices and clinics, to encourage the idea that taking time off is the norm.
"We have all these ads about washing your hands and choking in restaurants. Why not have posters in every pharmacy saying, reminding people that you have a right to paid sick days?" She said. She also encouraged New York City Mayor Bill de Blasio to become personally involved.
"Why isn't the mayor out there taking credit for paid sick days and reminding people of this?" Rankin asked. (Whereas the 2013 bill had to be passed by a city council supermajority over Mayor Michael Bloomberg's veto, Mayor Bill de Blasio enthusiastically signed the law's 2014 expansion.)
Minimum Wage Increases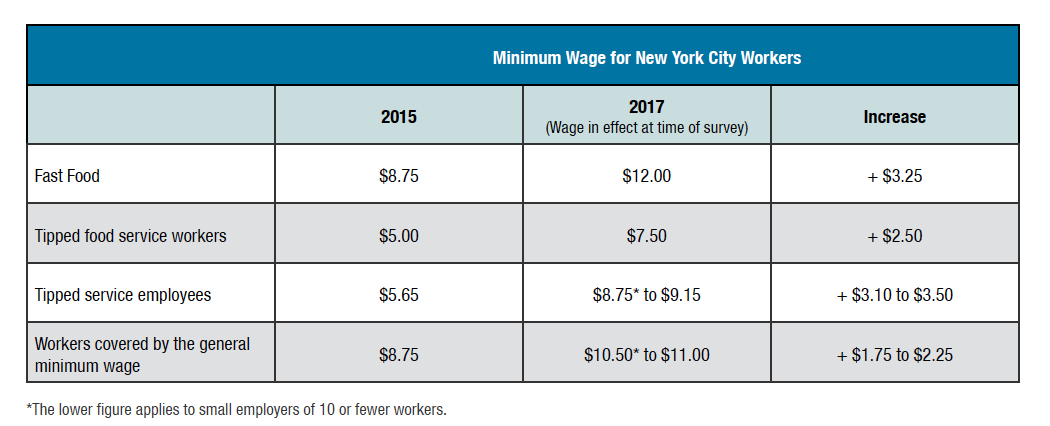 (Community Service Society)
According to the report, more than a third of the working poor in New York City said that they were better off due to the state's increase of the minimum wage, but 55 percent said that it had no impact. Rankin said that this is largely due to confusion over the rollout of higher minimum wages for tipped, fast food and all other workers.
In 2015, tipped workers and fast food workers had their minimum wages increased. Fast food workers are set to have their wages increased to $15/hour by the end of 2018 in New York City and by 2021 in the rest of the state. In 2016, the governor signed legislation increasing the minimum wage for other workers to $15/hour by the end of 2019 in the city. In December, Cuomo announced that the state would hold hearings on whether the tipped minimum wage – which is currently $7.50/hour – should be replaced with one wage for all workers, which Rankin and CSS support.
Confusion over the minimum wage could contribute to wage theft, where workers are paid below what they should be receiving. The report states that 11.4 percent of all non-tipped hourly workers reported wages below the applicable minimum wage.
Despite the staggered timelines, the public is more aware of increases to the minimum wage than it is of the city's paid sick leave policy or the state's new family leave policy. Rankin said that equalizing the minimum wage for all workers will ensure that more workers and employers are aware of the proper wage.
"We need to start to better align the minimum wage, because it's hard to enforce when it's so complicated, and people may not know – they know the minimum wage went up, but if you ask people they may not know what it is or what it's supposed to be," she said.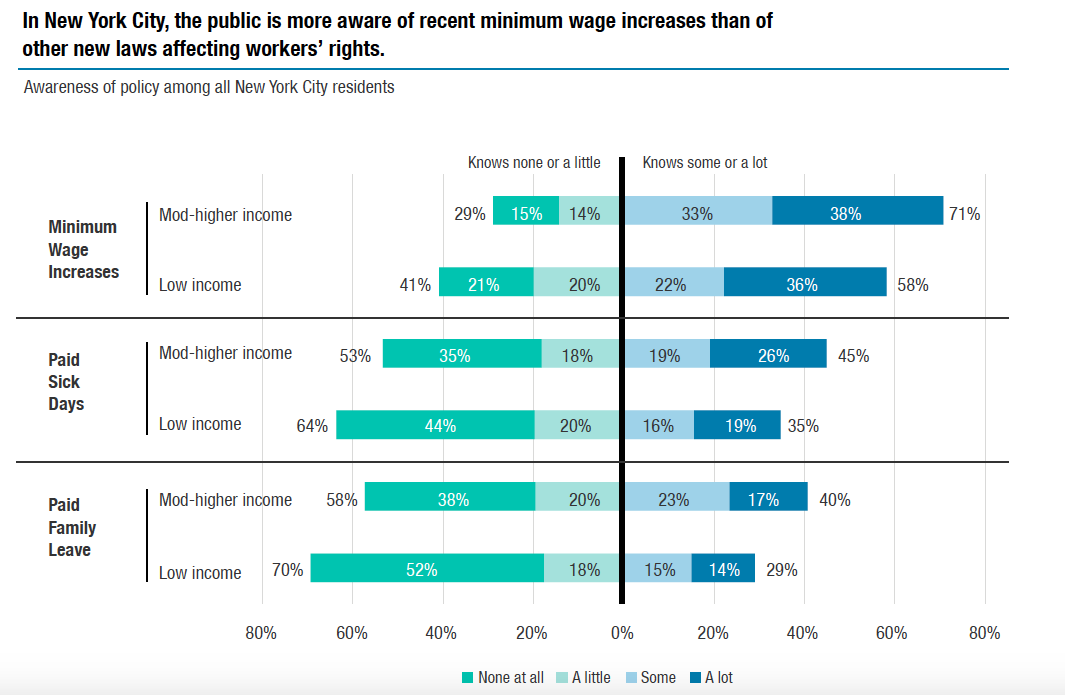 (Community Service Society)
Paid Family Leave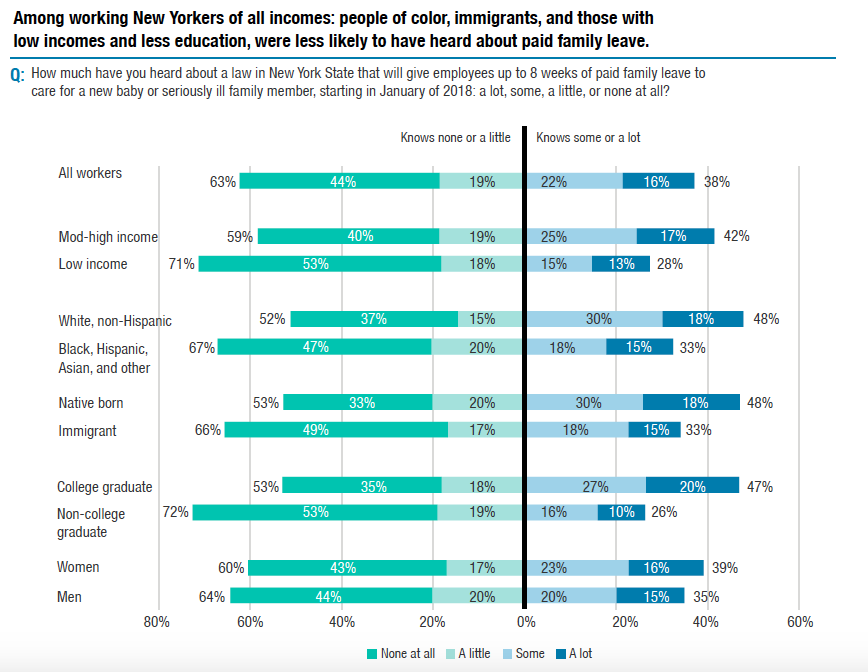 (Community Service Society)
The survey was conducted in July and August, after statewide paid family leave had been signed into law in 2016, but before it took effect on Jan. 1, 2018, and before the state began its rollout of the campaign advertising the program.
When asked in the survey if they were aware that the state had recently passed a law allowing for up to eight weeks of paid leave to care for a new child or sick family member, the survey found that 63 percent of all workers said that they knew little or nothing about the program. People who would especially benefit from the program have low awareness – 76 percent of non-college graduate working women were not aware of paid family leave, as are 66 percent of immigrant women.
Rankin gave another reason that New Yorkers need to be made more aware of the program. Family leave could lower health care costs by combating the trend of increased hospital readmissions.
"You go home with tubes and with complicated instructions and the health care system is really counting on there being a family member there to help somebody," she said, explaining that having someone at home to take care of a family member would prevent sick people from returning to the hospital. She said that people are paying for this program through deductions in their paycheck, and should be aware of the right to take time off, just as they should be for sick days.
The report suggests having any Medicaid claim for a prenatal visit trigger an automatic text message or brochure sent to the claimant, reminding them that they have a right to paid family leave. This would particularly help low-income women become aware of the program, as Rankin said that 39 percent of mothers in New York City covered by Medicaid are employed during their pregnancy.
As the state and advocates had not yet begun its campaign advertising paid family leave at the time of the survey, Rankin said that the findings of the report should be taken only as a "baseline" for what people knew before it was implemented.
"What we're underlining is not evaluating the job they're doing with that, but we're saying how much that was needed and how glad we are that they're doing it," Rankin said. "I'm really impressed that the governor's office has given the roll-out of paid family leave enormous priority."
Read the full report below:
Expanding Workers Rights - Final 1-12-18 - Web by City & State NY on Scribd