The most influential people in Brooklyn
The most influential people in Brooklyn
Meet Kings County's ruling class.
New York City Mayor Bill de Blasio is identified with Brooklyn. U.S. Sen. Charles Schumer, the Senate minority leader and the most powerful Democrat in Washington, D.C, was born and raised there. Other high-profile political power brokers' Rep. Hakeem Jeffries, New York City Public Advocate Letitia James, Brooklyn Borough President Eric Adams' also hail from the borough.
But they're not the only ones getting things done in Brooklyn.
In compiling a list of the borough's leaders, we came up with so many local movers and shakers that it was hard to whittle down the list to a manageable number.

In this special list, we recognize 50 people in the borough who are key players in the world of New York politics and government. Since we cover politicians on a day-to-day basis, we limited this list to those who are not strictly in government but instead influence it from the outside.
We reached out to insiders and experts to compile this list, ranking each person based on their accomplishments, sway in political and policy matters, economic clout, philanthropic efforts, ties to powerful politicians and the constituencies they represent.
Without further ado, we're pleased to present the Brooklyn Power 50.
---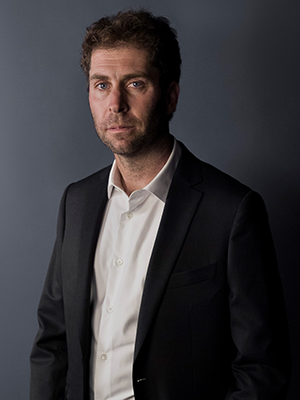 Photo Courtesy Two Trees Management Co.
1. Jed Walentas
CEO, Two Trees Management
It is extremely rare for anyone to have an opportunity to remake one New York City neighborhood in their lifetime, but the Walentas family has rejuvenated two. Four decades after transforming an industrial swath under two Brooklyn bridges into one of the most desirable and priciest places to live in the city, Jed Walentas set out to accomplish the same feat in South Williamsburg. His Two Trees Management development firm purchased the long-defunct Domino Sugar complex in 2012 and unveiled a $1.5 billion rezoning plan for the 11-acre site with a mix of housing and retail spaces designed by SHoP Architects and a waterfront park. Two Trees opened the park in June, giving Williamsburg residents access to the area after the factory closed in 2004. Walentas will soon have company. Other developers, including Eliot Spitzer, are poised to open large rental complexes to his south while new towers continue to rise to the north. Meanwhile, New York City Mayor Bill de Blasio hopes to add a streetcar, possibly along Kent Avenue, to supplement ferry service that stops on both ends of the complex.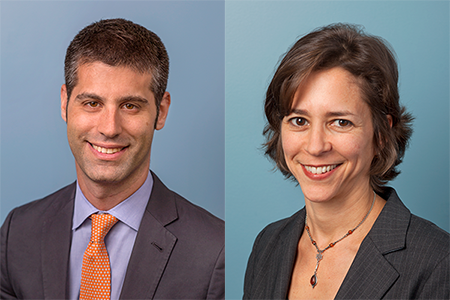 Photo Courtesy BerlinRosen
2. Jonathan Rosen and Valerie Berlin
Principals, BerlinRosen
Jonathan Rosen and Valerie Berlin have had New York City Mayor Bill de Blasio's ear since helping the Park Slope politician break through a crowded Democratic mayoral field five years ago. Rosen is so close to the City Hall brain trust that de Blasio ferociously fought to shield their written correspondence from reporters by naming him an "agent of the city" in court papers. The malediction did little to boost Rosen other than garnering unwanted attention, and ultimately a judge ruled against the mayor, allowing his petty grievances against the media to be aired in May. Rosen and Berlin shrugged it off and their eponymous firm continues to expand, attracting real estate and high-powered nonprofit clients like The Hudson Companies Inc. and the Brooklyn Public Library. In the past year, they have also hired David Levine, a former Hillary for America executive and a veteran of the Obama White House, as the firm's chief operating officer, and added two senior executives to head up their philanthropy and lifestyle practices.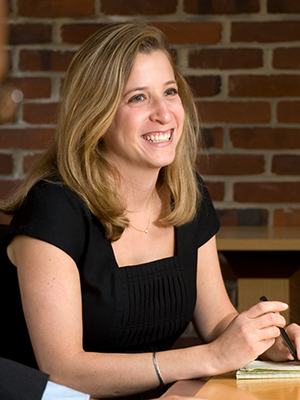 3. Rebecca Katz and Bill Hyers
Partners, Hilltop Public Solutions
When Cynthia Nixon needed advice about mounting a nimble campaign against the formidable Gov. Andrew Cuomo, she called Rebecca Katz and Bill Hyers. The political dynamos at Hilltop Public Solutions aren't afraid of an uphill challenge – that's probably why "hill" is in their name. They engineered Bill de Blasio's emergence through a crowded 2013 mayoral primary and have assisted Democratic U.S. Sens. Kirsten Gillibrand and Jon Tester. Katz and Hyers have also nurtured the next generation of progressive leaders, who have started their own ventures and advanced through the halls of New York City government. But Nixon is their most intriguing client. She earned national press for her announcement and has applied heavy pressure on the governor. Cuomo has already tacked left on legalizing marijuana, banning plastic bags, improving substandard public housing and funding a sweeping modernization of the MTA. Katz and Hyers have largely done their work behind the scenes to make New York a more progressive place, but a gubernatorial campaign puts their political agenda at the forefront of the public debate this summer.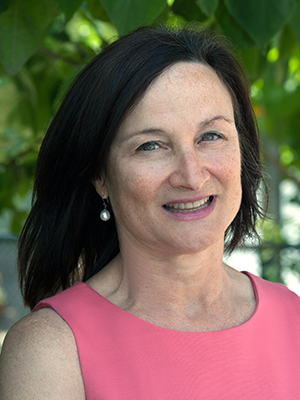 4. Regina Myer
President, Downtown Brooklyn Partnership
Five years ago, most New Yorkers didn't think about Downtown Brooklyn as a destination other than as a place to serve jury duty. That's changing quickly. Cranes have been lifting I-beams on nearly every block as multistory residential towers pierce the horizon. Sales prices have risen too this year, making the neighborhood one of the most robust real estate markets in New York City. A driving force behind the rising demand in the borough's downtown area is Regina Myer, who joined the Downtown Brooklyn Partnership in 2016 after leading the Brooklyn Bridge Park Corp. Myer has helped lure tech companies, real estate developers and commercial tenants to the Fulton Street corridor. Last year's opening of City Point – a residential and commercial entertainment complex with a gourmet food hall, grocery store and Alamo Drafthouse Cinema – has been a godsend for residents who have had to trek to Fort Greene or Boerum Hill for food and entertainment options. Now Myer is pushing for a greenway at the Brooklyn Strand, connecting Downtown Brooklyn to the waterfront with new bike paths.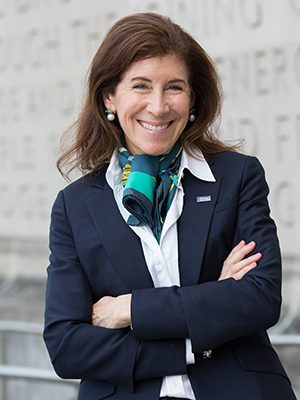 Photo Courtesy Gregg Richards for Brooklyn Public Library
5. Linda E. Johnson
President and CEO, Brooklyn Public Library
We can't imagine a more iconic institution in the borough than the Brooklyn Public Library, home to 8.1 million visitors last year and nearly 700,000 active library card holders. But the popularity of the library system, the fifth largest in the country, isn't enough for President and CEO Linda E. Johnson – not when its 59 branches need $228 million in upkeep. She has led an aggressive modernization plan to fix dilapidated satellites while partnering with developers to construct a chic new branch in Brooklyn Heights, with luxury housing on top of it. New branches are coming to Downtown Brooklyn and Dumbo, and within five years one-third of all buildings will have been fully rehabilitated. The library's crown jewel at Grand Army Plaza, a veritable temple of learning, is also getting a new welcome center named after the late congressman and former librarian Major Owens, who used to represent Central Brooklyn. Johnson's fundraising prowess has helped make these renovations possible, raising another $1.1 million at its annual gala.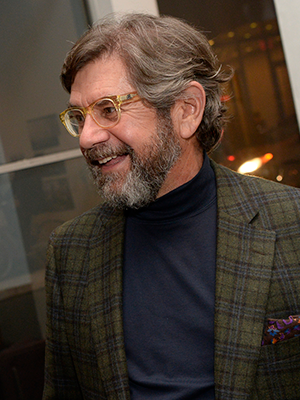 Photo By Paul Martinka (Streetsblog)
6. Steve Hindy
Co-founder and Chairman, Brooklyn Brewery
As Brooklyn's favorite brewer, Steve Hindy is facing a few new challenges. Aluminum tariffs might raise the price of beer cans? Well, that's industrywide and there are plenty of taps serving Brooklyn lager. An L train shutdown might hamper visits to the Brooklyn Brewery's Williamsburg headquarters? People will find their way to the neighborhood by ferry, bus and train. The Brooklyn Brewery co-founder and former Middle East correspondent for The Associated Press is embracing the uncertainty. That's how his beer company has been able to become the 21st largest brewery in the United States, according to Forbes. And he's not content to serve frothy beverages only to thirsty Americans. It sold a stake in the company to Kirin Co. in order to tap into the Japanese market, and recently opened a craft brewery site in Lithuania with the Carlsberg Group. Hindy keeps his hand in Brooklyn civic life too, serving on the Prospect Park Alliance board, while co-sponsoring scores of arts and music events throughout the borough. His story has inspired a generation of Brooklyn entrepreneurs.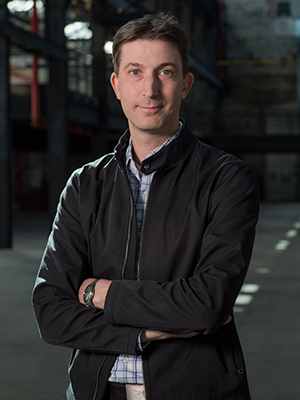 Image Credit:
Photo Courtesy Brooklyn Navy Yard
7. David Ehrenberg
President and CEO, Brooklyn Navy Yard
Pulitzer Prize-winning author Jennifer Egan set her latest novel "Manhattan Beach" in the Brooklyn Navy Yard, where about 70,000 people worked during World War II. The shipbuilding industry has long since passed, but in the 21st century, Brooklyn Navy Yard President and CEO David Ehrenberg and his 200 employees have brought the manufacturing, film and technology industries to the 225-acre site along the waterfront. Ehrenberg hopes that the new supply of innovative, transit-accessible office space will be a selling point. There are already more than 100 tech companies in the area. Their latest project is Doug Steiner's nine-story 230,000-square-foot space for light manufacturing tenants that could create between 700 and 1,000 jobs. The city is investing $40 million in the project and hopes to create hundreds of thousands of jobs in future developments. The Brooklyn Navy Yard has become an attraction for arts and creative events on its own. Hillary Clinton celebrated her primary victory at the site and Egan had her book's launch party at Building 92.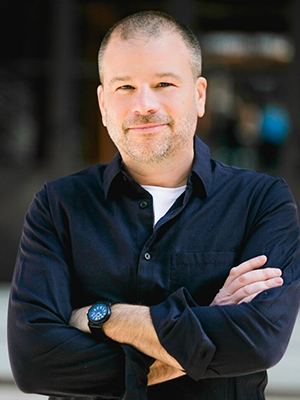 Photo Courtesy Industry City
8. Andrew Kimball
CEO, Industry City
The Bush Terminal once served as a shipping and rail hub on the Brooklyn waterfront, and its factories were used by the federal government during World War I and World War II. The 5.3 million-square-foot complex is now home to what Industry City CEO Andrew Kimball calls the "innovation economy." That includes tenants such as the drone operators Aerobo, eyeglass manufacturers M Factory USA Inc., and digital film production company FilmRise, in addition to a video production studio and scores of artists, craftsmen and designers with studios on-site. The number of jobs in Industry City's warehouses has almost quadrupled from 1,900 in 2013 to 7,000 today, while the number of tenants has tripled from 150 to 450 over the same period. There's more to come. Kimball is leading the push for a massive rezoning that would allow more light manufacturing on-site, potentially adding $1 billion in economic activity and boosting the number of jobs to 13,000, with another 7,000 off-site.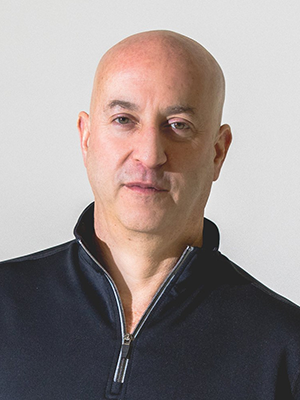 Photo Courtesy Steiner Studios
9. Doug Steiner
Chairman, Steiner Studios
Few Brooklynites have as profound an impact on the borough's image and revitalization as developer Doug Steiner. He helped transform the Brooklyn Navy Yard from a motley collection of dilapidated warehouses and homes into one of the film industry's most prominent East Coast footholds. Under his aegis, Steiner Studios hosts film, television and commercial shoots out of six buildings across 580,000 square feet of production facility space. Another six soundstages comprising 180,000 square feet are under construction and the entire 60-acre complex will total 1.6 million square feet by the time it is completed. Steiner isn't just the host of a multitude of movie magic. He lured Brooklyn College's Feirstein Graduate School of Cinema to the area. His development company has been particularly active, transforming Admiral's Row into a home for tech companies with a nine-story manufacturing center on Sands Street and 165,000 square feet of retail. Steiner is also dipping his toe into Downtown Brooklyn's rental scene with his nearly completed 55-story residential tower on Schermerhorn Street.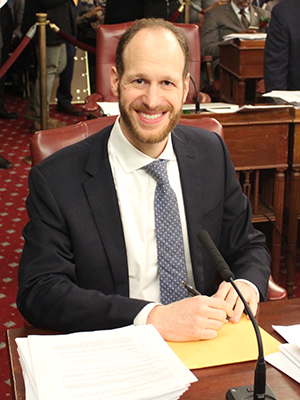 Photo Courtesy Met Council
10. David Greenfield
CEO, Metropolitan Council on Jewish Poverty
A year ago, David Greenfield stunned his New York City Council colleagues when he announced he wouldn't seek re-election and would instead take a job running the Metropolitan Council on Jewish Poverty. One of the city's most visible Jewish charities was having trouble raising money and needed to rebrand after its former CEO was convicted for conspiring to siphon $9 million in an insurance kickback scheme. The nonprofit's board president said it was a "coup" that they were able to attract Greenfield to the organization. A year later, Greenfield has quietly returned the Met Council to the political forefront. The group's legislative breakfast attracted U.S. Sen. Charles Schumer, Rep. Joseph Crowley, NYPD Commissioner James O'Neill, Assembly Speaker Carl Heastie, New York City Public Advocate Letitia James and a slew of council members and state legislators. Greenfield has also maintained an active Twitter presence, like his days in the council, touting the charity's less visible work providing meals, making home visits and finding other ways to serve more than 225,000 individuals and families living under the poverty line.