How Jersey City unemployment was gerrymandered to help Kushner pitch investor visas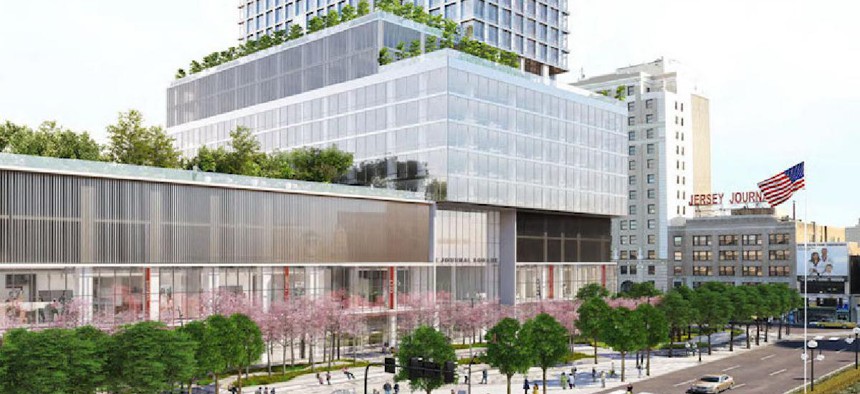 It shouldn't be a surprise. Like some other real estate developers, the Kushner Companies, builders of two luxury apartment projects in Jersey City and owned by the family of President Trump's aide and son-in-law, Jared Kushner, have gamed the EB-5 investor visa system, getting their buildings officially located in zones of high unemployment – thanks to creative mapmaking.
These maps, previously unreported, connect Kushner's 65 Bay Street project, marketed as Trump Bay Street, and the proposed One Journal Square development to Jersey City's poorer southern section. 
These strange maps, perfectly legal for now, string census tracts south into shapes like a club or wobbly walking stick. The practice raises more questions about a program that is supposed to create jobs but often serves the private interests of investors, the project developer and the middlemen. The recent criticism of the Kushner family's efforts in China has highlighted how EB-5 marketers push the ethical envelope to recruit investors.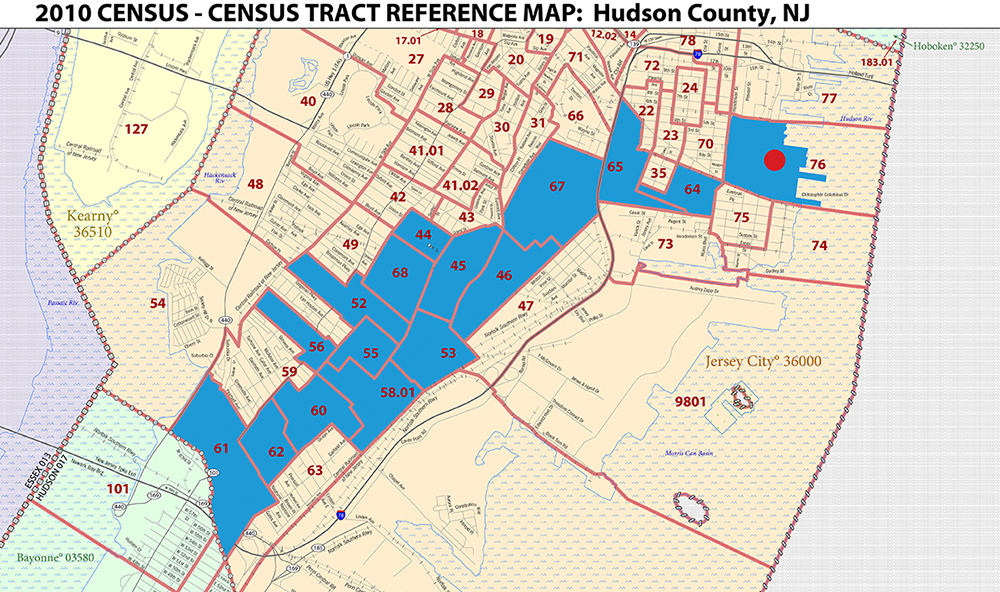 Red dot represents 65 Bay St. Blue area is zone of high unemployment. (View full-scale map here.)
Let me explain. A 1990 federal law requires EB-5 investors to invest $1 million to a purportedly job-creating enterprise to get green cards for themselves and their families. However, that requirement is halved to $500,000 if the project is in a Targeted Employment Area (TEA), defined as either a rural area or a zone where unemployment is 150 percent of the national average. Given fierce competition for investors, nearly every EB-5 project somehow winds up in a TEA, no matter how prosperous its immediate locale.
Targeted Employment Areas are routinely gerrymandered, especially in New York City. In 2011, I described the "Bed-Stuy Boomerang" that linked the Atlantic Yards project to poorer sectors; the New York Times showed an EB-5 project in Manhattan jumping the East River to encompass an "adjacent" census tract. More recently, the Wall Street Journal and CityLab revealed more maps, tying pricey midtown towers to Harlem housing projects, all endorsed by Empire State Development, the state's economic development agency.
New Jersey's Department of Labor and Workforce Development (NJLWD) is apparently more than willing to lend a hand too. The agency publishes a list of established Targeted Employment Areas, including three counties; the struggling cities of Camden, Newark, and Paterson; and other municipalities. While Jersey City doesn't automatically qualify, no worries: "If the area of investment is not listed above, NJLWD can perform a special tabulation for the area in question," the department states. 
So the department twice certified TEAs for One Journal Square, and once for 65 Bay Street, in response to configurations submitted by economist Michael Evans, who works for the "regional center" packaging Kushner's EB-5 projects. (Last year, Evans promised on his web site, "We work closely with state agencies to design an area that includes your census tract but also qualifies as a TEA.")
RELATED: The Kushner family and EB-5 investor visas
To be designated a Targeted Employment Area, 65 Bay Street - located in the coveted Powerhouse Arts District - had to be part of an area with a combined 9.8 percent unemployment rate. A letter the New Jersey Department of Labor and Workforce Development sent to Evans, which I received thanks to an Open Public Records Act request, shows that, in May 2015, the NJLWD had to link the Bay Street tower's home census tract to 15 more tracts, stretching more than four miles to the rough Greenville section near the Bayonne border.
While the home tract had just a 3.1 percent jobless rate, and two tracts going west had rates of 3 percent and 5 percent, respectively, and the unemployment rate grew dramatically as the census tracts ran south. Voilà: high unemployment.
In January 2017, an 8 percent jobless rate was needed to satisfy Targeted Employment Area requirements for One Journal Square, the project now being marketed, which is in a reviving downtown hub. While census tract 19, the home location, had a 4 percent unemployment rate, and census tracts 71 and 66 stringing south had rates of 5 percent and 2.8 percent, three more tracts stretching into the Bergen/Lafayette neighborhood added rates of 10.9 percent, 12.4 percent, and 12.6 percent. 
This gerrymandering makes a mockery of the philosophy behind the Targeted Employment Areas: to direct jobs to those who need them. However, most states welcome EB-5 investments; with no direct local cost, there's little incentive for integrity.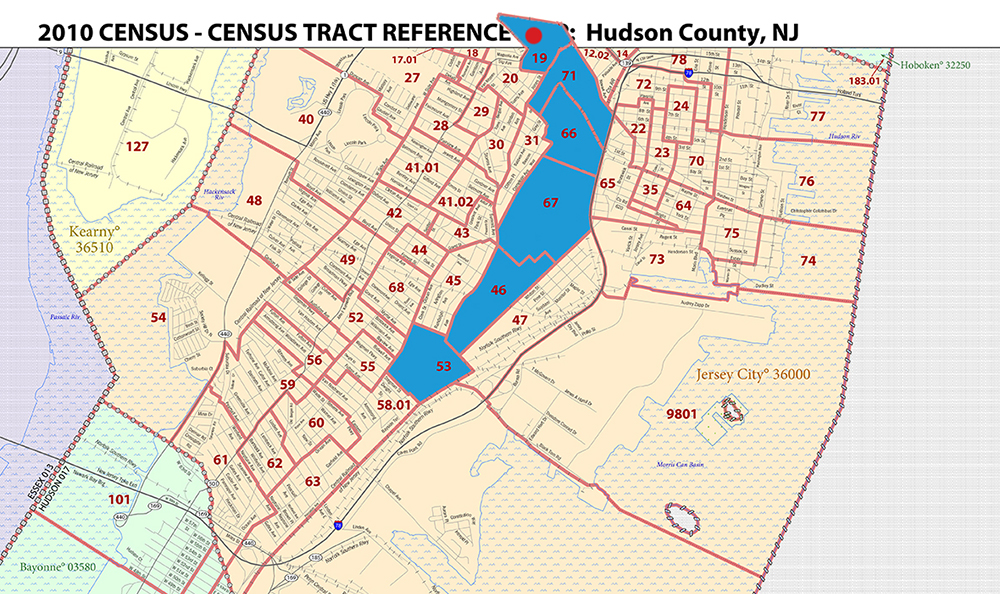 Red dot represents One Journal Square. Blue area is zone of high unemployment. (View full-scale map here.)
EB-5 reforms proposed by the outgoing Obama administration not only would raise investment minimums, but also would forbid states from mapping TEAs, limiting such zones to either the census tract housing the project, or to immediately contiguous tracts. (President Trump has not yet weighed in.)
Such a policy, of course, would preclude many projects, including those in Jersey City. In an April 2017 report, Invest in the USA, a trade group of regional centers (investment packagers), estimated that only 41 percent of 589 EB-5 projects analyzed would qualify under the proposal. 
Interestingly enough, the trade group endorses this change, while adding "infrastructure" – presumably in anticipation of Trump's infrastructure plan – as a category for EB-5 funds. Apparently many in the EB-5 industry, bruised by high-profile instances of fraud and marketing abuses, would not like to kill the golden goose. 
New York University Scholar Gary Friedland, one of the few independent analysts of EB-5, submitted comments noting that many current projects, located in affluent areas, "could obtain financing without the use of EB-5 capital." He recommended that TEAs either be limited to the single census tract in which the project is built or, if contiguous tracts can be used, that all such tracts be taken into account.
That doesn't mean that Congress will pass TEA reform, since EB-5 policy has split, not on party lines, but between legislators representing urban and rural interests, all seeking a piece of the pie. (Few want to kill the program or streamline it to axe the middlemen.) Influential legislators like New York Sen. Charles Schumer have defended the status quo benefiting their constituents, spuriously arguing that current TEA policies embrace commuting patterns. 
Similarly wary of change, executive Mark Giresi of the U.S. Immigration Fund – the parent company of the regional center marketing EB-5 for the Kushner projects, as well as several in New York City – told the New York Times, "We oppose efforts to treat urban markets differently than rural markets." The firm is a leader in EB-5 lobbying.
Even TEA reform and a belatedly increased investment minimum would not address other problems with investor visas, such as extremely generous methodology regarding job-creation calculations. Bottom line: as these maps show, the more sunlight on EB-5, the more craven it looks.