New York City
Transit problems threaten New York's economic future
Amazon and other tech companies want a subway system that runs on time.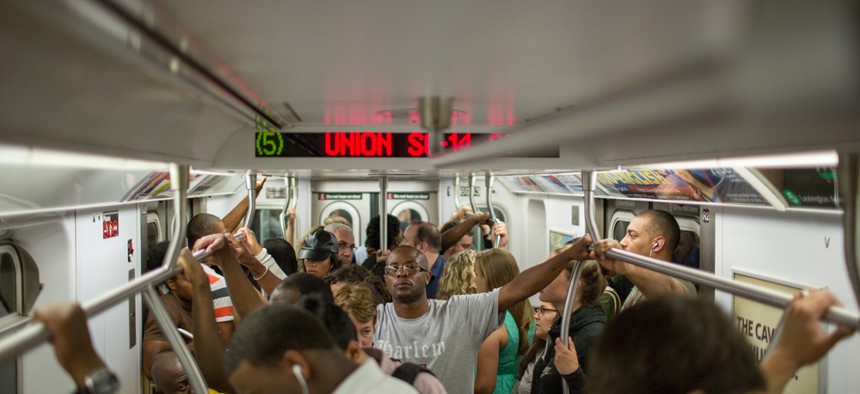 There has been no lack of New York transit news in 2018 so far. Gov. Andrew Cuomo proposed a new subway connecting Lower Manhattan to Red Hook and his advisory panel's long-awaited Fix NYC report came out, including its congestion pricing proposal. Andy Byford, who reformed transit in Toronto, became president of New York City Transit. Meanwhile, the daily stories of the system's dysfunction – of subway service disruptions and buses moving slower than pedestrians – continue unabated.
But there was also a transit story many people failed to recognize as one: Amazon announced that New York is one of the finalist cities that may host the company's new second headquarters.
Amazon is a unique corporate behemoth, but its "HQ2" decision-making process provides a clearer sense of what many companies, especially those competing for tech workers, consider when they decide where to build and grow. Along with a concentration of tech talent, proximity to institutions of higher education, and potential tax incentives, Amazon made it clear that "direct access" to a robust transit network is a core criterion for its HQ2 location.
Transportation matters to Amazon and other companies because it matters to employees. No one wants a difficult commute. When transportation fails, productivity and efficiency suffer, inevitably slowing down business. Last year, the New York City comptroller's office found that 74 percent of surveyed riders had been late to a work meeting because of subway delays. The city's Independent Budget Office estimated the annual economic cost of subway delays is about $307 million.
It's time for our policymakers to recognize and address our transit crisis as an economic crisis too: It's a critical threat to New York's long-term workforce development. Ending this crisis requires a firm and extensive commitment to investing in our transit infrastructure. If New York wants to win the competition for Amazon and, perhaps more important, the startup that becomes the next Amazon, properly-implemented congestion pricing offers the best available option to provide a steady revenue stream for improving our mass transit system.
New York City faces fierce competition for technology talent — both in tech companies based here and in the major companies from all sectors that rely on complex technology to do their work. Our extensive public transit system, when properly functioning, helps set New York apart from other North American cities and tech hubs. When it's not working, it impacts productivity and makes it harder for companies to recruit.
The region's subways, buses and commuter rail should represent the pinnacle of American urban transit. New York's subways carry 5.7 million riders daily, accounting for 70 percent of American daily rail rides. Extensive and regular trains and buses enable a U.S.-leading 56 percent of households in our city to be car-free. Even as the delays pile up, New York's transit access remains extraordinary: 97 percent of New Yorkers live within a quarter-mile of a bus or train. And at rush hour, the trains and dedicated bus lanes are still typically faster than driving on congested streets.
New York workers already have the longest average commute times among the country's 14 largest metro areas, according to the Citizens Budget Commission. But the system's 24-hour, daily convenience and wide reach still attracts people. In the Bay Area, where BART reaches only a slice of San Francisco's and Oakland's residents, public transit carries only 16 percent of the region's workers. Some tech companies have filled the gap by shuttling employees between their homes in San Francisco and work in Silicon Valley on private buses. But that costly exercise only relieves the overburdened transit infrastructure of a small slice of fortunate workers – and it doesn't take workers everywhere they might want to go in their free time. In the CBC's 2016 talent recruitment report, New York ranks in the top three on quality of life and city amenities that make a location attractive to top talent – cultural institutions, food, nightlife – and thanks to our mass transit, those things are physically accessible.
These apparent advantages obscure the grinding reality of decades of neglect and disrepair that New Yorkers currently experience every time they swipe their MetroCard. Only 65 percent of our weekday subways arrive on time – the worst rate of any major transit system. New York companies can't schedule morning meetings and count on employees being there.
Everyone acknowledges that the trains and buses need fixing. Congestion pricing offers one good way to work ourselves out of this mess. By charging individual vehicles entering Manhattan below 60th Street, congestion pricing could deliver around $1 billion of annual gross revenue. If every dollar is dedicated to transit improvements in the five boroughs, and the proposal is tied to sorely needed MTA reforms, then we could get subways and buses moving again. The governor's budget proposal regrettably lacks a congestion pricing proposal, suggesting it won't advance this year. But our legislators can't abandon it or other potential solutions to this emergency.
New York's transit crisis threatens the things we love about New York City the most. If unfixed, it also promises to make recruiting successful companies or building them here even harder. New York political leaders must work together on both immediate upgrades and permanent expansions – not to mention a permanent source of additional funding. Fixing the transit system isn't merely a matter of daily convenience, it's essential to our region's long-term capacity to thrive.
Powered By
NEXT STORY: More than just a weekend