Immigration
Crowley: Put ICE back on its leash
A new bill introduced by Rep. Joe Crowley and U.S. Sen. Kirsten Gillibrand would dismantle Trump's deportation machine.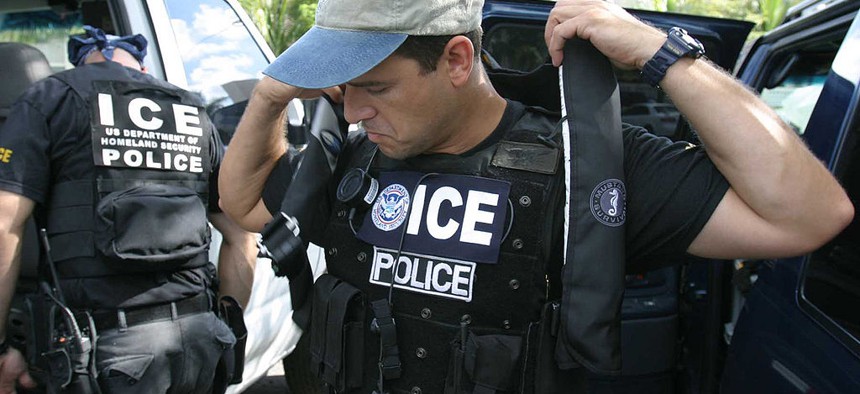 Never before have I seen a president throw his weight so forcefully behind policies that tear away at the moral fabric of America. From instituting an unconstitutional Muslim travel ban to appointing his anti-immigrant lackeys to the highest positions of power, President Donald Trump has corrupted the powers of his office.
The inhumanity of the Trump administration is most clearly shown through immigration policies that have ripped thousands of defenseless children from their mothers' arms. Outrage is not enough: we must dismantle Trump's deportation machine.
That's why I'm partnering with my fellow New Yorker, U.S. Sen. Kirsten Gillibrand, to introduce legislation that will hold U.S. Immigration and Customs Enforcement and U.S. Customs and Border Protection agents accountable.
Up to this point, ICE and CBP officers have been granted broad autonomy in exercising their authority, but the xenophobic, un-American policies of the Trump administration have laid bare the flaws of this approach, as immigration enforcement agencies have been given a blank check to terrorize families outside schools, churches and courthouses. Here in New York, ICE has been preying on undocumented immigrants outside of courthouses and raiding private businesses as they target immigrant families.
The Department of Homeland Security Accountability and Transparency Act would require ICE and CBP officers to report every time they stop an individual and submit details of the interaction to Congress. Officers would be required to disclose, among other things, the reason for stopping an individual, the individual's characteristics, if force was used, if an arrest was made and the badge number of the law enforcement officer present. This data would be reported to Congress and made accessible to the public.
By requiring officers to disclose the details and justify every stop they make, we can closely monitor the actions being taken in the name of America's national security. More importantly, stringent oversight of ICE and CBP will help protect the human rights of all families – citizen and noncitizen alike.
America's Founding Fathers envisioned a political system where no branch of government is more powerful than another. As demonstrated by the monstrous actions taken by the Trump administration, the executive branch now wields an inordinate amount of influence over immigration policy. The Department of Homeland Security Accountability and Transparency Act would ensure that ICE and CBP officers provide a reason for every action they take while on duty.
We have entered an era where the actions taken by our president too closely resemble the actions taken by despots and authoritarians abroad. This is unconscionable, and we must draw a line in the sand. I'm proud to have the support of the American Civil Liberties Union, the New York Immigration Coalition, Make the Road New York, and several other civil rights organizations that are calling for swift passage of this bill.
Establishing new checks on immigration enforcement will also allow lawmakers in Congress to compile highly refined data that can facilitate the policymaking process. If Congress can rely on more accurate data, then we will be more prepared to craft legislation that will effectively protect immigrant families and defend our nation's borders. Put simply, better data inspires better legislation.
This is critical at a time when Trump has even brought his inhumane immigration priorities to women and children fleeing severe violence in other countries. Most recently, the Trump administration has begun forcibly separating parents and children who arrive at our border seeking refuge, referring parents for criminal prosecution even if they're requesting asylum, and transferring children to detention centers or foster care.
Unlike Trump, I understand that when mothers carrying infant children come running to our border, they are seeking salvation. And I'm proud to stand with my fellow Americans who are willing to lend a hand to those fleeing catastrophe. Sadly, this border policy is reflective of this administration's priorities.
We can no longer tolerate an inhumane approach toward immigration enforcement and border security that does nothing to protect our communities. I will not sit idly by as frightened children are thrown into detention camps, or as parents are arrested after dropping their child off at school, all in the name of our "national interests." These actions serve only the interests of Trump and his anti-immigrant agenda.
Powered By
NEXT STORY: The MTA's flashy new plan won't solve the delays