New York State
Cuomo administration shouldn't put NRA on financial blacklist
New York Governor Andrew Cuomo's administration shouldn't put NRA on financial blacklist.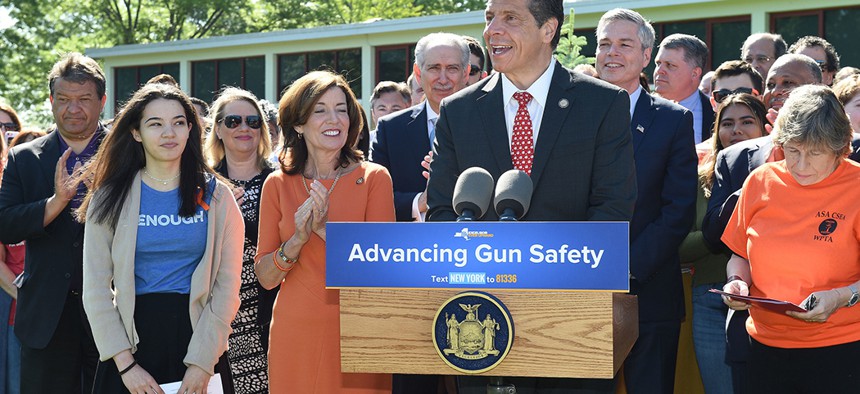 There is something uniquely horrific about the senseless slaughter of innocent school children. The heartbreaking sight of little lifeless bodies clutching books and brightly colored lunch boxes has great power to move politicians to act, and rightly so.
Why, then, does Gov. Andrew Cuomo stand by and do nothing in the wake of the latest high-profile massacre of young innocents? Why does he not instruct New York's financial regulators to use their considerable power to effect real change by warning financial institutions of the "reputational risk" they assume in doing business with those who give political cover to the industry responsible for the weapons used in the mass murder of innocent kids
Probably because the massacre in question is the U.S./UK/Saudi coalition's recent bombing of a school bus in Yemen, which killed 40 children under the age of eleven, and the industry in question is the politically powerful U.S. defense industry.
Cuomo doesn't have much to say on the issue of foreign children who regularly die by missile and bomb in America's endless military engagements, but in the name of saving American lives he is presently attempting to weaponize New York's financial regulatory power against lawful political speech by the National Rifle Association. Cuomo's attempt to stifle the NRA is as inappropriate and far outside his proper role as governor as interfering with U.S. efforts to aid its Middle Eastern client states would be. The only difference is that going after the NRA – unlike, say, defense contractors – is politically convenient for the governor.
Of course, Cuomo only sometimes frames his regulatory push against the NRA as an effort to limit the organization's exercise of its First Amendment rights – depending on who he's talking to.
This dust-up started last year, when the New York Department of Financial Services began investigating the NRA's "Carry Guard" program, which offers insurance for licensed, legal carriers of concealed weapons. The insurance can help cover legal expenses in the event a policyholder shoots someone legally, such as in self-defense. The insurance program is brokered by Lockton Companies Inc. and underwritten by Chubb Insurance, and both companies came under regulatory scrutiny shortly after its April 2017 launch for Lockton's decision to offer the product to New York residents.
Pressure from DFS ultimately resulted in Chubb ending its underwriting of the program in October of last year, and six months later the company was fined $1.3 million for its involvement in selling an insurance product that DFS determined to be illegal in New York state. Lockton, for its part, held out longer, but ultimately also dropped Carry Guard in May of this year and paid a $7 million fine to the New York state government for offering the program within its borders.
The month after the Lockton fine was levied, DFS announced that any financial services companies under its purview should "weigh (the) reputational risk of business ties to the NRA and similar organizations," and cited Chubb's decision to drop Carry Guard as one of two pieces of evidence of the supposed danger of working with the NRA. So, to recap, Cuomo started the crusade against Chubb in the first place and then cited it as a reason that such companies should avoid dealing with any and all gun rights organizations.
The fact that many large financial services companies are headquartered in Manhattan gives New York's financial regulators unique leverage over the financial architecture of the entire country. When DFS gives guidance, banks and insurers across America listen, because losing the ability to do business in the nation's financial capital would cripple the largest of them. Whether the DFS guidance in this instance was a friendly suggestion about risk management or a veiled political threat is the question at the heart of the lawsuit the NRA filed shortly after the guidance was issued. The suit claims the DFS announcement is a bit of politically-driven rule-making that could put it out of business by, among other things, making it impossible to insure its headquarters against liability.
Cuomo, for his part, has characterized his move as solely about prosecuting sales of illegal insurance products in his home state, but he recently crowed to National Public Radio about the damage he has done to the organization, and says he "would like to believe it's true" that his actions are threatening the organization's very existence.
And now, there's possible evidence that DFS's actions are hurting not just the NRA but fish and game clubs that operate in New York. An official in New York's Rensselaer County claims that local fish and game clubs in the state are losing their insurance because of this "reputational risk" warning, telling the Eastwick Press that he's seen at least one letter from an insurance company dropping citing the DFS announcement as the reason for dropping coverage for a local club. In other words, insurers, who are in the business of assessing and pricing risk and whose typical response to an increase in risk from a client is to raise the client's rates instead of dropping them entirely, seem to be hearing something much stronger than a friendly "heads up" from their local regulatory authority.
Regardless of what you think about the NRA or the issue of civilian gun ownership, the group has the same right to conduct its affairs free of government harassment as any other grassroots advocacy organization, including liberal-leaning ones like the American Civil Liberties Union or Planned Parenthood. In openly using the power of New York's financial regulators to go after not just the NRA but fish and game clubs and other gun rights organizations by cutting off those groups access to financial services, Cuomo is treating lawful clubs and political organizations the way the U.S. treats foreign organizations with ties to terrorism. This is the culture war equivalent of sanctions, and it crosses a major threshold that should not be breached.
Sure, the right is breaking norms and crossing lines left and right; especially the NRA, with its ties to the ongoing Russia election scandal and its rhetoric that at times skirts dangerously close to inciting political violence. But denying every gun-related group access to insurance is a needless escalation of the culture war badly dividing our country. If Cuomo wants to be president, as he seems to, he should start trying to unite rather than divide. He can do so while continuing to call for stricter gun control laws, as he should.
Jon Stokes is a founder of Ars Technica, a former Wired editor, a contributing editor at TheFirearmBlog.com, and a founding editor at AllOutdoor.com.
Powered By
NEXT STORY: Eric Adams has faced less scrutiny than he deserves