Bill de Blasio
De Blasio was justified to fire Peters
The outrage doesn't match the facts.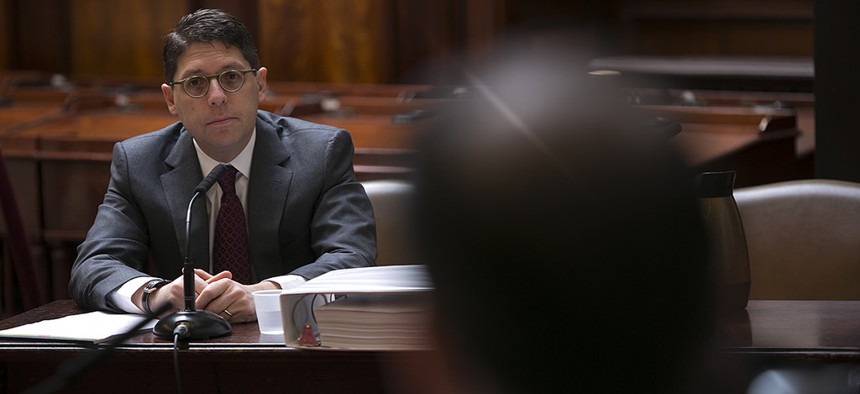 It's easy to view Mayor Bill de Blasio's firing of the city's Department of Investigations commissioner, Mark Peters, as a democracy-shattering, unprecedented move – yet another blunder of arrogance among many that, for this mayor's critics, have characterized his tenure.
In an ideal world, an executive wouldn't even have such a power. But de Blasio does, and he chose to use it on Friday, drawing outrage from many political watchers and editorial boards.
Some have likened the move to President Donald Trump's firing of Attorney General Jeff Sessions, which the president admitted was punishment for Sessions' refusal to stymie special counsel Robert Mueller's investigation into Russian election meddling. That is to say, de Blasio's move is considered by some as an assault on the rule of law. Letitia James, the outgoing public advocate and incoming state attorney general, was particularly furious: she said de Blasio's move was reminiscent of "Trump-like behavior."
Was it truly? Not really. The outrage doesn't match the facts. As unbecoming as the move seems, de Blasio was justified to make it.
The mayor's biggest mistake, in retrospect, was ever appointing Peters in the first place.
De Blasio had reportedly been preparing to oust Peters for months, but decided to act after Peters pushed DOI to take over an independent office that polices corruption in the school system, defying members of the office and the Department of Education. When the head of that office, Anastasia Coleman, resisted the takeover, Peters immediately fired her.
Coleman filed a whistleblower complaint. An independent investigator, James McGovern, was appointed to look into the case. The former federal prosecutor concluded in a recent report that Peters repeatedly overstepped his bounds, lied to the City Council about his role in the takeover of the school investigations office , and misled the first deputy mayor, Dean Fuleihan.
Such conduct was deeply troubling and worthy of dismissal. The problem for de Blasio is one of optics: he and Peters had an acrimonious relationship, in part because Peters had undertaken hard-charging and valuable investigations into the New York City Housing Authority's failure to inspect for lead paint and the dubious lifting of a deed restriction on the Lower East Side, which damaged de Blasio politically and revealed the lengths his was willing to go to help a luxury condo developer and a top lobbyist. Peters had already launched an investigation into whether City Hall sought to influence a review of the educational quality at certain religious schools. This probe should continue.
Peters' appointment in 2014 was met with initial skepticism because he had been the treasurer of de Blasio's mayoral campaign the year before. Peters was another politically active progressive from Park Slope. Many critics wondered whether he'd be able to assert his independence at all.
That, unlike his temperament, turned out not to impede his ability to conduct effective oversight. De Blasio on Friday admitted the obvious – Peters was never really the right man for the job. He was too close to him personally and this likely fed their strange and ultimately toxic relationship. De Blasio would have been better off choosing an independent, career prosecutor in the mold of Rose Gill Hearn, who was Peters' predecessor and the longest-serving DOI commissioner in the city's history.
While indignation at the mayor dominated the headlines (he's an easy punching bag after all), even typically critical fellow Democrats conceded dumping Peters was the correct decision. New York City Comptroller Scott Stringer, who has clashed with the mayor and even contemplated a primary challenge against him, commended de Blasio and accused Peters of "an abuse of authority" and "unlawful retaliation." City Council Speaker Corey Johnson echoed Stringer, pointing to the McGovern report raising questions about his "ability to continue in his role."
Peters had lost the support of the City Council, the elected check on executive power. He failed to uphold the duties of his role.
What should happen now? De Blasio will name Margaret Garnett, the state's executive deputy attorney general for criminal justice and a former federal prosecutor, to lead DOI, and her appointment will likely be confirmed by the City Council.
For critics of de Blasio's move, why not argue for DOI to become an elected, citywide position, answerable to no one but the voters? That would remove all the handwringing over whether the mayor made the right call to dismiss an increasingly unstable commissioner.
A change in the City Charter would make it possible. Luckily, there's a chance to do just that. The 2019 Charter Review Commission is meeting right now. Let future watchdogs submit themselves to the will of the voters instead of the mayor.
Powered By
NEXT STORY: Our island of many hills: Manhattan