MTA
After Cuomo's union giveaways, why the shock over fare hikes?
Cuomo didn't help hold down MTA labor costs when he could have.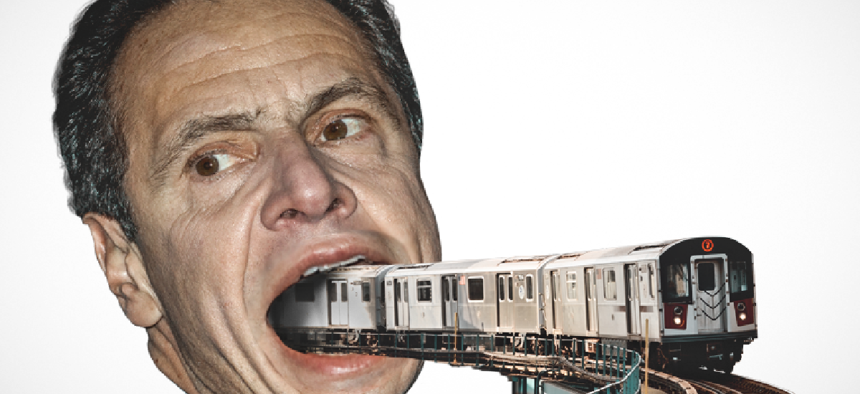 Gov. Andrew Cuomo recently criticized the Metropolitan Transportation Authority's plans to raise fares on the subways and suburban commuter train lines, saying that the MTA should first crack down on its out-of-control spending. It's a reasonable view, except for the fact that the wasteful 2014 contracts Cuomo helped broker between the authority and transit unions are a major part of what brought us to this point.
Few New Yorkers remember what massive giveaways those contracts contained – less for what was given to the unions in wages and benefits than for what was not gotten back in streamlined work and overtime rules. First, in April 2014 when negotiating a contract for New York City Transit Employees, the Transit Workers Union threatened a strike at just the right time, as the governor was facing his first re-election. The last thing he wanted was a shutdown of the transit system to kick off his campaign. So he pressured the MTA to give the workers raises without the badly needed reforms to policies that elevate the salaries of some union members well into six figures.
That July, the governor was just as eager to avoid labor unrest and give the unions representing Long Island Rail Road workers virtually everything they wanted. The unions proposed a 17 percent pay increase over six years. MTA management sought needed restructuring of rules pertaining to overtime and other benefits.
At the time, I and other observers pleaded with elected officials to use the opportunity to reform the woefully inefficient MTA. If you couldn't get reforms at this point, where wages were hanging in the balance, you'd never be able to get them.
But after the nervous governor got involved, the unions got their 17 percent pay bump. The concession? It would come over six and a half years.
Cuomo was wrong to throw in the towel when management was desperate to extract real reforms from the legendary wasteful spending practices of the agency. The LIRR had just been rocked by a huge scandal exposing that over 90 percent of their retirees were receiving disability benefits due to fraud that may have cost riders and taxpayers hundreds of millions of dollars. In a system called "disability by appointment," former LIRR workers were choosing compliant doctors and getting disability benefits worth tens of thousands per year on top of their basic pensions. Many received six-figure annual benefits for doing nothing – and not even being disabled. If ever the iron was hot to extract concessions, that was that moment.
The disability payments were not the only indication that the MTA has a spending problem rather than a revenue problem. In 2014, Metro-North employees were exposed for abusing over time, claiming it for such arduous tasks as washing their hands. One in four MTA workers made over $100,000 that year, thanks in part to overtime payments that often exceed a worker's base salary.
In the early going, MTA management hung tough in seeking overtime and work rule concessions. Unfortunately, in the end, the overtime rules that led to that waste have not been changed. The MTA's overtime payments climbed by 4 percent in 2016. The LIRR is especially egregious. Last year, Newsday reported, "The overtime figures … include wages paid through lucrative union work rules – some of which date to the 1920s – that pay LIRR employees extra for certain assignments. For example, a locomotive engineer can make two days' pay if he operates an electric train and a diesel train during the same shift."
Another reason for all that overtime throughout the MTA might be that work rules require bringing in different employees for minor tasks: station agents cannot be asked to clean subway stations floors, for example, while cleaning crews cannot change light bulbs.
A modicum of efficiency could bring operating costs more in line with revenues and reduce, if not eliminate, the need for fare increases. In 2015, the MTA spent $9.85 billion on salaries and benefits, while it collected $8.4 billion in total revenue. Closing that gap should be possible.
Despite the deteriorating performance of New York's train and bus systems, MTA employees are very highly paid compared to workers who do the same job in other expensive cities. According to a New York Times analysis from last year, "Subway workers, including managers and administrative personnel, now make an average of about $155,000 annually in salary, overtime and benefits. … That is far more than in any other American transit system; the average in cities like Boston, Chicago, Los Angeles and Washington is less than $100,000 in total compensation annually."
The Times noted, "Members of the Transport Workers Union got a total of 19 percent in pay raises between 2009 and 2016, compared with 12 percent for the city's teachers union over the same period." And the paper pointed out that each TWU contract has cost more than anticipated.
Workers should earn a living wage, but do train conductors need to earn two or three times as much as New York City public school teachers? And should the poorest riders be hit hardest with higher prices they cannot afford to subsidize all these six-figure salaries? Perhaps the MTA unions are less concerned with rising fares because, thanks to their contract negotiations, their members now ride the subway, Metro-North and LIRR for free.
Absent political leadership, is it any wonder why the MTA doesn't conform to its mandate that its operations be self-sustaining?
Gov. Andrew Cuomo is right that the MTA doesn't deserve more riders' money until it reforms costs, so why didn't he demand cost-saving reforms when they had the chance to do so?
New York City Case Studies
Powered By
NEXT STORY: Joe Lhota's unfinished business