Bill de Blasio
How Bill de Blasio seeking the national spotlight backfires
New York City Mayor Bill de Blasio's efforts in seeking the national spotlight often backfire, while Gov. Andrew Cuomo is better at looking like he's doing his day job.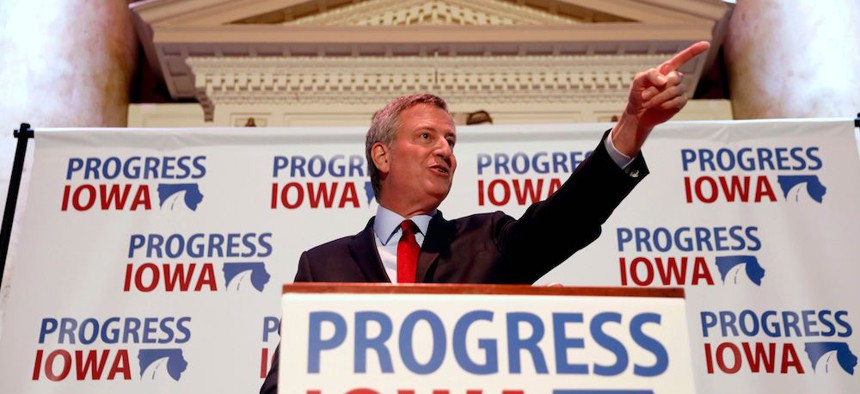 When New York City Mayor Bill de Blasio skipped town to hobnob with Bernie Sanders and his fans in Vermont last month, he hoped to get a warm reception suiting someone at the vanguard of the country's left wing.
Instead, the vanguard ran over him. Progressive leaders who attended Sanders' three-day summit in Burlington excoriated the mayor for negotiating in secret to lure Amazon's second headquarters to Queens with $3 billion in tax incentives. Public advocate candidate Nomi Konst, who also attended the conference, told NY1 the deal was the "antithesis of good for New York." And Joe Dinkin, whose Working Families Party has boosted de Blasio since the start of his political career in 2001, called the giveaways a "slap in the face of New Yorkers."
De Blasio defensively dismissed the criticism, telling WNYC's Brian Lehrer leftist advocates "are never going to be satisfied by definition" and he is "not going to apologize for bringing in 25,000 jobs and tens of billions of dollars in tax revenue."
The mayor has tried to position himself as an heir to Sanders, even having the Vermont senator swear him in last year. It is widely speculated that de Blasio hopes to one day run for president as the candidate of the Sanders' wing of the Democratic Party. His friends claim he'd even be happy as Democratic National Committee chairman.
But the Amazon backlash is the latest instance of de Blasio's efforts to build a national profile as a progressive champion failing or backfiring. "He's missing it with the grassroots. They're pissed off as hell about Amazon," one Sanders ally told City & State. "Public Advocate Bill de Blasio would have protested Mayor Bill de Blasio 100 percent of the time."
It's not just how he has let progressives down in City Hall: The mayor's out-of-town travel and focus on national issues has led to the perception that he is inattentive to his day job – a perception which could damage his reputation and future career, as he risks seeming more interested in progressive rhetoric than tangible accomplishment.
The Vermont summit illustrates the problem well because de Blasio botched a personnel decision while he was in Burlington. He had asked Deputy Mayor Laura Anglin to fire Office of Emergency Management head Joe Esposito over his response during a November snowstorm - only Esposito refused unless the mayor told him so directly. That led to 72 hours of confusion in City Hall because no one could reach the mayor, leading The New York Times to question whether the mayor had "lost focus." The newspaper, which is perhaps the most influential outlet among liberal leaders in the United States, noted the low and gradually shrinking number of days de Blasio spends at his office. When he returned home, de Blasio acknowledged that "obviously something went wrong."
The lure of the national stage is so strong that de Blasio began plotting his first trip to a presidential battleground state a mere six days into his first term writing in an email, "I do want to project the progressive message nationally to reinforce my fellow progressives."
Since his first inauguration five years ago, de Blasio has jetted to Iowa repeatedly, for everything from speaking at the Progress Iowa holiday party to canvassing for Hillary Clinton. He's also gone around the country for such adventures as whipping votes for Democratic National Committee elections in Atlanta and speaking about climate change at a demonstration during a G-20 summit in Hamburg, Germany. This past year, the mayor formed a federal political action committee to cover the costs of his and his wife's political travel and to raise funds for like-minded candidates.
But de Blasio's plunge into the national fray has not gone according to plan. His dithering over endorsing Clinton over Sanders backfired, leading to an embarrassingly early time slot at the Democratic National Convention. Iowa campaign volunteers didn't even recognize him. When he trekked to DNC meetings only to stand against a wall reading his cell phone, insiders questioned why he was there at all.
He even had trouble giving away money. Many Democrats running for state legislative offices in 2018 declined his offers, since the last time de Blasio tried to funnel money to candidates it triggered a federal investigation.
Each trip seems to induce a backlash for a crisis he avoided handling at home. He flew to Georgia after federal prosecutors questioned him for four hours as part of their corruption investigation into his campaign fundraising practices (they chose not to press charges). He took off for Europe after a police officer was ambushed and killed in the Bronx. And the mayor has moved too slowly to curb festering problems involving police brutality and living conditions at public housing complexes even as media coverage of both crises grows increasingly unflattering to his administration.
That in turn causes de Blasio to complain about unfair coverage, which only invites the reporters to call him an anti-journalism whiner like President Donald Trump and the cycle of negative press continues.
If de Blasio's efforts to build a national brand are a lesson in what not to do, his intrastate rival's approach seems to have worked better. Gov. Andrew Cuomo's out-of-state trips are less frequent and have lower stakes than the mayor's. He barely left New York during his first term, skipping Democratic Governors Association meetings and avoiding appearances in early primary states for fear of generating presidential speculation.
Instead, he held private high-dollar fundraisers in California and Florida, making five trips to Puerto Rico to promote New York's hurricane relief efforts, and scheduled same-day business trips to Washington to lobby lawmakers and President Trump for funding to renovate the region's airports and rail tunnels.
Speaking of rail tunnels, Cuomo makes a fetish of being photographed personally inspecting key infrastructure projects. His most recent windbreaker close-up, a visit to the L-train tunnel that would be shut down for repairs, preceded his announcement of a rescue plan to avoid fully stopping service on the subway line. While he pivoted towards more aggressive anti-Trump rhetoric – and was even caught doing multiple cable-TV hits on immigration policy when he could have been negotiating with the state Senate to renew expiring speed camera legislation – Cuomo often ties federal issues to his own actions as governor. (He also later took charge of the speed camera issue by unilaterally reinstating the program.) Most recently, he kept the Statue of Liberty and Ellis Island open during the federal government shutdown.  
Perhaps as a result of his carefully cultivated image as a capable manager, his profile is rising among Democratic insiders. In December, his gubernatorial colleagues elected him to serve on the National Governors Association as a vice chairman.
Cuomo complains just as bitterly about the media as de Blasio does and has a much more strained relationship with reporters than a rising star from New York like Alexandria Ocasio-Cortez or a Washington insider like Hakeem Jeffries. The governor often responds to difficult questions with condescension or sarcasm. He also engages in non sequitur attacks, such as rebuffing questions from a NY1 reporter in August about straw donations by accusing NY1's parent company of "defrauding the people of the state" by not installing broadband in rural areas. But he frequently appears on cable news to demonstrate his hands-on brand of "pragmatic progressivism."
Despite being mistrusted by the left-wing activists and intellectuals, Cuomo rolled to a primary victory over de Blasio ally Cynthia Nixon by a 30-point margin by stepping up attacks against the president's disaster response and immigration policies, all while touting his goals for New York in his next term.
Cuomo certainly would be unpopular with parts of the Democratic base and he could be outshone by candidates like Cory Booker and Joe Biden if he ran this time. But his shift leftward – and his ability to raise tens of millions of dollars – gives him a chance of competing for moderate and mainstream voters if he ever runs in a national primary.
At the same time, it's only going to get harder for de Blasio to make his name on the national stage this year. He'll have to compete with a progressive chorus line that includes Sanders and Elizabeth Warren as well as two dozen other Democrats vying for attention from a beleaguered press corps.
And if there's one thing the mayor's tenure thus far has shown, it's that trying too hard to get that attention may be the worst thing he can do.
Powered By
NEXT STORY: Why we need more technologists in politics