New York City Council
Progressives should primary Assembly Democrats
It's a lot easier to tackle an Assembly primary than other New York elections, which is why Ross Barkan argues, progressives should primary Assembly Democrats.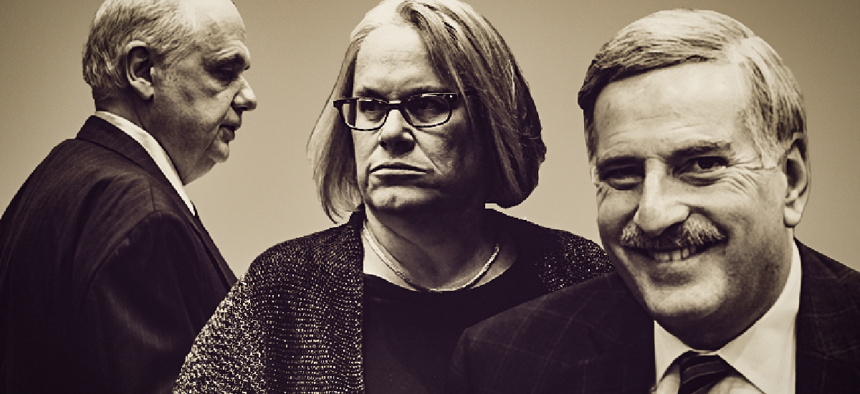 Last year, Democratic primary results rocked New York. While most of the media attention was trained on Alexandria Ocasio-Cortez and Cynthia Nixon, the insurgents who challenged former members of the state Senate Independent Democratic Conference shook up the political scene in profound and underappreciated ways. Six Democratic senators were defeated and replaced by six new senators, all of them more progressive than their predecessors.
Gov. Andrew Cuomo and much of the Democratic establishment, for a time at least, tried desperately to keep these primaries from happening. Grassroots activists plowed ahead and the state Senate became a more dynamic, even radical, place.
Now the time has come for a new class of insurgents to finish the job. Progressives must primary members of the Democratic-dominated Assembly.
Until 2019, the Assembly represented Albany's sole incubator of leftist policy. Republicans controlled the Senate for a half century. Cuomo, a triangulator at heart, was all too happy to prop them up. Dominated by members from New York City, the Assembly was the only place where supporters of LGBTQ rights or increased funding for public schools could find a sympathetic ear.
But Assembly Democrats' recent waffling on the public financing of elections, which the chamber has purported to support in the past, has exposed a troubling truth: many Assembly Democrats will only inch so far left. With the Senate suddenly packed with fresh faces, activists are rightfully wondering what's possible in the lower chamber.
The state Senate has been cleared of senators who chose to form a power-sharing agreement with Senate Republicans that benefited landlords at the expense of tenants, charter schools at the expense of traditional public schools and bottled up a host of other progressive priorities. Now that the state Senate is firmly in Democratic hands, legislation can take a new leftward tack, but the Assembly is standing in the way.
Since state lawmakers don't have term limits and the 150-member Assembly, unlike the Senate, has not been the focus of many high-profile races, there are many members who have never run in competitive elections. Like former Rep. Joe Crowley and former state Sen. Martin Malavé Dilan, who were taken out in primaries last year by democratic socialists Ocasio-Cortez and state Sen. Julia Salazar, respectively, Assembly Democrats have grown unaccustomed to defending their records to constituents in competitive primaries.
For irate progressives, spurning campaign finance reform is just one of the Assembly's betrayals this year. Assembly Speaker Carl Heastie and his Bronx allies have been dismissive of much-needed ethics reforms like strictly limiting the outside income of lawmakers.
It was also Heastie and his cohort, for those with longer memories, who usurped the New York City Council and killed the city's attempt to impose a fee on plastic bags. Plastic bag waste continues to pollute New York City's landfills and waterways.
Amazon may now be a dead issue – it isn't coming back – but activists are still smarting over those who backed the company's arrival in New York. While state Sen. Michael Gianaris helped sink Cuomo's misguided quest to land an Amazon headquarters in Long Island City, Queens, his counterpart in the Assembly, Cathy Nolan, was quietly supporting the deal.
Nolan, who has held her seat virtually uncontested since 1984, is already in the crosshairs of progressive organizations who want to follow the Ocasio-Cortez example and shake up Western Queens again. So is a neighboring assemblyman, Michael DenDekker, who has represented a majority-Latino Jackson Heights district for the past decade.
Many Democrats and transit advocates are hoping to pass a congestion pricing plan this year that would charge motorists entering the heart of Manhattan, mirroring methods to reduce traffic and raise money for mass transit that exist in other global cities, such as London. Even Cuomo is on board. The last time the Legislature considered congestion pricing, over a decade ago, a bill never came to a vote because the Democratic-controlled Assembly wouldn't support it.
In 2019, newer Assembly members from the outer boroughs – like Brooklyn's Robert Carroll – are full-throated supporters of congestion pricing. But the old guard – many of them in office during the last fight – has not budged, even though New York City's transportation crisis has worsened in the intervening years. Assemblyman David Weprin, a Queens Democrat, has made fighting congestion pricing his signature issue.
Assemblyman Joe Lentol of Brooklyn, a Democrat who has been in office since John Lindsay was mayor of New York City, has never fully supported congestion pricing. Neither has Helene Weinstein, a fellow Brooklynite serving continuously since Ed Koch's first term as mayor 40 years ago.
A coalition of leftist organizations, including the Democratic Socialists of America and No IDC NY, one of the groups that fueled the anti-IDC insurgents, is already taking aim at the Assembly. Though the lower chamber has always been more tenant-friendly than the formerly Republican-controlled Senate, the coalition is calling out the Assembly's Democratic campaign arm for accepting more than $400,000 in contributions real estate interests over the past four years.
The three co-chairs of the Democratic Assembly Campaign Committee – Lentol, Peter Abbate Jr. of Brooklyn and Jeffrey Dinowitz of the Bronx – are all threatened with primary challenges unless the money is returned and they refuse such donations in the future, as senators like Gianaris and Salazar have already done.
The coalition is particularly enraged at Lentol for carrying a bill that would allow hosts to rent out their homes for a short period of time on Airbnb. Now against state law, such a change could put already scarce housing stock at risk, affordable housing advocates fear.
It's important to understand not all primary challenges will be successful and members shouldn't be targeted merely for serving for long periods of time. Richard Gottfried, a Manhattan assemblyman first elected in 1970, was one of the earliest advocates for legalizing marijuana and has been fighting for decades to bring universal health care to New York.
And not all members who could be targeted for primaries are unredeemable. Nolan, before enraging anti-Amazon advocates, was known as the longtime chairwoman of the Assembly Education Committee, where she fought to increase funding to New York City schools and resisted Bloomberg-era privatization efforts.
Primaries, however, could bring much-needed democracy to a staid chamber. Incumbents are forced to clarify their positions, listen more actively to voters and take stock of how their districts have shifted under them. As someone who has competed in a Democratic primary, I can tell you they are stressful but fruitful, triggering debate on a range of issues that otherwise would be ignored.
The logistics of an Assembly primary are much more manageable. Most New York City districts have around 124,000 residents, less than half the size of a state Senate seat and less than one-quarter the size of congressional districts. A small fraction of these people will vote. Races are cheaper and more targeted.
Assembly members who do face primaries should understand being challenged is not an insult. They will be better legislators if they survive them. For too long, lawmakers have treated political offices as lifetime sinecures. Times are changing, and they will have to change with them.
Powered By
NEXT STORY: The Wilbur Ross I know