New York State
New York should limit solitary confinement
Decades of evidence have shown that solitary confinement causes suffering and psychological and physical damage, increasing recidivism rates. The HALT Act would limit its use in New York and provide more humane and effective alternatives, writes state Sen. Luis Sepúlveda.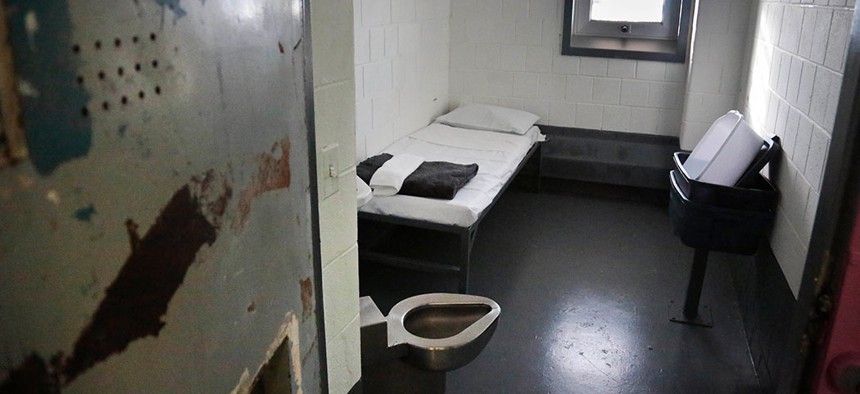 For years, lawmakers have listened to the experiences and expertise of men, women and children who have survived solitary confinement in New York's prison and jails.They have described the horrors of solitary and implored New York state to end the abusive practice for the sake of people still behind prison and jail walls. Survivors of solitary have described the mental, physical, emotional and spiritual breakdowns they endured while in isolation, and the harmful effects that linger years and decades after they have come home. People with family and friends in solitary have described the despair of knowing that their loved ones are suffering alone – or worse, have been lost to suicide in a solitary cell.
What they have endured is far too common in New York's prisons and jails, particularly for black and Latino people. Each day, thousands of people in New York, and tens of thousands each year, are in solitary confinement – primarily for nonviolent alleged rule violations. People in solitary are locked in a cell for 22 to 24 hours a day without any meaningful human contact.
Decades of evidence have shown that solitary causes intense suffering and severe psychological, emotional and physical damage. Over 30% of suicides in New York's prisons take place in solitary.
All of this is why I am proud to sponsor the Humane Alternatives to Long Term Solitary Confinement Act, S1623/A2500, in the state Senate, with my colleague Jeffrion Aubry sponsoring it in the Assembly. The HALT Act is a comprehensive solution to address this moral and practical crisis plaguing our state. Among other provisions, HALT would end solitary confinement beyond 15 days for all people; prohibit solitary entirely for people age 21 and younger, people with mental health needs and other groups likely to suffer even greater harm; restrict the criteria for who can be separated from the general prison or jail population; and create more humane and effective alternatives for all, most importantly placement in secure units with at least seven hours of daily out of cell time, meaningful human interaction and congregate programming aimed at addressing the underlying reasons why someone has to be separated.
Because of the severe harm it causes, spending more than 15 days in solitary confinement has been defined by the United Nations as torture. The U.N. General Assembly – with U.S. government backing – has called for its prohibition. Colorado has implemented a 15-day limit on the use of solitary, with subsequent praise by corrections officers who had initially opposed the changes. Yet, in New York, people regularly spend months and years in solitary, and there is currently no legal limit on how long a person can spend in isolation. Some have been held in solitary for 10, 20 and even 30 years.
Let me repeat that: 30 years in solitary confinement in New York. Our state must do better than that. We all must do better than that.
States that have reduced solitary, including Mississippi and North Dakota, have seen reductions in violence inside prisons, and cost savings as a result. Studies have also shown that people who spend time in solitary have higher recidivism rates after being released from prison, especially people who are released directly from solitary to the street, a common occurrence. Because solitary causes people to deteriorate mentally and physically, and because people have no access to any meaningful transitional services while in solitary, it is no surprise that people who are released from solitary are more likely to end up incarcerated again.
The research confirms what people who have endured solitary have always known: program-based alternatives with meaningful human engagement – like those provided under HALT – will enhance the well-being and the safety of people incarcerated, staff and all New Yorkers. In San Francisco jails, a Resolve to Stop Violence Project placed people with violent histories in 12 hours a day of therapeutic and rehabilitative programming, including academic classes, workshops, individual counseling and restorative practices. As a result of the program, violent incidents within the jail unit dropped by over 96% and participants were five times less likely to be rearrested for violence, translating into significant cost savings.
HALT recognizes a person may have to be separated from the general prison or jail population for safety reasons. However, that separation should not entail human rights abuses, which can make people more likely to engage in harmful behavior. HALT would instead place people in units that are safe and secure, but with opportunities for programing and interactions – like those in San Francisco's project – aimed at addressing the reasons they needed to be separated in the first place, such as mental health treatment, addiction counseling, academic classes, anti-violence training and restorative practices.
There are moments when we as policymakers have to step up and do what is right. The time for listening and learning has passed. Now is the time to take action to end this inhumane practice.
Now is the time to pass HALT, as we continue to push necessary changes to the entire justice system – from parole justice to restoring higher education access to people who are incarcerated. I urge my colleagues in the Legislature to pass, and Gov. Andrew Cuomo to sign, the HALT Solitary Confinement Act before one more mind or life of a fellow New Yorker is lost to solitary confinement.