Justin Brannan
Pass permanent authorization of the September 11th Victim Compensation Fund
Congress should help all current and future victims of 9/11 once and for all by passing permanent authorization of the September 11th Victim Compensation Fund Act, write New York City Councilman Justin Brannan and Policeman's Benevolent Association President Patrick Lynch.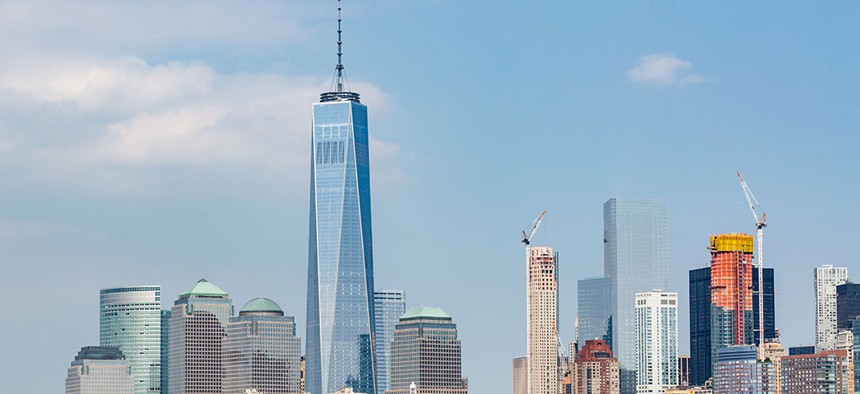 September 11, 2001 is and will remain New York City's longest day. The story of the attacks and their human toll did not end when the towers fell. It did not end at 11:59 that night, nor in all the weeks and months of rescue, recovery, clean up and rebuilding that followed.
At nearly 154,300 hours and counting, that tragic day continues to drag on. The devastating health effects of the attack continue to grimly spread to New Yorkers who lived and worked by Ground Zero, as well as to police officers and first responders who valiantly stepped up to work what would prove to be an endless tour of duty. As the Journal News reported last year, "In 2017, 23 current or former members of the New York City Police Department died of 9/11-related diseases." For too many heroes and their families, the ultimate sacrifice still awaits. For too many others, the pain of loss is eternal.
Even though the physical and emotional horror of 9/11 is far from over, many members of Congress continue to act as if the death toll is not rising, as if the pain for our families and our nation is firmly behind us. They should know that could not be further from the truth. That is why Congress must pass the Never Forget the Heroes: Permanent Authorization of the September 11th Victim Compensation Fund Act.
The legislation would extend and fund the September 11th Victim Compensation Fund until 2090 – the same length of time as the World Trade Center Health Program – while also ensuring the VCF pays out any claims that may have been reduced to do funding shortages.
To be sure, the chemicals, asbestos and other fumes that spread through Lower Manhattan following the collapse of the Twin Towers still wreaks havoc on workers and families, alike.
The medical statistics are astounding, and new data constantly arrives showing the growing scope of the harm caused by the September 11 terrorists.
Specifically, more than 80,000 continue to grapple with illnesses or injuries from the attacks; medical researchers know of 60 types of cancer caused by the toxins released the collapse of buildings at Ground Zero; and more than 200 NYPD officers have passed away from 9/11-related sicknesses, over nine times the number of NYPD members that gave their lives on the actual day of the attacks.
And yet, despite all of this evidence that 9/11 is still an active man-made disaster, many members of Congress constantly sit on their collective hands and refuse to help the people that were on the front lines of the city's and country's recovery.
This issue stretches back over a decade. After several years of pushing for a solution, in 2010 Congress passed the James Zadroga 9/11 Heath and Compensation Act after we publicized the mounting evidence of the horrifying health effects from that fateful day. The bipartisan collaboration by the New York and New Jersey congressional delegations was impressive – even inspiring – and important protections and benefits were set up for current and future victims.
Unfortunately, due to intransigence by certain members of Congress, the health care and compensations programs were only authorized for a five-year span.
And so, in 2015, local elected officials, community and union leaders, and celebrities again came together to call out the many congressmen and congresswoman beyond New York and New Jersey for their total abdication of leadership in protecting the heroes that emerged from 9/11. They have been more than happy to go to memorial ribbon-cuttings or stand with uniformed officers, but their support again rang hollow.
Fortunately, our efforts in 2015 were successful. Funding for heath monitoring and treatment was permanently renewed, and additional funding for the Victim Compensation Fund gave those that were impacted by 9/11 a few more years of financial peace of mind.
But new challenges continue to arise. The fund will soon run out of funding, and its authorization to pay out claims is set to end in December 2020. And so, despite the issue only growing in importance, our bipartisan coalition has again come together to remind Congress they are shirking their responsibility to the heroes and victims of the worst terror attack our country has even seen.
It is frankly ridiculous that 9/11 survivors and injured or first responders should have to muster their strength, pack their canes and wheelchairs and prescription drugs and head to Washington, D.C., every few years lobby for these key protections. Congress should help all current and future victims once and for all by passing the Never Forget the Heroes legislation and live up to the patriotic rhetoric that so many members of Congress love to wrap themselves in. Thousands of families – the families for whom the long, dark day of 9/11 has not ended and never will – deserve our support.