Opinion
On Equal Pay Day, women should get what they deserve
Women have suffered disproportionate economic harm from the COVID-19 pandemic.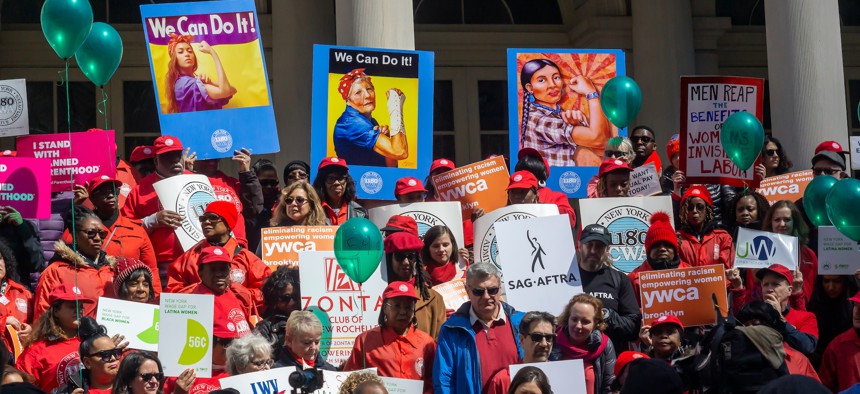 As vaccines become more accessible and we begin to see the light at the end of the COVID-19 pandemic, we must reopen and rebuild our economy with an eye toward equity. Not only have people of color been disproportionately harmed by the actual virus, but women and women of color have been disproportionately harmed by its effects on our economy. 
Shutdowns and quarantine orders, while necessary, have taken an outsized economic and emotional toll on women, causing them to lose their jobs or juggle work with caregiving and homeschooling. Today marks Women's Equal Pay Day, the date when the average full-time working woman finally earns the same amount an average full-time working man earned last year. This year we must pay special attention to the harms rendered on women by the pandemic, and how crises like this can exacerbate existing inequities.
Women have lost one million more jobs than men this year, and women of color have been particularly affected. The unemployment rate for Black women over 20 years old is 8.9 percent, and 8.5 percent for Latina women. That's because the industries they tend to work in, like hospitality or leisure, have been hard-hit. Women of color who have remained employed are more likely to be in frontline jobs, and have been subject to intense pressure and continued to work for low wages at great health risk to them and their families. As the economy begins to reopen and stabilize, it is critical that we ensure that women are paid well for their work and can secure good jobs. To do this, we must reconsider how we value women's work and invest further in things like childcare, paid family leave and a living wage. 
The pandemic revealed not only how interconnected our economy is but how much of it is held up by women in pink-collar jobs. In particular, caregiving work, which has often been devalued and overlooked as "women's work," has proven to be both a critical and scarce resource during this time. Jobs like these help our economy and society to function and we must do more to value, support, and compensate these workers going forward. A post-pandemic recovery must also include measures to undo gender segregation, which siphons women off into certain kinds of lower-paying jobs, and increase opportunities for training so that women can transition to better paying jobs in trades, infrastructure development, and the green economy. 
The pandemic has also revealed that, though we may all be in the same storm, we are not all in the same boat. The fight for equal pay and work with dignity must extend to all women, regardless of race. Today only reflects the date by when the average woman is paid the same as the average man; it does not reveal the racial inequity in how we compensate women. The equal pay days for Black, Native American and Latina women are not for many more months, which reflects the systemic inequality in our society and economy that particularly disadvantages these groups. We cannot adequately tackle the pay gap among women without addressing the structural racism that affects all our institutions and keeps many women of color from accessing well-paid jobs and advancing in their careers. 
To be clear, we have made significant progress in passing laws to help women achieve equal pay for equal work. The Salary History Ban, which we helped to pass in New York City before it became statewide law, prohibits employers from asking about pay at a previous job and helps to disrupt the cycle of lower pay that tends to follow women throughout their careers. 
Another recently passed New York law requires equal pay for substantially similar work. This means that employers must determine whether their employees, even if they have different titles or roles, are being paid equally if their work is performed under similar conditions and is substantially similar in terms of overall skill, effort, and responsibility. Differences in pay are allowed if they are based on factors like seniority, merit, education, training, or additional experience. Regular pay audits conducted by the companies help them to analyze pay equity in their workforce and clarify job duties so wages are set based on the job, not the person. 
These laws are in place to protect workers across our state. Using them is a critical part of the fight to achieve gender pay equity, along with passing additional legislation to create salary transparency and reduce unconscious bias in hiring. We want all New Yorkers to know their rights and use these laws to protect themselves and hold employers accountable.
As we begin to recover and rebuild from the chaos and tragedy of the past year, we cannot return to "business as usual." There is still much to be done to ensure opportunities and equal pay and to address the systemic sexism and racism which have held women back. The road to recovery must be more inclusive, gender-equitable, and just. It must include a plan to lift women workers up and ensure they have the resources, recognition, and compensation they deserve.
If you or someone you know suspects they are not being paid according to the law, or if you have been asked to reveal your salary or kept from discussing your salary with others, you can contact the New York State Attorney General's Taskforce for Worker's Equality at (212) 416 - 8700 or TaskForceforWorkersEquality@ag.ny.gov or PowHerTM New York at info@powher.org.