Commentary
The promise and peril of Cure Violence in NYC
A network of programs seek to provide pathways out of criminal behavior for at-risk youth.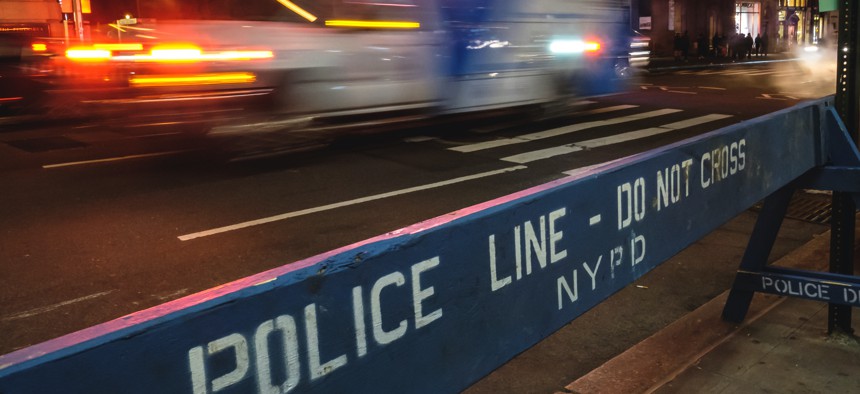 Two topics are dominating the criminal justice landscape in New York City at the moment: the alarming rise in shootings and the urgent need to address racial disparities and the harms perpetrated by police. Given these two realities, many elected officials, editorial writers and foundation executives are looking for strategies to reduce violence that do not rely on the conventional law enforcement approach of arrest-prosecution-incarceration.
New York City has a ready-made answer to this dilemma – a network of "Cure Violence" programs that seek to change community norms about violence and provide pathways out of criminal behavior for at-risk youth. A key element of the model is putting formerly incarcerated individuals and others with a direct experience of violence to work as outreach workers and violence interrupters in an effort to halt retaliatory violence on the streets.
Cure Violence has become enormously popular among the political class in New York. Many of the candidates in the recent New York City Democratic mayoral primary, including winner Brooklyn Borough President Eric Adams, explicitly endorsed the program. The excitement about Cure Violence in academic, philanthropic, and nonprofit circles has become so intense that researcher Jeffrey Butts from John Jay College says, "People talk about Cure Violence like people talk about religion." 
It remains to be seen whether New York's Cure Violence programs can handle the weight of expectation currently being placed on them to reduce shootings. But the history of Cure Violence in New York City, which is now more than a decade old, already offers some important lessons for those interested in advancing criminal justice reform.
-Innovation Costs Money: With rare exceptions, new ideas don't get implemented unless someone decides to devote money to them. The Cure Violence model is no exception. Recruiting and training and managing violence interrupters doesn't happen for free. The federal government played a key role in seeding the field -- the initial funding to support Cure Violence in New York came from the Department of Justice, which in 2009 made a grant to help create Save Our Streets in Crown Heights, Brooklyn. This was shortly followed by a pot of state funding (known as SNUG) that supported programs both upstate and in the city. The fiscal year 2022 budget that the mayor and the City Council recently agreed to includes money to further expand Cure Violence.
-What Happens Behind the Scenes Matters: Cure Violence did not emerge fully formed from the head of a community organizer in New York. Instead, the model, building on earlier innovations, was developed and first tested by an epidemiologist in Chicago. It turned out to be the right program at the right time with the right marketing plan. Lots of attention soon followed. The Chicago team then built an infrastructure to support program replication in other cities. This is a critical, and underappreciated, insight: criminal justice reform typically requires a behind-the-scenes intermediary organization that takes responsibility for the unglamourous work of promulgating the model, establishing standards, and providing advice to neophytes. In recent years, the mayor's office has created an Office to Prevent Gun Violence to further support the on-the-ground work in New York.
-Research Is Essential: Support for Cure Violence in New York was significantly bolstered by research documenting that the model could make a positive impact. In particular, a study by the Research and Evaluation Center at John Jay College found reduced gun violence rates in the neighborhoods served by Man Up in Brooklyn and Save Our Streets in the South Bronx.
While the John Jay study is suggestive, it is not dispositive. More research is needed before we can say whether the Cure Violence model in New York City works (and why and how). The anecdotal evidence is powerful – violence interrupters speak persuasively about their work and can point to hundreds of young people whose lives they have improved – but it is no substitute for empirical evidence from independent evaluators. 
All New Yorkers should be rooting for the Cure Violence programs to succeed in the days to come. But what if shootings continue to increase? If they do, there will undoubtedly be a call to abandon Cure Violence and increase conventional law enforcement responses instead. Indeed, we are already seeing the beginnings of a backlash to Cure Violence emerge on Twitter. 
Proponents of Cure Violence should be careful not to oversell what the model can deliver – it is unlikely to eliminate the need for police. And critics should beware the urge to throw away the baby with the bathwater -- the truth is that the Cure Violence programs could still be succeeding even if shootings don't go down in the months to come. 
Both critics and advocates should come together to argue for more rigorous and nuanced research of Cure Violence. We need independent evaluators to assess Cure Violence's impact across a variety of measures, including not just shootings but public attitudes, employment, community cohesion and others. Only then will we be able to say with a degree of certainty whether Cure Violence has realized its potential to increase the strength, health, and vitality of our neighborhoods.
Powered By
NEXT STORY: Here's how to reform the NYC Board of Elections