Editor's Note
Editor's Note: NYC's High Line is once again a "lifeline"
The former elevated railroad bed that once delivered goods and supplies to the west side of lower Manhattan is now providing a vital link to the struggling Hudson Yards.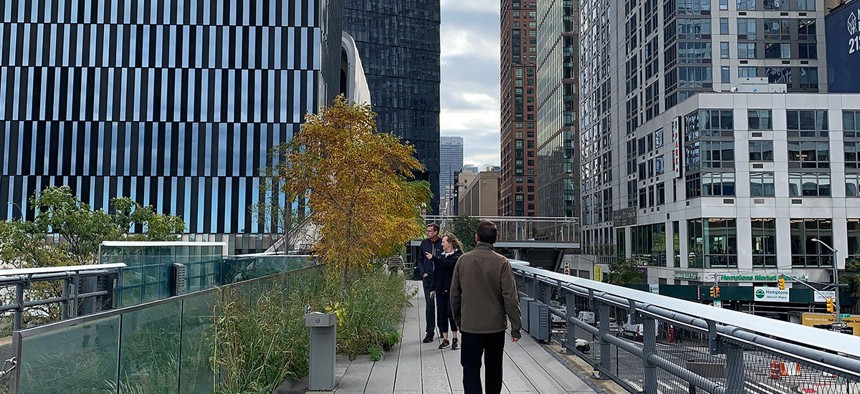 New York City's High Line was built 90 years ago as an elevated railroad delivering goods and supplies to the west side of Manhattan. At its peak, it came to be known as the "Life line of New York," according to the nonprofit that maintains the structure now as a park. It deserves that name again, but this time for linking Hudson Yards to a steady supply of visitors walking up from lower Manhattan.
COVID-19 sidelined Hudson Yards, a subsidized, mixed-use private development billed as the largest in U.S. history and costing $25 billion. Its observation deck, The Edge, temporarily closed after only being open for two days because of the citywide shutdown caused by the pandemic in March 2020. Neiman Marcus later closed as the retailer sought bankruptcy protection. Rent collections declined and condo sales slowed. Adding insult to injury, the Vessel, Hudson Yards' public art centerpiece spiraling up 16 stories, closed after four people jumped off the structure and died by suicide.
Enter the High Line. This unique urban space extending about 1.5 miles to the south of Hudson Yards not only brings visitors there, it connects this isolated neighborhood with Chelsea, the Meatpacking District and Greenwich Village. The High Line brings both tourists and New York residents to the development, aiding in its recovery which made progress last week with the opening of 50 Hudson Yards. The $3.8 billion office building is 84% preleased. That follows a news report that the development's already existing office space was 95% leased or sold as of August. Surely, many of those office workers will want to take a walk on the High Line.