Editor's Note
Editor's Note: Rebuilt bridge to Manhattan's Waterside Plaza is a win for access
An ADA-compliant pedestrian span will replace an old bridge across FDR Drive as part of a $1.6 billion life sciences hub project.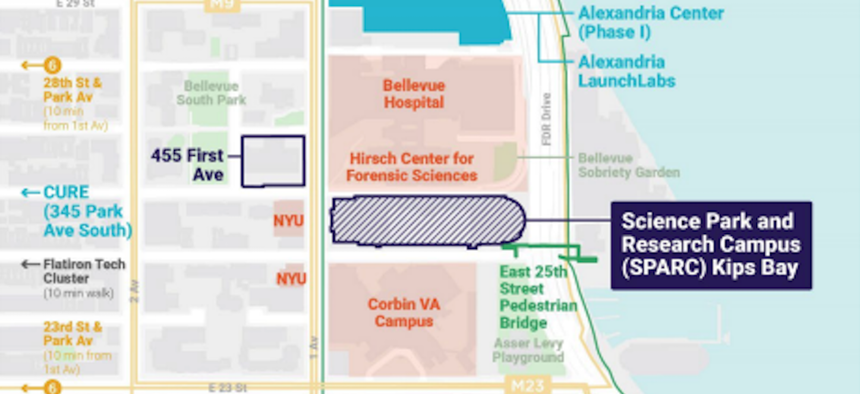 Mayor Eric Adams and Gov. Kathy Hochul's announcement of a new $1.6 billion health and life sciences hub to be built in Manhattan's Kips Bay overshadowed the real news for Waterside Plaza nearby. The project, to be funded by the city, state and additional private investment, will include a new state-of-the-art home for Hunter College's Brookdale Campus on East 25th Street and First Avenue and convert an entire city block at the location into 1.5 million square feet of academic, public health and life sciences space. 
The announcement comes as welcome news for the neighborhood, already home to the Veterans Affairs hospital, New York University's dental school and Bellevue hospital. It also delivers on community improvements, including the replacement of an aging, concrete pedestrian bridge that crosses over the FDR Drive to Waterside.The former Mitchell-Lama development built in 1974 by Richard Ravitch before he began his political career included more than 1,700 apartments for middle class tenants. It has always been hard to reach. Blame its isolated location east of the drive. 
Replacing the bridge will greatly improve access to Waterside. The only other ways to get there are to walk across 23rd Street down to the East River and north a couple of blocks or to take a similar approach down to the water from 34th Street, which is much further away. Driving, car services and public buses are options too. It may seem like a small improvement, but walking up the old bridge now takes a lot of energy. Plus, the new span will be ADA compliant, helping to bridge some of the isolation Waterside has had for almost half a century.