Opinion: Being anti-GOP isn't the answer for Democrats
New York is not the cobalt blue bastion we think it is.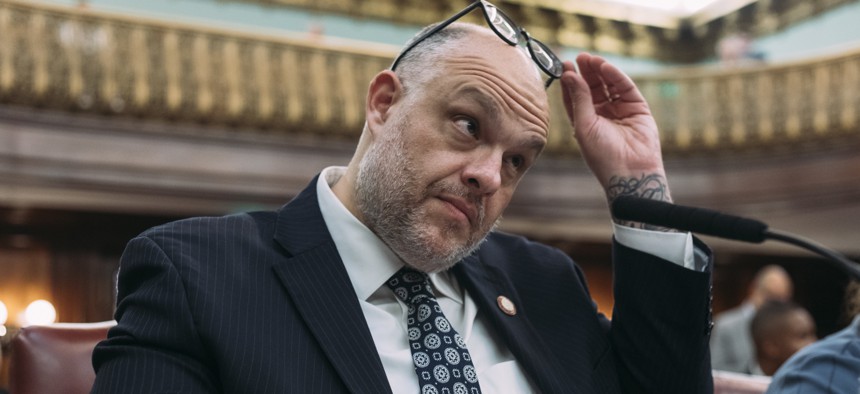 If New York had a Con Artist Hall of Fame, George Santos would be a 2023 inductee for seemingly lying about every aspect of his life. When coupled with the reality TV show that was Kevin McCarthy's election to Speaker of the House, it's clear that the Republican Party cares more about theatrics than actually helping the people they have sworn to serve. This moment presents a unique opportunity for us Democrats to differentiate ourselves from the Republican circus and fight for policies that will improve the lives of working people. But first, Democrats need to stop taking voters in historically blue states like New York for granted.
The Republican Party has perfected the art of getting people to vote against their own interests. This is bolstered by the fact that the Democratic Party is barely putting up a fight. No place is this more evident than my home turf, New York's 11th congressional district, which encompasses Staten Island and parts of southern Brooklyn. I was born and raised here, and am proud to represent the Brooklyn portion of the district in the New York City Council. This part of the city is a true representation of America's working middle class and the Democrat's purported base: the borough of Staten Island has the highest number of union members in New York City.
Yet despite having several competitive races here during the 2022 midterms, the Democratic Party barely did any outreach in the district, where the majority of voters are registered Democrats. And when some Democratic candidates were asked about top-of-mind issues for voters like crime and public safety, they often seemed dismissive of their concerns. We gave voters no choice but to support our opponents at the national and statewide level who fought to gut workers' rights and let wage disparity go unchecked because Republicans are better at appearing to listen to voters' fears.
The Democratic Party is in denial about the impact that the conversation on crime is having on voters. Whether it's perception or reality, violent crime was a key issue to a majority of registered voters in the 2022 midterms, and many New Yorkers have repeatedly made it clear they do not feel safe in the city. Nonetheless, we keep on hearing Democratic politicians at all levels primarily respond to the voters' concerns about crime using data. Whether a victim of a random robbery or a targeted hate crime, the last thing you want to hear after the fact are statistics about how the city is historically safer than ever -- no matter how true that is. Responses like that play right into the GOP talking points that we are a party of intellectual elites who are out of touch with working class people. We can strike a balance between responding to our voters' concerns with empathy, while also not letting panic reign by explaining what we are going to do to fight crime and improve the lives of all New Yorkers.
It's past time for Democrats in the Empire State, and my district in particular, to fight to earn voters' support by proclaiming a bold policy agenda. Simply being anti-GOP is not a legitimate platform. The foundation for this vision must be grounded in constituent services and delivering results. Our neighbors do not want their elected officials to talk down to them, but actually talk with them about their problems and develop our policy priorities from these conversations. We must keep fighting for more jobs, more affordable housing, universal healthcare and safety in all our communities because these efforts will actually improve our neighbors' lives. We also have to do a better job of explaining the benefits of these programs instead of assuming that every American has a PhD in public policy. I'm not navel gazing on this matter: I've won two hard-fought elections in a deep purple district and outrun the top of the Dem ticket each time by working with my neighbors to fight for the city we deserve. I also had a front row seat to the nonexistent voter outreach efforts in NY-11 last cycle, and saw how that attitude cost the party the House Majority and nearly the Governor's mansion. If we keep running elections this way, New York may not be blue for much longer.  
New York is often written off as being a liberal anomaly, but it is a microcosm of America and the challenges the Democratic Party is facing nationally. Working class voters are not just voting against their own interests in NY-11, but across the country. The only difference is that there is an expectation by the Democratic Party leaders that races outside of New York will be tight, and therefore a concerted effort to engage and turn out voters. We must wake up and realize that New York is not the cobalt blue bastion we think it is. While Democrats  are sitting around assuming that we have the election in the bag simply because we are not Republicans, the GOP is successfully painting us out as being out of touch with our base and winning elections. We need to get back in touch with voters and remind them of what we actually stand for. Our platform cannot be grounded in complex and convoluted messaging, but what we are going to do to deliver tangible results that will help working people. We still have a chance to course correct, but we need to do it now and seize this moment before Republicans stir up even more trouble to distract from the real challenges working people are facing. It's up to you, New York.