Editor's Note
Editor's note: Peaceful demonstrators upstage Trump's arraignment
While the former president was demanding the spotlight, his supporters and those protesting him engaged in civil discourse before a national audience.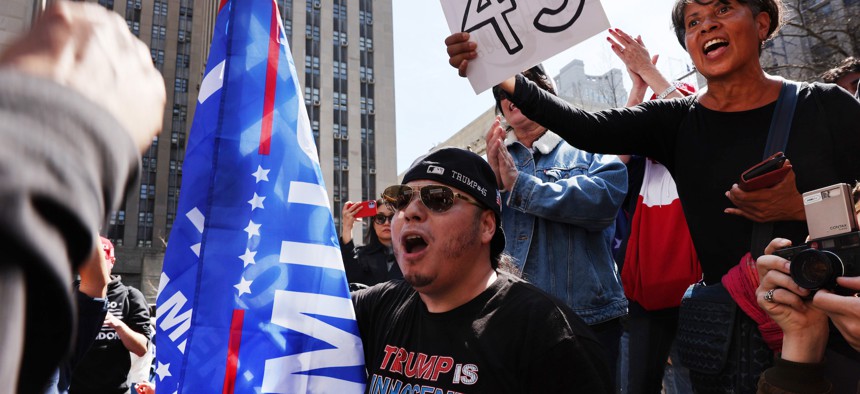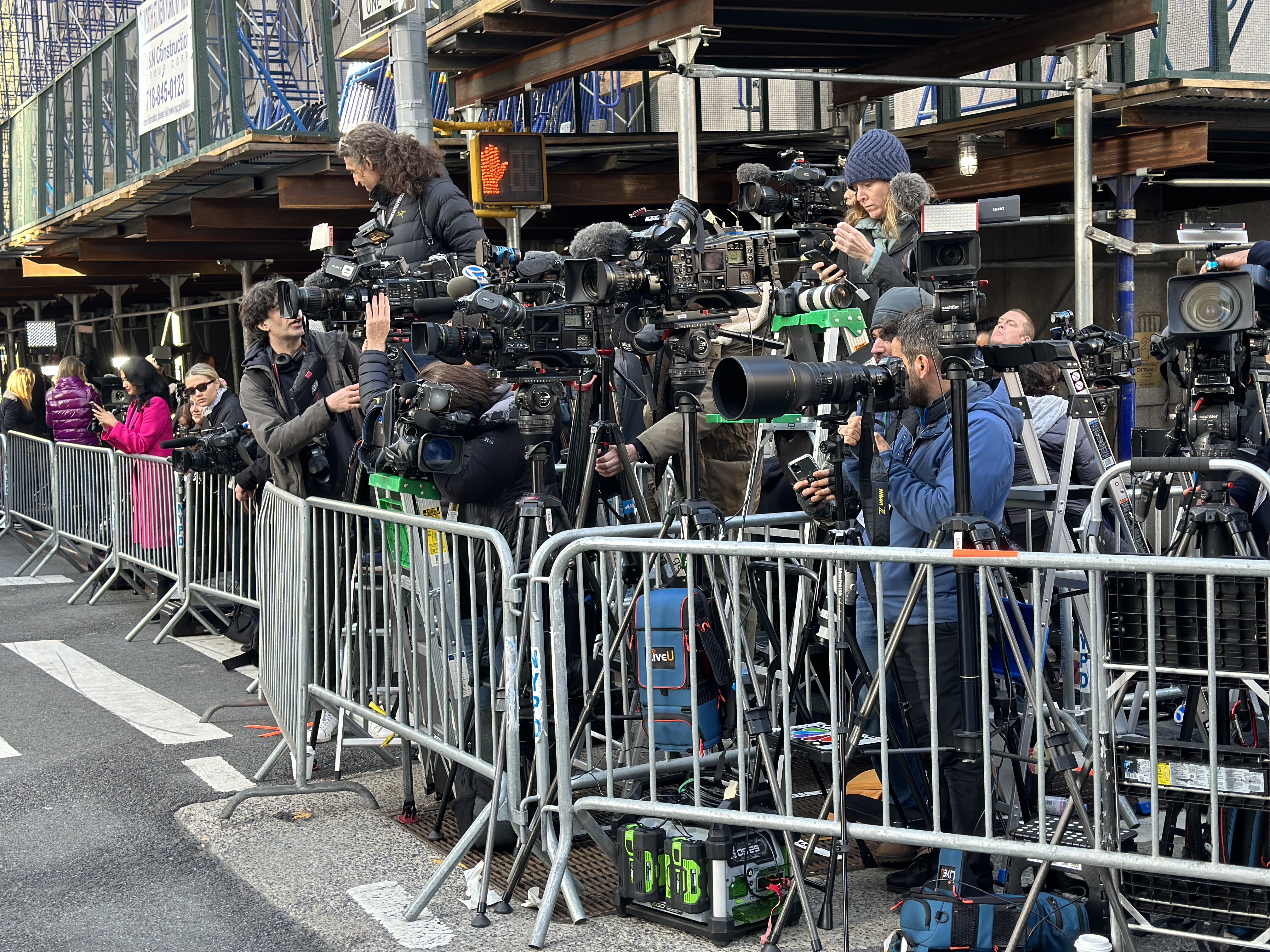 Rallies and protests outside the Manhattan courthouse where former President Donald Trump was arraigned last week were ironically corralled at Collect Pond Park. This was the site of the city's main water supply for a couple hundred years before it became a communal sewer. Expectations ran high that supporters and protesters could go dirty with violence-inciting rhetoric befitting such a setting. However, the old sewer long covered up by a peaceful and often overlooked park provided a proper venue for those who wanted to express themselves while Trump was being slapped with a 34-count indictment.
The New York City Police Department's decision to divide Trump supporters from protesters with crowd barriers did seem over the top, but it was a smart way to buffer tensions. Even Georgia Rep. Marjorie Taylor Green and New York's own Rep. George Santos were able to express their First Amendment rights to free speech, all without anyone throwing a punch.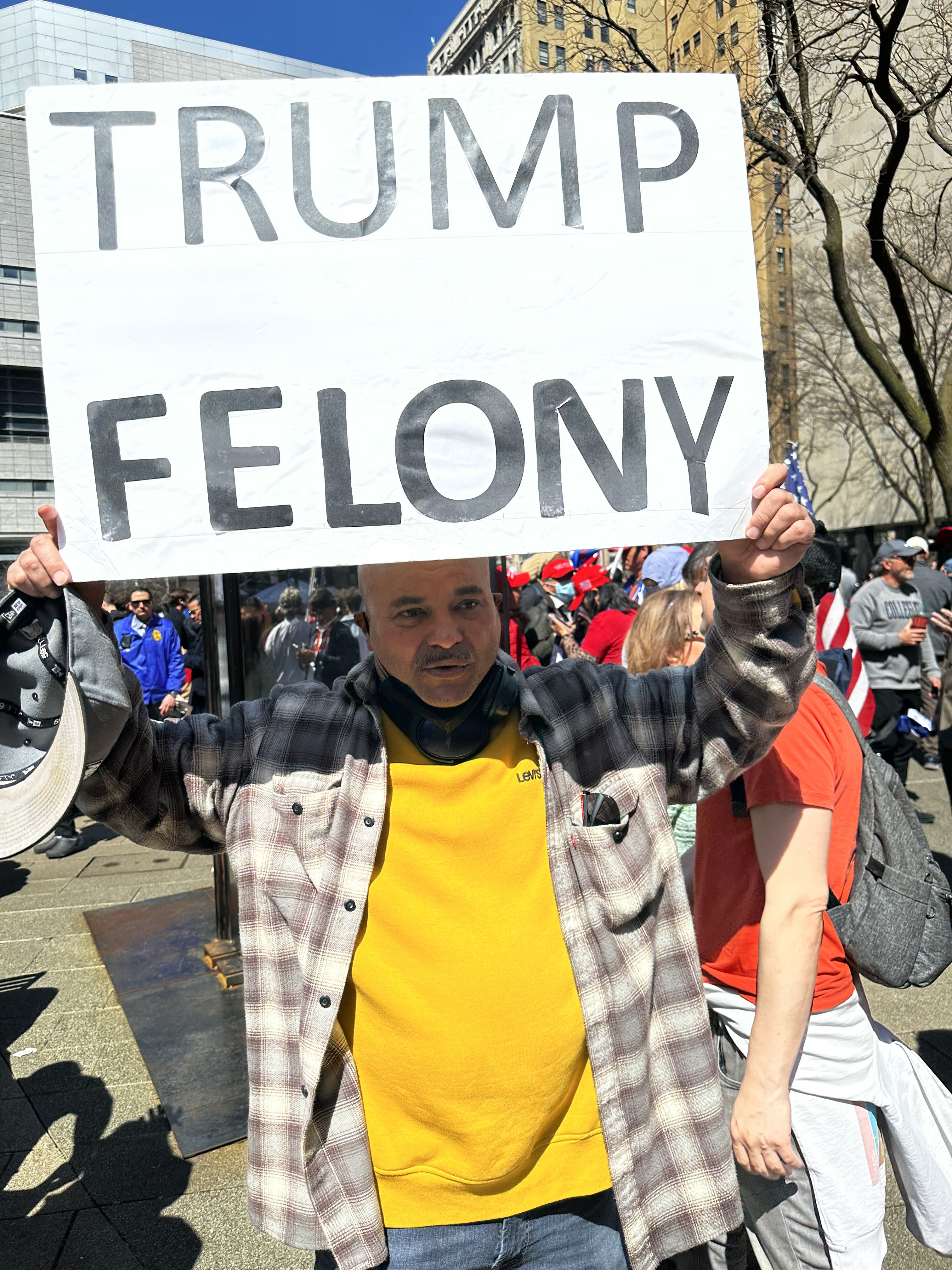 Ozzie Hernandez, a 58-year-old sales rep from Manhattan's Lower East Side who came to protest the former president, made his way over to the Trump supporters' side and played it safe by sticking close to police nearby. "He thinks he's John Gotti, the 'Teflon Don,'" said Hernandez about Trump without causing a stir. "He's going to make this like it's a great day to be indicted," Hernandez added. "But it's not great being indicted. We're anchored in reality." The last was a true statement for what was an almost surreal, sometimes festive moment in the Trump story, thanks to those who chose peace. 
A few feet away, Maurice Symonette, founder of a Miami group known as Blacks for Trump arrived smiling with several of his organization's members by his side. "Everybody is loving Trump!" Symonette insisted. Another out-of-towner, Don Folden of Washington, D.C., walked down the middle of the NYPD line calling for both sides to get along. "This is the crowd man… that hates each other. And we got to stop talking at each other with the hatred and animosity. We're all getting screwed at the grocery store and the gas pump. This hate doesn't give anybody an edge," the 70-year-old Black history tour guide said.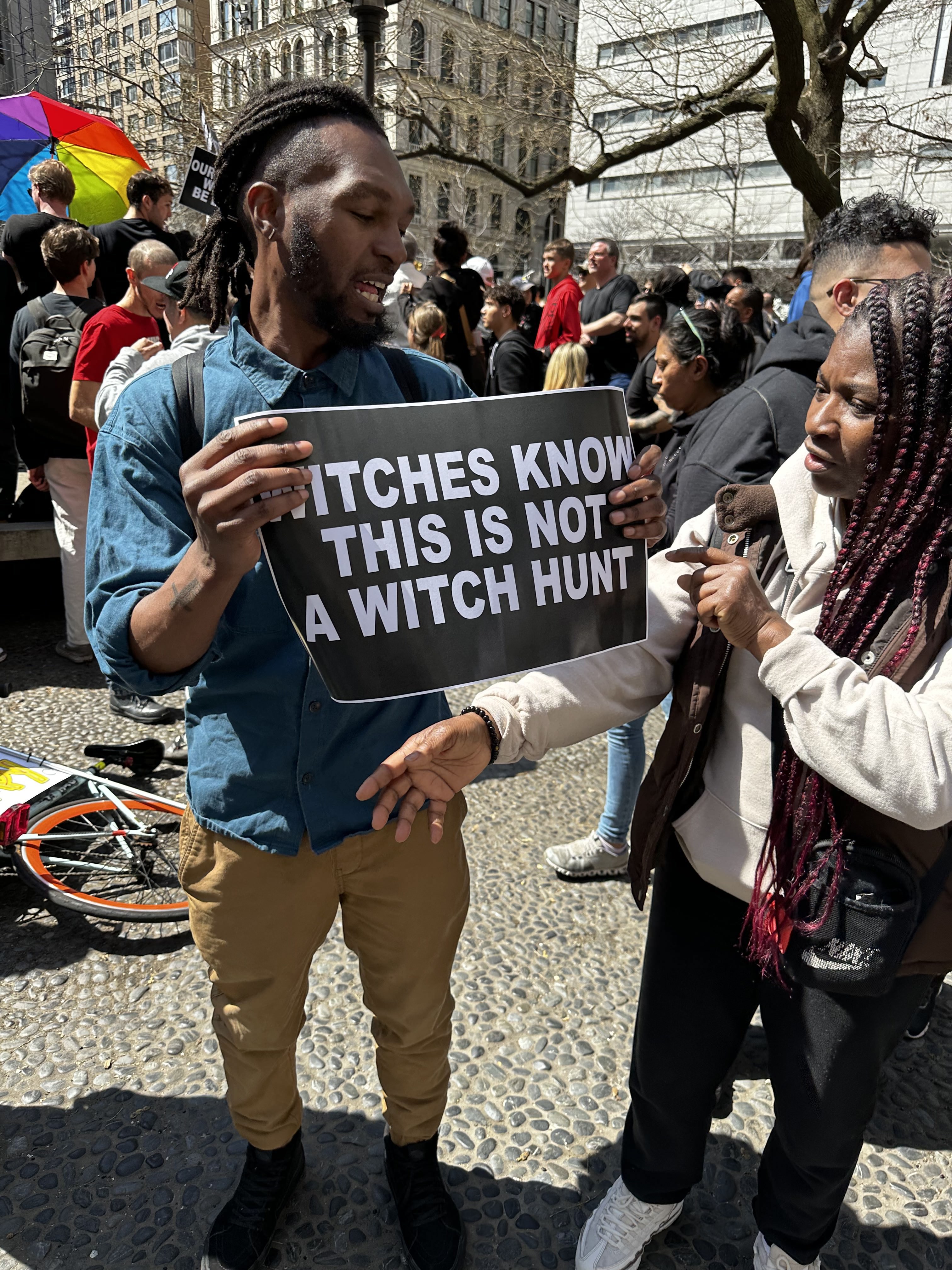 Jawanza Williams, director of organizing at Vocal NY, a grassroots community group in support of low-income New Yorkers impacted by HIV/AIDS, drugs, mass incarceration and homelessness, acknowledged the peace, but wasn't about to warm up to the Trump supporters. 
"I don't think we should socially welcome the kind of right wing, vitriolic ideology that is present, just across the way here," he said. "Though we are here because of the Trump indictment, we're also here because of the kinds of conditions that have produced a Trump. The kinds of conditions that are making our lives difficult to live. Mass homelessness in the state of New York alone, we have 100,000 people experiencing homelessness."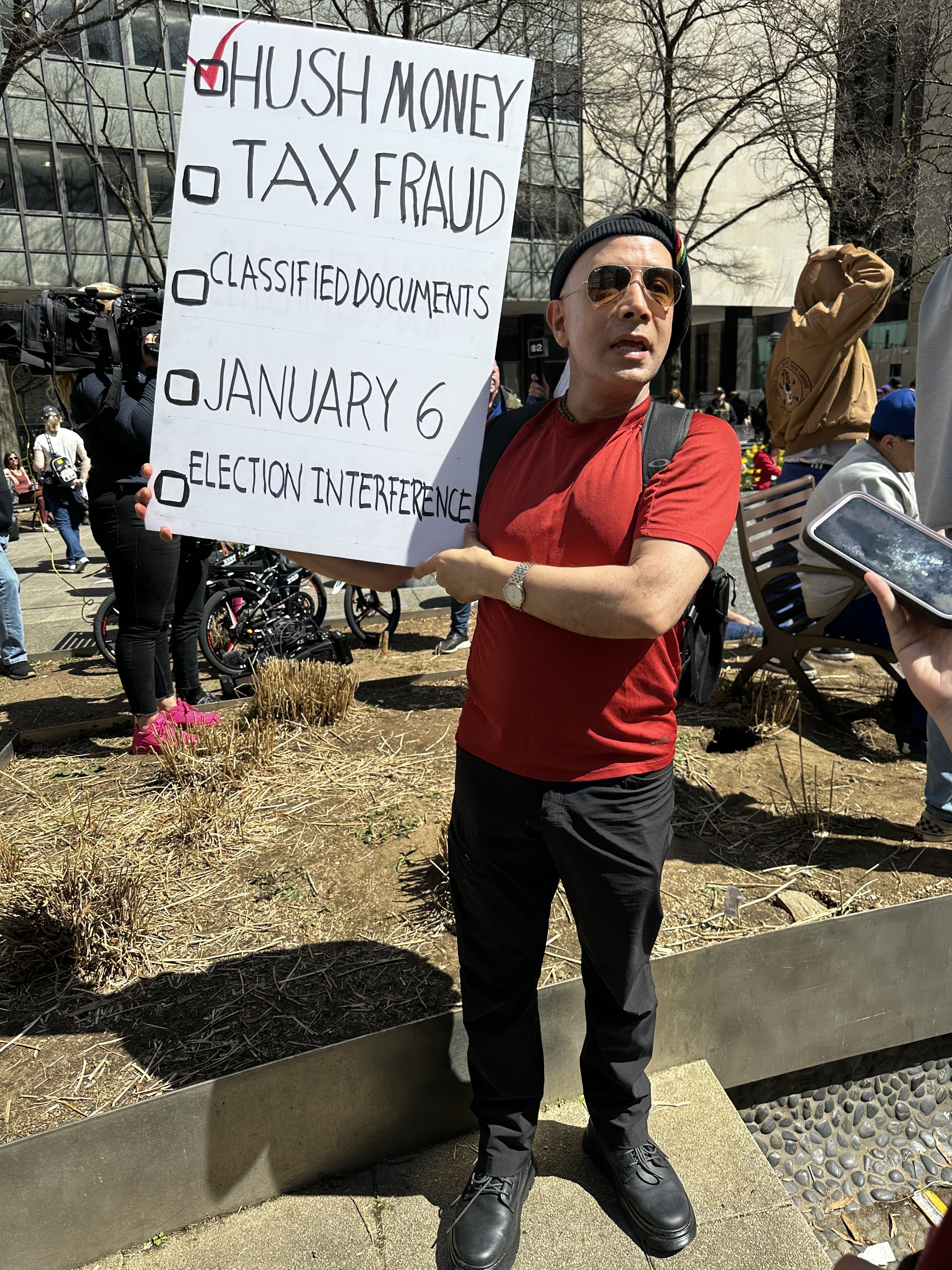 Others were more focused on the former president's fate. Rafael Banda, 55, of Manhattan, stood on the protesters' side holding a sign with a Trump prosecution check-off list. "More charges are coming. Today's only the first one on the list," he said. "Tax fraud might be next. Classified documents might be next. Jan. 6 might be next. Election fraud might be next."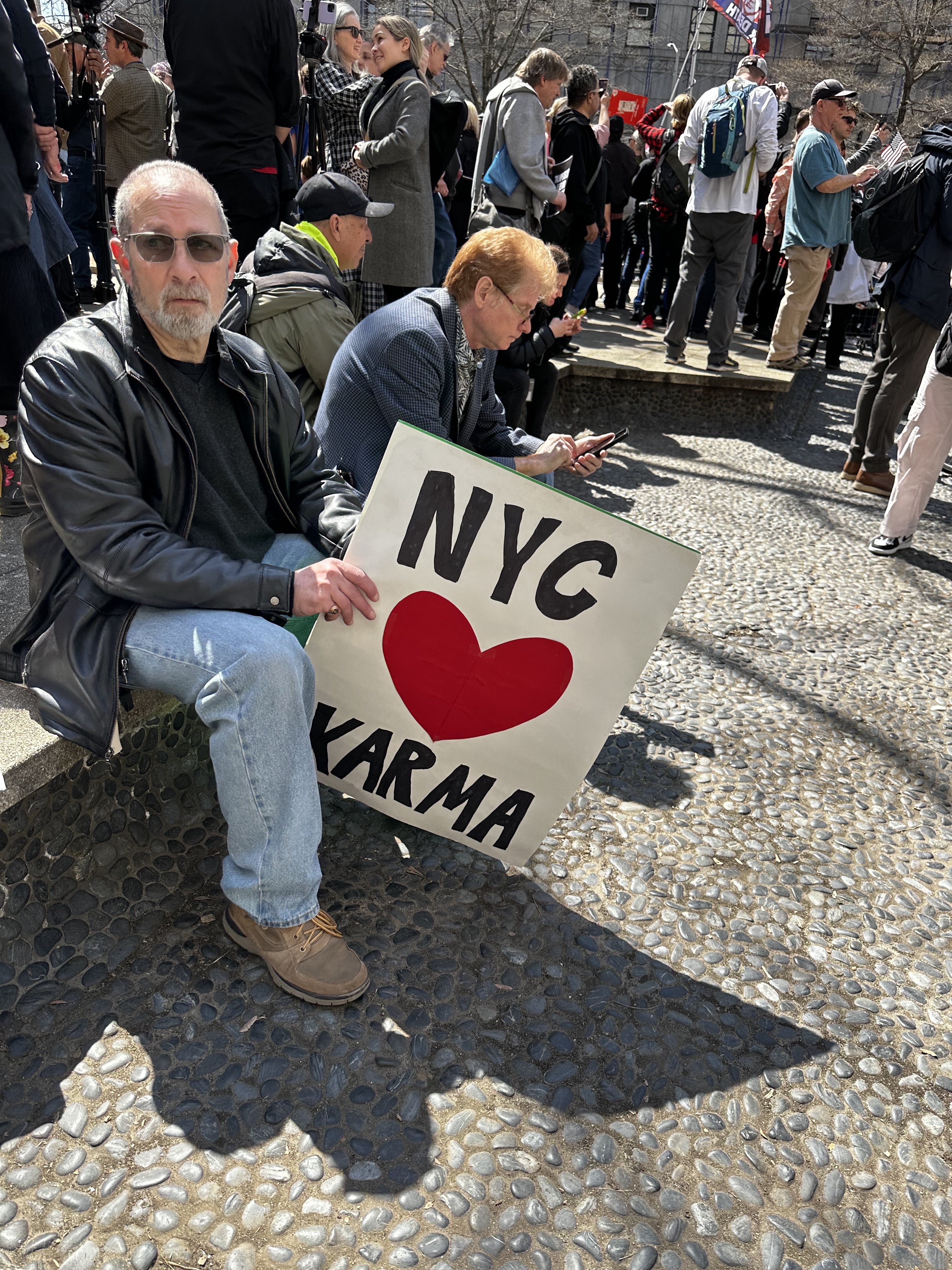 Mike Arsham, a 69-year-old social worker from Manhattan, took part of the day off to "see justice done." "I want to stand behind our police, our district attorney, our American system of justice. I want to see Donald Trump experience due process," he said. "I want to see him face American justice just the same way you or I would."
Arsham, wanting to inject a little humor into the demonstrations, held a sign that said, "We're going to need some very tiny handcuffs."
The sign's reverse said, "NYC ❤️karma," in reference to comments made about Trump's indictment made by Yusef Salaam, a candidate for City Council and one of the five wrongfully accused teenagers in the Central Park jogger case. Arsham noted how Trump had taken out full page newspaper ads at the time calling for the execution of the five, long before they were exonerated for the crime they were alleged to have committed. Arsham pointed out that Trump was now getting his due. 
"No one is above the law," Arsham said. 
Powered By
NEXT STORY: Opinion: Don't give up on public campaign financing