Kirsten Gillbrand
Sen. Kirsten Gillibrand talks Trump's tweets and sexual harassment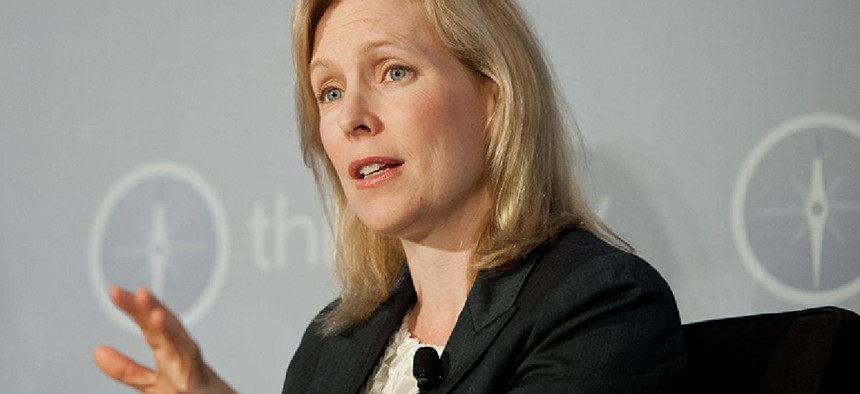 U.S. Sen. Kirsten Gillibrand, who has continued to raise her national profile as an advocate for women and an antagonist of President Donald Trump, responded to questions late last week from City & State about new legislation she is sponsoring to combat sexual harassment, her Twitter war with the president and her legislative priorities in the final weeks of 2017.
RELATED: The Winners & Losers of 2017
C&S: Why do you think President Trump targeted you specifically on Twitter, and what is your reaction?
KG: It was a sexist smear attempting to silence my voice and I will not be silenced on this issue, neither will the women who stood up to the president earlier this week, and neither will the millions of women who have been marching since the Women's March to stand up against policies they do not agree with.
C&S: Are you planning to introduce new legislation before the end of the year?
KG: Yes, I just introduced bipartisan legislation, the Congressional Harassment Reform Act with Ted Cruz (R-TX), Joni Ernst (R-IA), Dianne Feinstein (D-CA), Lisa Murkowski (R-AK), Lindsey Graham (R-SC), John Cornyn (R-TX), Claire McCaskill (D-MO), Jeanne Shaheen (D-NH), Rob Portman (R-OH), Richard Blumenthal (D-CT), Tammy Baldwin (D-WI), Mazie Hirono (D-HI), Elizabeth Warren (D-MA), Cory Booker (D-NJ), Cory Gardner (R-CO), Dan Sullivan (R-AK), Maggie Hassan (D-NH), Kamala Harris (D-CA), and Catherine Cortez Masto (D-NV) that will overhaul the process to report sexual harassment in Congress and create more accountability and transparency. We can't simply train our way out of this problem, we need a systemic change that changes the rules currently designed to silence victims.
My bill would do the following:
·         Modernize and streamline the process for sexual harassment victims to report within the Office of Compliance.
·         Create a designated person within the Office of Compliance to serve as a confidential advisor for victims of harassment.
·         Require mandatory annual harassment training for both Members and staff. Require a climate survey to give a comprehensive analysis of the scope of this problem in Congress.
·         Remove the current requirement that victims go through mediation before filing a complaint against an assailant.
·         Give interns access to the same resources as full-time staff.
·         Require that each office post notices that detail the rights and protections of employees.
·         Creates transparency in the settlement fund by giving victims the option of talking about their experiences after their claim has been resolved.
RELATED: Sexual harassment claims may not follow Steve McLaughlin
C&S: Capitol Hill has been rocked by sexual harassment allegations in the past month. You recently introduced the ME TOO Congress Act in the Senate, with Rep. Jackie Speier sponsoring the legislation in the House. Have you received support for this bill in the Senate, or are your fellow lawmakers reluctant to overhaul the sexual harassment complaint system?
KG: Addressing sexual harassment in Congress and ensuring employees are treated with the respect they deserve should never be a partisan issue, and I am proud to be working with a bipartisan group of members to introduce the Congressional Harassment Reform Act this week. I am hopeful we can get this done because there is no excuse for accepting the status quo.
C&S: At what point should a lawmaker resign if he has been accused of sexual harassment or assault?
KG: This is a discussion we've been having for a very long time and it's a conversation that this country needs to have. I think when we have to start talking about the difference between sexual assault and sexual harassment and unwanted groping, we are having the wrong conversation. We need to draw a line in the sand and say none of it is okay.  None of it is acceptable and we as elected leaders should absolutely be held to a higher standard, not a lower standard and we should fundamentally be valuing women, and that is where this debate has to go. You had a candidate for Senate credibly accused of harassing and assaulting young girls and a president sitting in the White House with over a dozen sexual assault allegations. This is a conversation we need to have and the conversation needs to move to respecting and valuing women across the board.  Every member is entitled to due process – but they are not entitled to my silence if I have a point of view I feel I need to share.
RELATED: Albany's sexual harassment scandals
C&S: You said that you would not vote for a long-term spending bill unless it included protection for Dreamers. Do you believe that a compromise on DACA will be reached before the end of the year?
KG: I am hopeful that Republicans will keep their promise and address President Trump's decision to end the DACA Program. We must pass a clean DREAM Act. This isn't a partisan issue – both Democrats and Republicans support the DREAM Act. America is the only country our Dreamers have known as home and Congress must take action to protect them. If Republicans refuse to do the right thing and protect Dreamers in the long-term spending bill, then I'm going to vote against the bill. I will urge my Senate colleagues to join me in opposing this legislation if protections for Dreamers aren't part of the deal.
C&S: What leverage do the congressional Democrats have on forcing concessions from Republicans in a government spending bill?
KG: Republicans have a majority in the Senate, the House and a Republican president in the White House, so they have the power to decide what legislation comes to the floor for a vote. I have made clear that if the spending bill in December does not include a fix for our Dreamers, then I will be voting no and urging my Senate colleagues to do the same. We have seen this year how powerful the grassroots have been in stopping harmful legislation, like the repeal of the Affordable Care Act, from passing. I urge everyone to continue speaking out and call their representatives and tell them not to pass a long-term spending bill without a DACA fix.  
C&S: If you could accomplish one thing before the end of the year, what would it be?
KG: Congress must take action to protect over 800,000 Dreamers who know no other country as home besides the United States.