Who's up and who's down?
Who had the best or worst week in New York politics?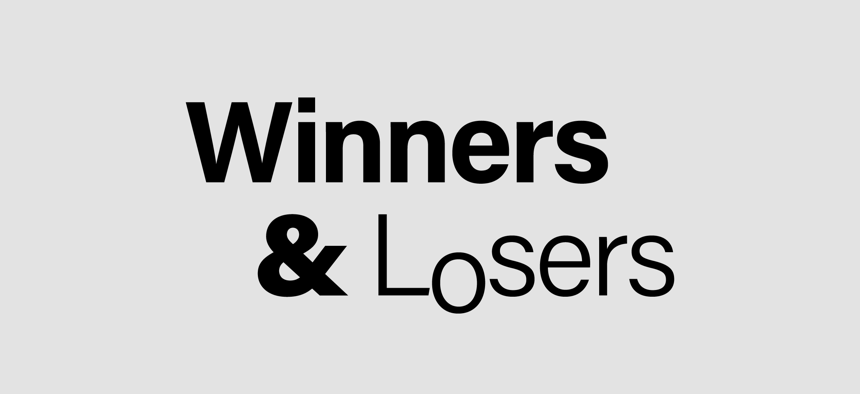 In his State of the City address this week, Mayor Bill de Blasio said he wants to make New York City "the fairest big city in America." But he avoided hot-button issues like subway delays and growing homelessness and provided little in the way of new ideas or concrete details. In this week's Winners & Losers, we offer the opposite: lots of details about the newest political developments and the biggest controversies. 
WINNERS:
Captain -
This is not a ship captain or an army officer. No, Captain is the new addition to the Cuomo family, an adorable Northern Inuit puppy. And at only 14 weeks old, this dog has already gotten more press coverage than an average person in an entire lifetime. The pooch will live in the lap of luxury at the governor's Albany mansion, where Cuomo said he's "mansion training" the pup. Not many dogs can say a mansion is their own personal bathroom.
Robert Carroll & Simcha Felder -
The second Tuesday of September is generally reserved for the state's primaries, but this year's Election Day was competing with two other significant events – Rosh Hashanah and the seventeenth anniversary of 9/11. A bill sponsored by Carroll in the Assembly and Felder in the state Senate to push back the primaries to Sept. 13 passed in the state Legislature this week. Unless Gov. Andrew Cuomo chooses to keep Election Day where it is over religious and memorial concerns, this legislation is likely to be signed into law.
Ed Harrison -
LaGuardia and JFK have gotten plenty of funding during Gov. Andrew Cuomo's tenure, but this week a lesser known airport – Orange County's Stewart International – was set to land $30 million for a major expansion of its own. That's a big win for Harrison, the airport's general manager. The only hiccup is a related effort to rename it New York International at Stewart Field, which has angered the family of the facility's namesake, Archie Stewart.
Jimmy Oddo -
The Staten Island borough president cried havoc and said he'd let slip the dogs of war if his old friend Bill de Blasio were to build a new jail on the island. The mayor agreed last year, and his announcement Wednesday confirmed it: The forgotten borough will stay forgotten, and The Rock won't become The Rock. Is that fair? No, but neither are tolls on the Verrazano Bridge.
Cy Vance Jr. -
Oh Cyrus! If he were an Egyptian deity, the Manhattan DA might be the god of asset forfeitures – raking in $734 million as of June, compared to measly spoils garnered by the other boroughs. Queens topped $100 million, but Bronx, Brooklyn and Staten Island didn't exceed single-digit millions. When he's so good at pumping blacklisted countries and bad, bad banks for that much cash, why bother taking $50,000 in campaign money from the president's lawyer?
LOSERS:
Andrew Cuomo -
Not even a cute puppy can help him this week. A Siena poll showed his job approval and favorability ratings down. A Quinnipiac poll found most New Yorkers don't want him to run for president. Quinnipiac twisted the knife with a poll showing most voters disapprove of his handling of the MTA and are against his payroll tax. And perhaps due to the Percoco trial, New Yorkers think Cuomo is part of the problem when it comes to the need for ethics reform. With numbers like these, it's a good thing Cuomo has a puppy to snuggle – even if he didn't get to choose his name.
Ruben Diaz Jr. -
New jail in the Bronx? No thonx. Or at least ask me first, Bronx Borough President Ruben Diaz Jr. seemed to say in a release targeting the de Blasio administration. But Hizzoner brushed away the Beep, presenting a new Mott Haven jail plan as if it were a done deal. Now the "disrespected" Diaz faces a conundrum as he looks to 2021: If he fights the plan, he risks holding up the plan to close Rikers.
Todd Howe -
Tsk tsk, Todd. So much for that prosecution agreement! Star witness one day, handcuffed the next. Howe was arrested and jailed for disputing credit card charges for his stay at a luxury hotel. But even though the judge let him continue to wear a fancy suit, instead of an inmate's jumpsuit, further revelations at trial gave him another bad look. Emails showed him and Joe Percoco mocking an associate who suffered from temporary facial paralysis. Howe … awful.
Kathy Sheehan -
Bill de Blasio isn't the only mayor in New York who struggles to get state officials to pay attention. Sheehan, the mayor of Albany, actually hosts the governor and state legislators during session, but even she seems to be routinely ignored. This week, her push for $12.5 million in state aid for her city once again fell on deaf ears. If there's any reason for optimism, it's that the governor finally found the same amount for the city last year – but the mayor's hopes for a permanent annual allocation aren't looking good.
Gerald Wolkoff -
Wolkoff, the developer of the 5Pointz complex in Queens, was forced to pay $6.75 million to graffiti artists this week. Yes, in what seems to be a role reversal, the property owner had to pay the graffiti artist for destruction of property. A judge ruled in favor of the artists months ago in a lawsuit they filed, but had decided the verdict would only be a recommendation. Now, in stroke of bad luck for Wolkoff, that judge reversed his decision and is now forcing Wolkoff the pay maximum damages.