Nydia Velázquez
Rep. Nydia Velázquez on leading the way for Latinas
Rep. Nydia Velázquez has spent her career as a trailblazer for Puerto Ricans and other Latinas, and has made Puerto Rico one of her major issues. She spoke with City & State's Rebecca C. Lewis about how her background has influenced her, and about the current state of Puerto Rico as it continues to recover from two hurricanes.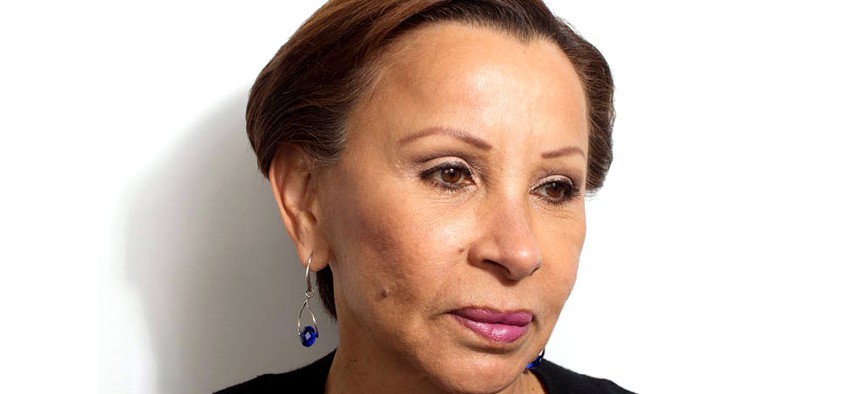 In 1984, Rep. Nydia Velázquez became the first Latina to serve on the New York City Council. In 1992, she became the first Puerto Rican woman elected to the House of Representatives. And in 1998, she became the first Hispanic woman named as a ranking member of a full House committee. Velázquez has spent her career as a trailblazer for Puerto Ricans and other Latinas, and has made Puerto Rico one of her major issues. She spoke with City & State's Rebecca C. Lewis about how her background has influenced her, and about the current state of Puerto Rico as it continues to recover from two hurricanes.
C&S: What inspired you to break that barrier and become the first Puerto Rican woman elected to the House of Representatives?
NV: Back in the 1990s, working for the government of Puerto Rico, being the director of the Commonwealth Office in New York, I decided that the best way to empower the Puerto Rican community – I knew that the numbers were there, but the political clout was far from realizing. And I decided to launch a comprehensive voter registration campaign that would help Puerto Ricans exercise their right to vote. And as part of that natural progression, I then ventured into the political arena, running for office, because I wanted to use my public life as a way to bring about positive change for the community. So, I feel that we needed to make a statement that Puerto Ricans were in New York in big numbers, but how can we translate that into political power. And I believe that being here in Washington enables me to provide the voice of the Puerto Rican community not only in New York, but nationwide. And saw that we are part of a larger agenda here in Washington. And it's just quite ironic that after 25 years in Congress, it took two hurricanes, Irma and Maria, to raise the national consciousness about Puerto Ricans being American citizens.
C&S: When you entered Congress, did the role of educating other people in Congress on these issues then fall to you?
NV: We have a dual responsibility. One is to represent your district and I got elected by the people in my district. And there is no singular issues, there are environmental issues, climate change, it's access to health care, it's the affordability of housing in a city that is so expensive like New York. And then I have a responsibility of representing another portion of my district that is the Puerto Rican diaspora and Puerto Rico, because people expect the same way Sen. (Charles) Schumer deals with issues related to Israel, or (Rep.) Joe Crowley deal with issues related to Ireland. I feel compelled to bring to the forefront unique issues that are particular to the island of Puerto Rico. But I believe that as a member of Congress, it doesn't matter if you're Puerto Rican or not.
C&S: But I'm wondering though, since you were one of the firsts, did you find that these issues weren't really in the consciousness of other legislators until you came and added your voice to the mix?
NV: No, it has taken hard work to raise awareness, to educate my colleagues here in Washington. I was approached by members, maybe 15 years ago, who were very excited that they were going to Puerto Rico, for example, for a vacation with their families, and they asked me what was the currency used in Puerto Rico. And I took a quarter and I showed a dollar and I said "This one." So yes, being the first Puerto Rican, female Puerto Rican elected, it is my responsibility to use my position that I hold to bring the kind of awareness that is important when we discuss issues that are important, whether it's education, access to health care and economic development.
C&S: How would you say your background and growing up in Puerto Rico has influenced your legislating and who you are as a politician?
NV: You cannot escape your roots; it's always a guiding force as to who you are. But representing my community and my district, I have always worked to make sure that we provide the same opportunities that were provided to me. I knew that without a level playing field, without education, without the government playing a role in my education, investing resources in me, that I would have – never in a million years – would have thought that I would have made it to Congress. I went to school; I got a full scholarship. We were very poor. I knew, and that shaped my values and it shaped my life. I know that you could be the brightest one, but if you come from a very poor family background, the government must provide a safety net to assist and help those people that otherwise will not be able to realize their dreams and aspirations. And that has been part of what I've been for the last 25 years. So I use, how can we empower individuals? How can we, through whether it's training or education or small businesses, that this is – my father opened up a small factory of bricks in Puerto Rico. And I saw him struggling to understand regulations. I saw him struggle when he didn't have access to capital to buy equipment. All that has shaped my set of values as an individual, my sense of justice.
C&S: You just came back from a trip in Puerto Rico. What did you see on the ground?
NV: My family still doesn't have power. And I was there for eight days, they didn't have water. This is the effect of a very, very poor response from the Trump administration. From the start, it was totally inadequate. And five months into this event, people are still struggling. More than what, 30 percent or 20 percent without electricity. If you have that in Connecticut, New Jersey or Texas, people would be rioting, people would be taking into the streets to demonstrate that this is not fair and that is not who we are. So things are still very difficult for so many people. People are collecting money to buy mattresses or a stove or a refrigerator for seniors and the elderly who are living by themselves.
C&S: What was your sense of the people who are living through this and trying to get all this done?
NV: They're very resilient, I have to tell you. They are very resilient. And a lot of them have decided that they are going to stay in Puerto Rico, that Puerto Rico will rise. And that they cannot continue to sit idly and wait for help coming from the states. So they're very appreciative and grateful to the response from state governments such as New York and Connecticut, New Jersey, Florida. Communities, the Puerto Rican diaspora, they rallied, they collected food, medicine. They were there. I went to visit a farm that is headed by a young woman and we got volunteers from West Virginia. And these young, white Americans, they're under the sun providing training and giving capacity-building to this young lady that is venturing into farming. That really lifts your spirit and makes you feel optimistic. And Puerto Ricans, those that are there that decided to stay, they're going to work hard and they're going to give everything they got to bring Puerto Rico back.
C&S: When you visit your own district, what has been the response you have seen, whether they are Puerto Rican or not?
NV: They were not only Puerto Ricans, it was everyone, particularly young people. They were collecting food, they were collecting water. In Sunset Park, they had to move and get a storage warehouse, a bigger one, to put all the food. El Grito de Sunset Park did an amazing job. Uprose, they sent a ship with seeds to help Puerto Rican agriculture. Everywhere, Bushwick, Williamsburg. So the kind of response and the desire to do something, I guess it was not for them because they felt it was the right thing to do, but also to send a message to the administration that in America, we take care of our own, especially when disaster strikes.
C&S: Do you see yourself as a role model for other Hispanic people that maybe thought there wasn't a place for them in politics. And if so, have you seen an impact from your political career on the political careers of other people?
NV: Yes, I am very cognizant and aware of the important role I play, particularly in a Latino culture where people thought that those who could make a difference are not women, or that women felt disenfranchised or that they felt that they did not have the kind of network and relationships to venture into the political arena. The most important thing I always say to women and young girls is: don't allow for poverty to become an excuse. Don't allow for your economic situation to dictate to you whether or not you become a statistic or a number. I refused to do that growing up. I knew that if I studied hard, that I would be able to get a scholarship. And because I wanted to be somebody, and I always aspired to be like my aunt. I always saw her and she was my role model even though I didn't see her quite often. I used to see her during the holidays in Puerto Rico. But I always asked, how can I become like her? And so whenever I have the opportunity, every time I go to the district, I try to visit a public school, I try to go into a classroom. I want for the kids to know my story. I truly believe that I have a story to tell. And in doing so, I could ignite the interests of these young Latinas to know that if they work hard, if they play by the rules, that they can achieve any dream. And that along the way, there will always be help. So that's what I do. During the summer, I try to bring a lot of interns into my office in my district offices so that they could go with me to the meetings, that they could see me in action, because I want for them to know … it could be a way for them to achieve their dreams, that it can happen.