Long Island
Liuba's coming for Pete
Liuba Grechen Shirley is the congressional candidate who changed the game on campaign child care, and now she's looking to dethrone Rep. Pete King.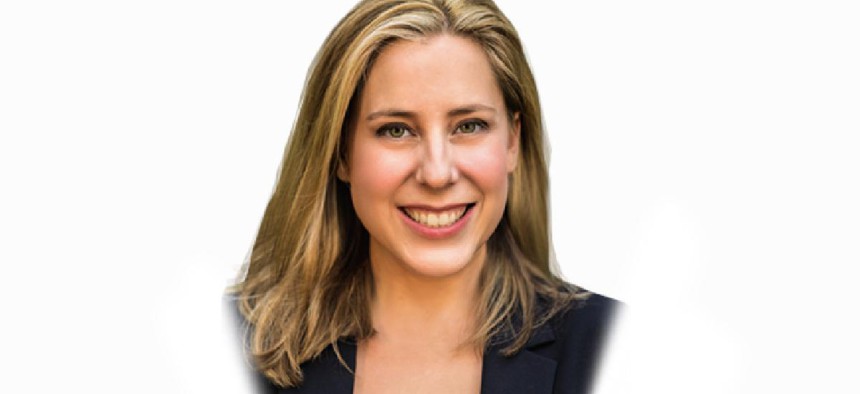 Fresh off her decisive primary win in the Second Congressional District against fellow Democrat DuWayne Gregory, beating him by 16 percentage points, Liuba Grechen Shirley has her eyes set on seismic upset on Long Island in the general election. Grechen Shirley says that Rep. Pete King is vulnerable and has never had a serious challenger in his 25-year reign. The argument sounds suspiciously familiar to Alexandria Ocasio-Cortez's potent logic that led to the fall of Queens Rep. Joseph Crowley. Could King be next?
City & State's Frank G. Runyeon spoke with the Grechen Shirley the day after her primary victory to hear how she did it and what her plan of attack will be in the general election.
C&S: How did you win it?
LGS: We built a grassroots movement. We had hundreds of people knocking on doors. We've knocked on 10,000 in the last four days alone. People are standing up and they are actually talking about the issues that matter to them, that matter to people all across Long Island and all across the country. I started New York's 2nd District Democrats after the (2016) election. I wanted to get even more involved in politics. I reached out to the local Democratic Party and local elected officials and I didn't get very far, so I started a group and started posting daily action alerts and organizing rallies and meet-and-greets and protests. And people got involved.
C&S: You got a lot of media attention after the FEC ruled in your favor, allowing you to use campaign funds for child care. Was that a turning point in the primary?
LGS: The FEC, that was a landmark ruling. It made Congress more accessible to working parents and it'll change the landscape of the candidates that we see running in 2020.
C&S: Your opponent, DuWayne Gregory, opposed your request to the FEC. Do you feel like that had an impact on the primary result? On whether people chose to vote for you?
LGS: It may have. And it was disappointing that my primary challenger didn't approve of it. Maybe there were people who that made them think. We need people who are willing to stand up and think out of the box and to work to make Congress and politics in general more accessible to working people.
C&S: Rep. Pete King is a long-serving Republican congressman. People say he's entrenched. If you look at Roll Call or the Cook Political Report, they haven't been looking at this race as competitive. Are you seeing something that they aren't?
LGS: It's absolutely a competitive race. This is a district that we can take back. King has been in office for 25 years because he hasn't faced many serious challenges. We have more individual contributors than anyone who has ever run against him in his 25 years in office. We're raising more money than anyone who has run against him in the last 12 years. He's not as popular as he thinks he is. There are people all across this district who are sick and tired of his voting record and how it hurts people in this district. King is vulnerable.
C&S: On the subject of money, since you raised the topic, King does have $3,000,000 cash on hand to your $142,000. Do you feel like you can close the gap?
LGS: I do. I'm confident that we'll be able to raise the funds necessary to challenge King, to unseat him.
C&S: Now all you need is a couple million dollars.
LGS: (Laughs.) Exactly. Which we are going to raise!
C&S: Do you know where you're going to get that money?
LGS: From small-dollar donations across the district, across New York state, across the country. We're going to need the support of Democrats and progressive-minded people across the country. Our average donation is less than $100 and we've raised $126,000 in the first two months. We've raised well over half a million dollars at this point and we're going to continue raising the money from the grass roots. I've signed a pledge not to take any corporate PAC money. This is small-dollar donations from people who want to unseat Peter King and who want a representative who will stand up for working families on Long Island.
C&S: Some say Long Island is Trump country and King has definitely put himself in that corner. Beyond raising the funds, what's your game plan? How are you going to win the general election?
LGS: Peter King is the one who says Long Island is Trump country. We actually have 9,000 more registered Democrats in our district. I have been knocking on doors and talking to Democrats, but a lot of those Democrats are married to Republicans. I have to tell you that so many Republicans have said that they are disheartened with Peter King's voting record and how he continually works against working people in our district. And I have been told so many time by a Republican that they are going to vote for me. I had a press conference in front of King's office this morning and a Republican came up to me. His wife had made a donation at the event last night. He came up to me and said, I'm a registered Republican, I couldn't vote for you, but I like your message, I like what you're talking about and I'm going to give you a donation. And you're going to have my vote in November.
C&S: So, you're going to be taking Republican votes, but do you think Trump voters will be voting for you?
LGS: When I was out knocking on doors, I've talked to a number of Trump voters who told me they plan to vote for me. I've talked to a number of them already.
C&S: I wouldn't have thought there wouldn't be a lot of crossover there. But you think there is?
LGS: Yeah, well, we'll see. I'll leave the predictions to the pundits. I focus on talking to as many voters as possible.
C&S: One more question: Is there any challenge in this upcoming race that you're dreading or that you're worried about?
LGS: No! I'm excited. I could not be more excited. I'm so energized by talking to voters. I knocked doors for five days straight from sunup to sundown and I've talked to so many people. It's been incredible to see how fired up people are. I don't dread anything at this point! I'm so excited.
Powered By
NEXT STORY: Gareth Rhodes' unorthodox Democratic campaign strategy