Who's up and who's down this week?
New York's primary election edition of Winners & Losers.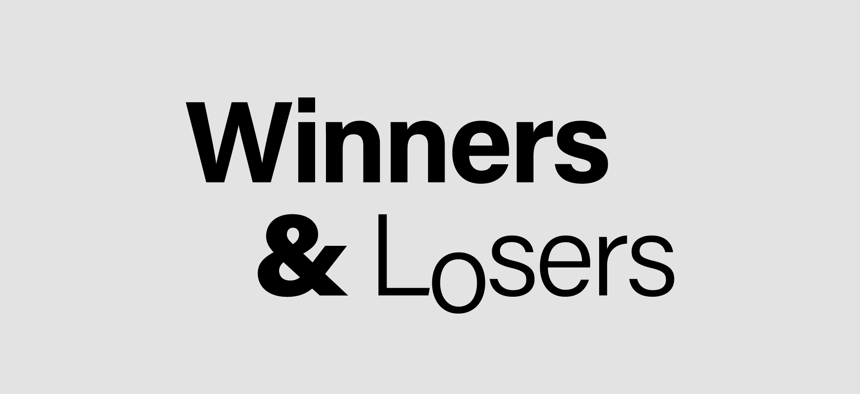 It was earlier this year that the political experiment called the Independent Democratic Conference officially came to a conclusion. Some observers wondered if it might be revived again somehow, but on Thursday night any chance of that happening was put to rest. But the bad luck for the ex-IDC contingent wasn't the only big story this week – and there's plenty of other losers in this week's list.
WINNERS:
Alessandra Biaggi -
Her grandfather, the famed former Congressman Mario Biaggi, may have ended his political career in disgrace. But Alessandra Biaggi has now redeemed the family name – and she's done so in style, knocking out one of the state's shrewdest politicians in state Sen. Jeff Klein to punch her ticket to Albany. Of course, while she toppled the most powerful ex-IDC member, honorable mention goes to the other IDC challengers who won: Zellnor Myrie, Jessica Ramos, Robert Jackson, John Liu and Rachel May.
David Carlucci & Diane Savino -
The big takeaways from Thursday's primary results are that Cuomo still has plenty of clout and that nobody liked the IDC. Then again, not EVERYONE was mad at the breakaway group – especially in more politically divided areas like Staten Island (where Savino hails from) and the Hudson Valley, where Carlucci lives. As the only two survivors of the IDC purge, they've got to be feeling pretty relieved.
Andrew Cuomo -
So what if he rushed the new Tappan Zee Bridge and sent out a mailer accusing his opponent – who has two Jewish children – of being anti-Semitic? Who cares about the supposed curse of the third term? It's Andrew Cuomo we're talking about here – and of course he just powered his way through to another big election victory! The next big job for the Guv? Figuring out how to walk back his pledge not to run for president.
Kathy Hochul -
Fending off an unusually strong and highly publicized challenge form New York City Councilman Jumaane Williams, Lieutenant Kathy has managed to keep her seat in Albany for four more years. Not that it was without a fight, as Hochul went on the offensive against her opponent. The last poll from Siena College before the election already projected a tighter race than between Cuomo and Nixon – Hochul up by 22 points, but over a third of voters still undecided. Luckily for Hochul when push came to shove, those voters went her way. Which means she gets to travel around the state and cut ribbons for another term.
Letitia James -
After years in the thankless job of public advocate, New Yorkers decided Tish James deserved a promotion. She'll become the people's lawyer after a surprisingly decisive victory in the Democratic attorney general primary. She can thank Cuomo for his backing, and she can thank the equally important last-minute endorsement from Nicki Minaj, but most of all, Letitia James has to thank Letitia James. Years of ribbon cuttings, community board meetings and dinky parades paid off big time.
LOSERS:
Jamey Barbas -
The project director for the $3.9 billion Governor Mario M. Cuomo Bridge was caught "directing" a contractor to finish the construction of the long-awaited second span regardless of its engineering issues – as long as it was done in time for Gov. Andrew Cuomo's primary election. Barbas told the contractor that the state would take on any "premium additional costs" that occurred as a byproduct of expediting the process. But the bridge didn't open on Saturday as Cuomo promised during his spectacle of an event and officials said it was because of a "potentially dangerous situation." Barbas insisted that Cuomo and his senior staff had no knowledge of that sneaky letter, putting the blame almost entirely on herself.
Martin Dilan -
"All press is good press" has never felt so real, as the Brooklyn state senator lost – by a lot – to the democratic socialist tabloid sensation herself, Julia Salazar. Dilan never falsified his biography to better appeal to voters, and he never joined the IDC. He was always himself – a loyal Democrat, raking up real estate money. But that wasn't enough for voters in his lefty, Bernie-loving district, and Dilan somehow found a way to lose against the most sensational candidate since Donald Trump.
Joe Errigo, Ari Espinal & Earlene Hooper -
Long Island voters must have gotten pretty comfortable with Earlene Hooper after 30 years in the Assembly, even if she racked up higher travel expenses than any other legislator. But racial attacks and anonymous fliers calling her opponent Taylor Raynor a "loose jezebel" seemed to wake up voters who decided to throw the bums out. Despite the overwhelming advantage of incumbency, two other sitting Assembly members lost in the primaries – Ari Espinal of Queens and Joe Errigo of upstate New York. It was their races to lose – and they did.
Jeff Klein -
The captain goes down with the ship. Even though a frantic Klein tried to steer the Independent Democratic Conference away from danger by rejoining the mainline Dems in April, the wave of progressive energy was too much for Klein's eight-man crew. Six former members of the IDC lost in the primaries, including the mastermind himself. But in a state where most former Senate majority leaders end up in handcuffs, the traitor Klein is going down with dignity. Now all the poor man can do is form a multimillion-dollar lobbying firm with Joe Crowley.
David Lobl & Larry Schwartz -
These two former aides were behind another eleventh-hour scandal for the governor – the fliers sent to 7,000 households suggesting that challenger Cynthia Nixon is anti-Semitic. What it showed that if you're powerful enough, you'll always have an underlying or two to shoulder the blame. Schwartz and Lobl – the former secretary and former special assistant to the governor – were identified as the campaign volunteers responsible for the fliers: Lobl drafted the language and Schwartz approved it, but Schwartz "only saw the positive section of the mailer and never saw the negative section," according to a Cuomo spokesperson. It's hard to say what's more remarkable – the revelation that Schwartz apparently can't see harsh language or that Lobl can accuse Nixon of anti-Semitism without quite being able to spell the word.