New York State
A timeline of Schneiderman's public feminism, private allegations
Attorney General Eric Schneiderman led on women's issues while his ex-girlfriends say he was beating them.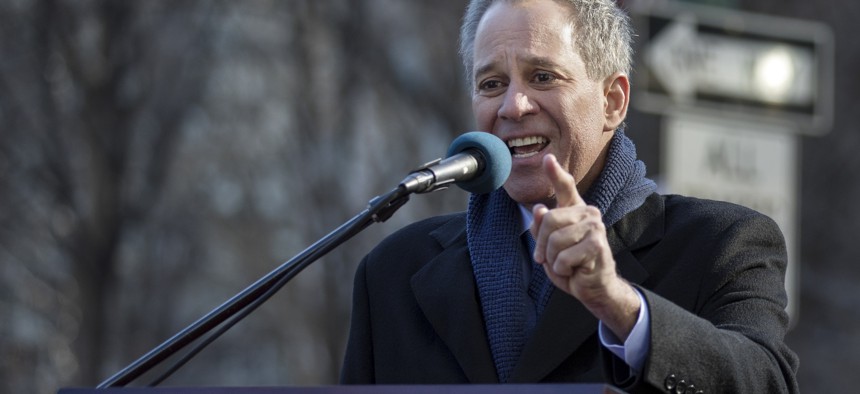 Eric Schneiderman, the former state attorney general who resigned in May amid allegations of abuse, will not face criminal charges, prosecutors announced on Nov. 8.
It's just the latest development in the downfall of Schneiderman, who once was an advocate for women's causes. In his first campaign for attorney general, NOW-New York endorsed him, citing his history "protecting women who are victims of domestic abuse." Since taking office he has been an outspoken supporter of women's rights, publishing a brochure to help victims of domestic assault and filing a lawsuit against Harvey Weinstein.
But his public work occurred in tandem with private abuse that he himself allegedly perpetrated. Four women have accused Schneiderman of physical abuse in a blockbuster article in The New Yorker, including two who spoke on the record, activist Michelle Manning Barish and author Tanya Selvaratnam. Friends of the victims told the magazine that they recalled the woman recounting the incidents to them at the time. Some accusers had photos of the physical harm they say that they suffered at Schneiderman's hands and one put her in doctor, who verified her injury, in touch with The New Yorker). Schneiderman resigned on Monday, three hours after the article was published. Here is a brief timeline of Schneiderman's relationship with these women, juxtaposed against his statements and actions to advocate on behalf of women at the time.
March 3, 2010 – Schneiderman, then a state senator, introduces the Strangulation Protection Act, making intentional strangulation and suffocation to unconsciousness a violent felony, and criminalizing less serious cases with "an intent to impede breathing." (Now, Schneiderman's accusers allege that he often choked them.)
Nov. 2, 2010 – Schneiderman is elected attorney general of New York.
July 2013 – Schneiderman and Manning Barish meet. About four weeks into their relationship Schneiderman grew violent, Manning Barish told The New Yorker. He allegedly slapped her so hard that her ear was damaged.
Nov. 2, 2013 – The New York Post's Page Six gossip column reports that Schneiderman and Manning Barish are dating. It cites a source that says "things got very intense, very quickly" in the relationship, and "It got so big, so fast, it got scary, and they both freaked out."
Sept. 13, 2014 – Schneiderman releases a statement on the 20th anniversary of President Bill Clinton signing the Violence Against Women Act. "Violence against women remains a prevalent and dangerous problem across our nation. Basic safety is not a privilege: It is a fundamental right," Schneiderman says.
Sept. 13, 2014 – An ear, nose and throat specialist removes "dried bloody crust" from Manning Barish's ear, which she now says had been present for months due to the attorney general striking her.
January 2015 – Manning Barish breaks up with Schneiderman after an on-and-off relationship. She told The New Yorker they had a few more romantic interactions, but have not been in touch often since 2016.
April 22, 2015 – Page Six reports that Manning Barish and Schneiderman broke up because "Eric is very much focused on his political career."
Summer 2016 – Schneiderman and an unnamed lawyer went home together after a party, according to The New Yorker, and he became physically and psychologically abusive.
July 2016 – Selvaratnam and Schneiderman meet and begin dating. Schneiderman allegedly became physically and psychologically abusive.
Oct. 7, 2016 – Schneiderman issues a "Know Your Rights" brochure for victims of domestic violence. "Our hope is that our enforcement actions, as well as our education and outreach efforts, will assist domestic violence victims to escape the violence they face at the hands of their abusers and assist them in building safe, productive lives," Schneiderman says. The brochure is reissued to address sexual harassment in the workplace in 2017.
Jan. 19, 2017 – Schneiderman is rushed to the emergency room, and allegedly tells Selvaratnam that he had fallen after he had been drinking and cut himself. He later told staff that the injury occurred while running.
Fall 2017 – Selvaratnam breaks up with Schneiderman. She retrieves her belongings from his apartment on Nov. 3, and soon afterward meets a former girlfriend of Schneiderman's, who had similar experiences.
Feb. 11, 2018 – Schneiderman files a lawsuit against Harvey Weinstein, the media mogul whose alleged serial sexual harassment and assault kickstarted the #MeToo movement.
March 19, 2018 – Gov. Andrew Cuomo's office orders Schneiderman to review the Manhattan District Attorney's office for the decision not to prosecute Weinstein in 2015.
April 16, 2018 – Schneiderman tweets praise of the reporters who won the Pulitzer Prize for writing about the #MeToo movement, including Ronan Farrow. Farrow was one of the reporters who wrote the article revealing the allegations against Schneiderman a few weeks later.
May 7, 2018 – The New Yorker publishes an article in which four women allege that Schneiderman physically assaulted them.
May 8, 2018 – Schneiderman is officially out as state attorney general, following the announcement of his resignation the previous day.
Nov. 8, 2018 – Prosecutors announce they will not pursue criminal charges against Schneiderman, bringing a six-month investigation to a close. Madeline Singas, the Nassau County district attorney tasked with leading the investigation, said in a statement that "legal impediments, including statutes of limitations, preclude criminal prosecution."
Correction: An earlier version of this story incorrectly stated the introduction date of the Strangulation Protection Act.
Powered By
NEXT STORY: Marcos Crespo on taking Somos back to San Juan