New York City
Everybody loves Gale
Manhattan Borough President Gale Brewer may be the city's most popular politician. So why won't she run for mayor?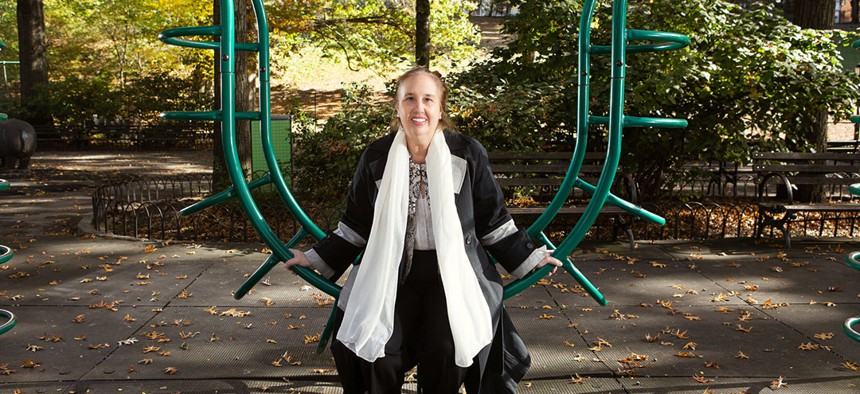 Gale Brewer's peers in politics are in awe of her public schedule, holding the Manhattan borough president's endurance in an esteem most people reserve for Olympic marathon runners or Bruce Springsteen on a world tour.
"I would be dead if I had Gale Brewer's schedule every single day," said New York City Councilman Keith Powers, of Manhattan.
"The running joke is that Gale Brewer has a clone," echoed New York City Councilwoman Carlina Rivera, also of Manhattan. "She's everywhere. She always makes an appearance."
"Gale is amazing! I don't know how she keeps up," said Manhattan Councilwoman Margaret Chin. "When I go to events with her, especially in the evening, I'll say, 'Gale, this is my last one. I'm going home.' And she's still got four or five on her list."
Her constant presence at events – her hustle – is one of the reasons why Brewer is the most beloved politician in New York City. Ask anyone involved in government, from voters to staffers to journalists to politicians, and you'll hear a chorus of praise. She's always there, she's smart, she's brutally honest and – oh yeah – she actually seems like a good person. Few politicians can find that balance, and even fewer can do it without appearing too ambitious. "Everybody loves her," Chin said. "She's a role model that we all learn from."
Brewer's nightly schedule is impressive, hopping from a gala to a political club to a community board meeting to a public debate. But her longevity is just as impressive, and just as important to her sterling reputation. Brewer, 67, has been working in New York City government for more than four decades, starting in the city Parks Department during John Lindsay's mayoralty, and hopping from building to building in the vicinity of City Hall for decades, including 12 years as chief of staff to then-New York City Councilwoman Ruth Messinger and 12 years as a city councilwoman herself, before being elected borough president in 2013. Her 46-year streak was broken only by a brief stint working for a nonprofit housing developer, and even then, she was still serving on her Upper West Side community board.
Her years of service has its benefits. "She knows everyone. She has worked with everyone," Manhattan City Councilman Ben Kallos said. "She has been in government for her entire life, and she is a force of nature."
It's never more obvious than at those nonstop events, as people from every corner of the city, even those unlucky folks who have to take bridges and tunnels into Manhattan, tell her about their new jobs, their latest problem with city government or their latest neighborhood concern. She seems to savor the conversation and the gossip, but she makes it clear that work is always on her mind by showing up with work in hand – literally. She's constantly carrying bags, filled with briefings, papers, whatever else she needs to read. And it isn't for show. She's regularly described as one of the smartest people in New York politics.
But above all else, her driving reason for going to all these events is to keep the organizers happy. She used to be one of them, a civically engaged New Yorker going out on a limb by inviting an elected official to her fundraiser, political debate, community board meeting or civic happy hour. "I know what it's like when you ask somebody to show up," she said during a recent phone interview. "And (whether) they show up, or they don't show up, it means a lot."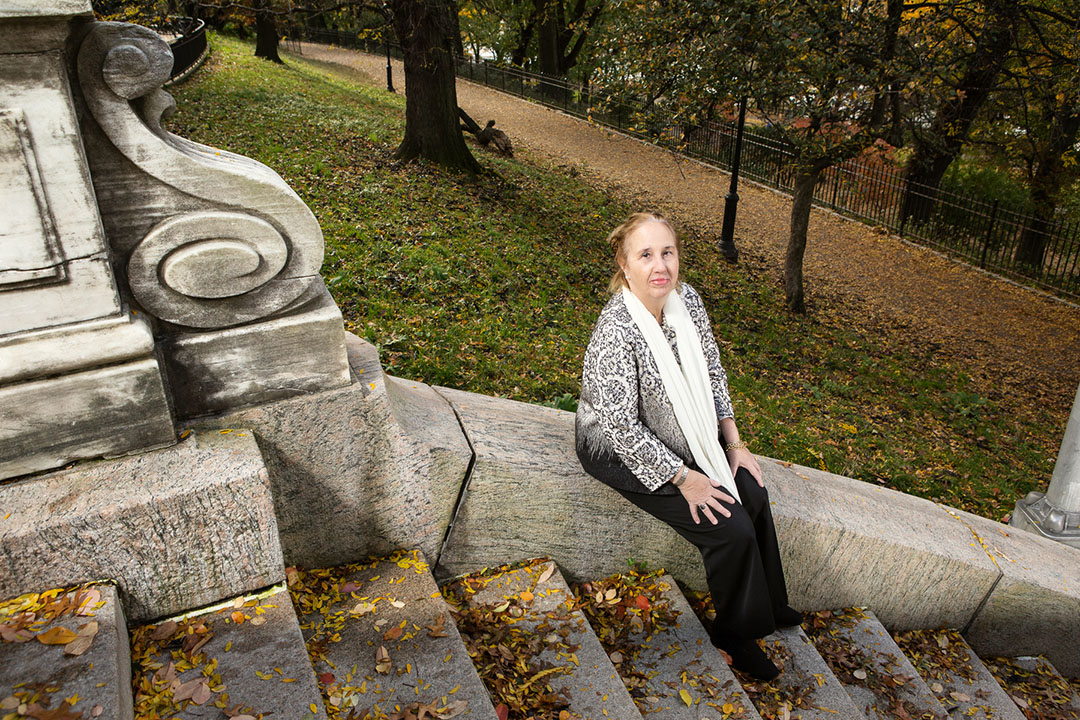 If there's one exception to the Gale Brewer love fest, it's real estate developers, who would prefer that Brewer did a little less "showing up." As borough president, Brewer has an advisory vote on Manhattan projects going through the Uniform Land Use Review Procedure, or ULURP. It's a vote she has used, consistently, to oppose major projects, like the 2018 rezoning of Inwood, or to attempt to scale them down, like a planned tower for the South Street Seaport. She said a lot of factors go into in her decisions, including an intense focus on building more affordable housing, but her vote often seems to come down to what she is hearing from other Manhattanites at meetings and events. "I do listen to the community, because I think not a lot of people are listening to the community," she said. And what has she determined? "We don't want the tallest building in the city. We just don't. At least, I don't. Others may."
But to the pro-development set, Brewer is a NIMBY who says not in my backyard to any project, siding with residents of the affected neighborhood over the greater needs of the city. Real estate developers are conspicuously absent from Brewer's campaign finance reports, both in 2017 when she ran essentially unopposed for re-election, and in 2013, when she beat a crowded field in the Democratic primary. But Brewer has won the respect of some of her toughest critics.
"She's a formidable advocate for her constituents, and she works as hard as anybody I've known," said John Banks, president of the Real Estate Board of New York. Banks has known Brewer for decades, since they both worked in the City Council, and said he has the "utmost respect for her" despite their frequent disagreements.
"Gale is 100 percent an honest broker. There's no b.s. with her," Banks said. "She tells you what's on her mind, and she's open to your ideas and suggestions and points of view."
Brewer's straight talk could easily come off as brusque, but people in politics who are used to hedging and circuitous language are quick to describe it as one of her best assets.
"People actually really appreciate somebody who just gives it to them straight and is honest and thoughtful about it," Powers said.
"Gale Brewer gives me courage to be as honest as I am," Kallos said. "She is one of the most honest people in politics, and I hope to be a close second." Kallos emulates Brewer – "I want to be Gale Brewer when I grow up. I say it all the time" – and he means that in another way, too. He's mulling a run to succeed her as borough president when she reaches the office's term limit in 2021.
Brewer, meanwhile, is rumored to be considering running for her old City Council seat again. Asked to confirm, she avoids her usual straight talk and dodged the question. But she did shut down any thought of pursuing a citywide office. "I love Manhattan," she said. "I'll leave it at that. I'm not a five-borough person. I love my borough."
Of course, if Brewer had her way, she'd be able to run for borough president again. She's adamantly opposed to term limits for any office, which came up most recently in her outspoken opposition to New York City's Question No. 3, which passed on Election Day and will institute term limits for community board members. To Brewer, it will be a brain drain, kicking some of the smartest, most engaged citizens from their unpaid, volunteer positions.
But to supporters like Kallos, it will allow new voices to join community boards and pave the way for board members, which skew white and older, to better reflect the evolving communities they represent.
It would be easy to paint Brewer into that corner. She is, after all, a white woman over 65 from the notoriously politically involved Upper West Side, where everything from landmarking to school integration to a single ugly brownstone becomes a protracted debate. She's one of the wealthiest elected officials in New York City, with at least $1.6 million tied up in mutual funds, according to a recent financial disclosure form. Brewer and her husband, Cal Snyder, an author, also own a West 95th Street townhouse assessed by the city this year to be worth $4.2 million. She has been working for a long time, she explained to City & State, and had "parents who were very generous."
But there's more to Brewer than money. She was spotted recently – without any staff or press – volunteering at Holy Apostles Soup Kitchen in Chelsea. And Brewer knows something aboutbeing a generous parent herself. She's had so many foster children, she loses track of the number. "Maybe 30?" she said, searching her memory. "Twenty-five or 30, I can't remember." The range has been even wider in the past. "Around 20," she told The New York Times in 2017. A 2012 newspaper profile put the count at 35. She has one adopted son, Mo Sumbundu, who carries on the family tradition of working in government at Empire State Development Corp.
Whether it's the cause or an effect of raising so many children, Brewer is great with young adults. She has taken interns across her numerous positions in government, and has taught government as an adjunct professor at Hunter College and other city colleges for years. City government is filled with fawning fans, including New York City Mayor Bill de Blasio's chief of staff Emma Wolfe, a former student. Unsurprisingly, the Manhattan Young Democrats love her as well. Malik Wright, the president of the political club, said her appeal to young people is "Bernie-esque."
"She's young at heart," Wright said. "And the fact that she shows up more than anyone else to our programs, to our events, is a testament to how much she cares about young Democrats, young people. If I could ever build a park or a statue to her one day, I would."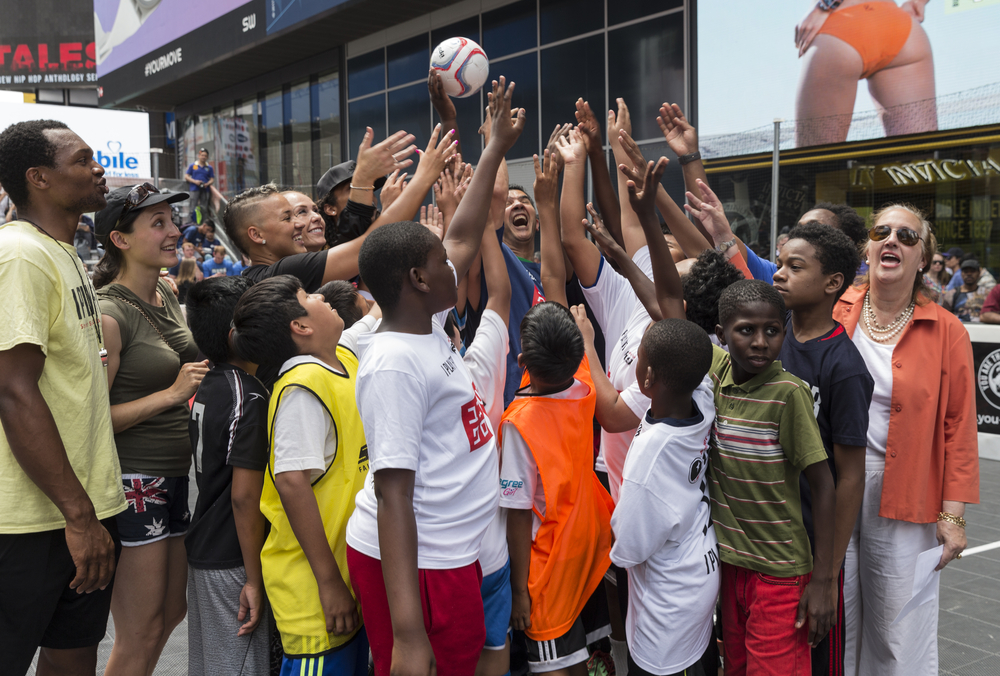 In late October, Brewer hosted a press conference at the South Street Seaport to mark the sixth anniversary of Superstorm Sandy. And hosted is the right word – she gave a brief introduction, then gave up the podium to a succession of community board presidents, academics, a state senator and a New York City Council member. While others spoke, she stood by, fidgeting with a ballpoint pen in her hand, constantly taking down notes, adding things, checking things off that the other speakers said. When it was finally her turn to return to the podium, 15 minutes in, she was the picture of efficiency – not just in performance, but in message. The city, state and federal governments haven't done enough for lower Manhattan's coastal resiliency, and six years after the storm, she said, "We're still talking about the same issues. We're not meeting the right tempo."
After the press conference, she was asked if she often felt frustrated with government inefficiency. "Every day and every minute," she said. "You know that. Oh gosh. Yes. Simple answer."
And then she walked off with her papers, back to work.
Powered By
NEXT STORY: Lowey on leveraging leadership on the Appropriations Committee