Julie Tighe
Julie Tighe on ditching government to save the environment
Julie Tighe left the Department of Environmental Conservation to run the New York League of Conservation Voters.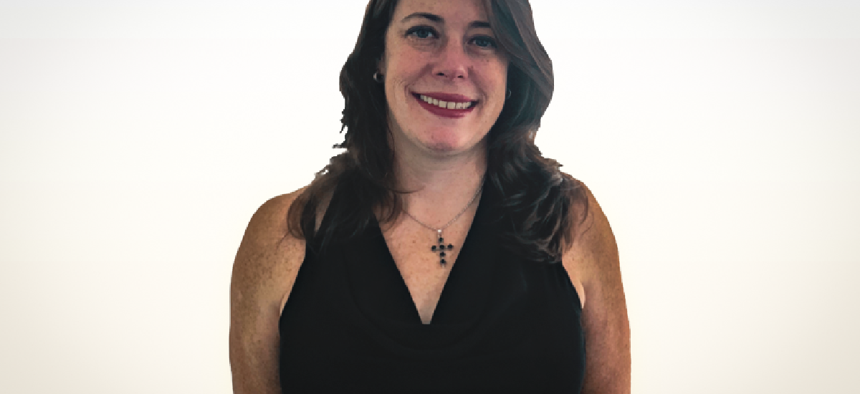 The New York League of Conservation Voters named Julie Tighe their new president in August, and she officially took the reigns in October. Prior to her new position, Tighe worked at the state Department of Environmental Conservation for 11 years.
She spoke with City & State about the shift from government to advocacy, as well as her organization's priorities for the upcoming state legislative session and what she thinks about the new Democratic majority in the state Senate.
---
What have your first couple of months been like on the job?
It's been great. It's been a big transition, as you can imagine. I worked in government for the last 11 and a half years – well, 13 years. But the last 11 and a half years at (the Department of Environmental Conservation). It's been a good opportunity to start working on priorities as we set up for the 2019 legislative session. So we're very excited about some of the things that are happening. It's been very exciting for me to be working on congestion pricing, for example. That's something where at DEC we didn't work on it because while the benefits are environmental, the policy is really transportation.
In addition to congestion pricing, what else are you planning to work on in terms of climate change?
There's four different prongs of climate change that really need addressing. First is we need to make sure that we're speeding up our adoption of renewable energy. Right now, we have a process that is not moving quickly enough to allow siting of wind and solar projects. And certainly we're very excited and supportive of the offshore wind proposals that are out there.
Second is (the) transportation sector. So the state should be taking a leadership role in the Transportation and Climate Initiative, which is a multistate endeavor looking at how we handle our transportation systems and how we can shift to electrification of the transportation system. We are really looking at how we can educate the public as part of our impetus. The League has undertaken a big effort on the electrification of school buses and transit buses. Third is buildings are the No. 1 source of greenhouse gases in New York City. And then we really need to do more on resiliency.
What are your other priorities outside of climate change?
Water quality is going to continue to be a high-level priority for all the advocate groups. There's still a massive unmet need in upgrading and maintaining wastewater and drinking water infrastructure. We've done a lot with the Clean Water Infrastructure Act, which I helped write, the 2017 $2.5 billion Clean Water Infrastructure Act.
We would like to see maximum contaminant levels for some of these emerging contaminants be adopted by the Department of Health, in particular for PFOA and PFOS and 1,4-dioxane, which are the three contaminants that the Drinking Water Quality Council are looking at. I think we want to see more work done to address lead, in particular in schools. So there's certainly a lot to be done on water quality.
Then the last major category is we have a recycling crisis. China has changed the world market, and that has created a problem that's not yet been realized at least by the Department of Sanitation. But certainly it's starting to hurt many other municipalities. You're seeing changes in and how municipalities are collecting recyclables in some instances.So we'd like to (see) a big public education campaign associated with educating the public about how to recycle right. We would like to see some support for innovation.
What you think of the new Democratic majority in the state Senate as well as Democratic control of the entire state government?
I think that we've been very fortunate in New York state that we've had support from both sides of the aisle for a lot of our issues. I think that you saw with clean water, for example, everybody's in favor of that. We're a nonpartisan organization, we do bipartisan endorsements. I think we'll continue to do that, but we are excited about the new majority and the new Senate. So we will look forward to working with them on some of the items that perhaps have been stuck in the past. So we're anxious to see that move forward and how that works.
What has the change for you been like going from government to advocacy?
I get to sleep in on weekends and not have to have to answer a hundred thousand emails. (Laughs) I'm only half-joking about that. I miss DEC for the reasons that are obvious. I was not looking to leave the administration per se, this was just an opportunity that I couldn't let by, because I think it allowed me to do what I've always done, which is really sort of a combination of policy and politics, working to improve our environment, which is really exciting.
What do you think you can do in your position now that you might not have been able to do in government?
I've never thought about it that way. I think I get to work on policy that's not just in my lane, right. So at DEC, I did not get to work as strongly on energy policy. And I think that that's something that's really critical right now as that's where so much of the emissions are associated with. Same thing with congestion pricing. So while I was helping to drive the bus on what the policy was, from the outside I have a chance to try and push things to be a little bit more progressive than perhaps I could have from the inside of government. And again, to work on those issue areas that are so impactful on the environment but were not per se environmental policy.