New York City
Why Amanda Farias is challenging Rubén Díaz Sr.
Councilman Rubén Díaz Sr.'s recent anti-gay remarks prompted Amanda Farias to announce another bid for his seat.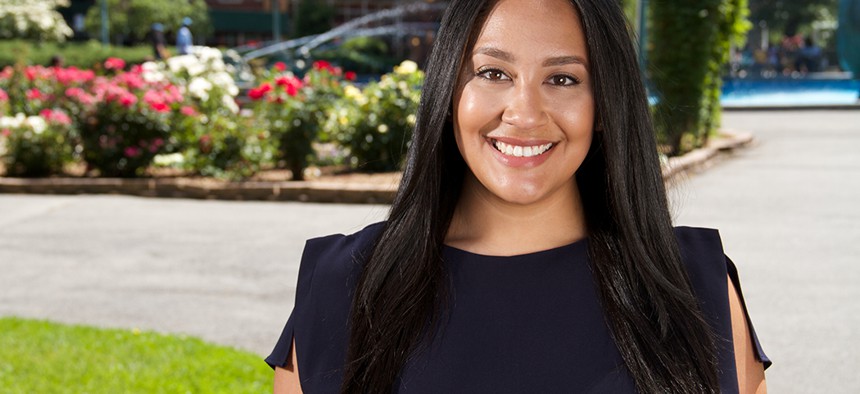 Amanda Farias recently announced that she would challenge New York City Councilman Rubén Díaz Sr. for his Bronx seat. She previously ran against him in 2017 when it was an open seat. Farias' decision came soon after Díaz said the City Council is "controlled by the homosexual community," a statement that spurred an immediate backlash.
City & State spoke with Farias about why she's running, what will be different this year and what a defeat of Díaz could mean for the Bronx Democratic Party.
What made you decide to announce your run for City Council now? Is it related to Councilman Rubén Díaz Sr.'s recent anti-gay statements?
That definitely moved my timeline up with all of the homophobic statements, divisive rhetoric, that was being said, and kind of the doubling down on not understanding and comprehending how what he said were those things. I have always been planning. I think my election was September the 12th and on the 13th I knew I was going to run again. So this just definitely expedited the timeline for me. But I was always planning to run again in 2021.
Why did you decide the day after the election?
I think, when you look at our Election Day numbers, and you see that someone that was in a position of running as an incumbent – even though it was an open seat, because name recognition and how many years he's been in office – didn't receive more than 40 percent of the vote. And you look at the total numbers that myself and the four other people that were in the race received then total 58 percent. That showed me that my community wanted change. Those votes weren't votes for just us – they were opposition votes.
What do you think will be different this time?
2017 was before we had the Alessandra Biaggis and the Alexandria Ocasio-Cortezes. My race along with a couple of the other women that were running that year, it was kind of the beginning stages of everyone getting re-engaged and understanding the political atmosphere and wanting to do more. So I do think there's going to be – there is already new energy toward voting and toward understanding our local government and who is there who shouldn't be there. I think just overall the political atmosphere is very different.
To what extent do you see your race as a challenge to the Bronx Democratic Party? Do you think unseating Díaz would be viewed as a big blow to the party machine?
I honestly have not thought about it that way. When I decided to run, I decided to run for my community. I decided to run on me being born and raised there, my family, our whole lives and not seeing dramatic changes and seeing people being pushed out or priced out and no resources being there. I ran my race for my community members. Do I think it's going to be impactful? Yeah, I think getting him out is going to be impactful for the community. It's going to be impactful for the party in terms of having someone there that – I think it can be positive and negative for them. I think he is very divisive. I think he is a liability in terms of what he says and how he moves and who he regards and who he doesn't regard. So I don't know. I think for me, my main goal is prioritizing the community and the community members and making sure they're actually getting the resources they need, the money that they need, to be moved into the district and representation that reflects their views and ideologies and their values. Do I think my potential win getting them out of office will be a blow to the party? Yeah, but whether that impacts them positively or negatively, I guess that's like for you as the reporter to decide. It's a lot of pluses and minuses.
Díaz has a long history of making controversial statements. Do you think this most recent one will have an impact in a way his past statements have not?
Yeah, I think so. I think that we're in a really interesting climate where folks are not backing down on holding people accountable. I think in prior administrations, we didn't have LGBTQ members that were able to organize around a huge issue. I mean, in 2017 there was a guy in my race that was gay, and we all knew what (Díaz) was saying in the past, what he was currently saying and feeling. It wasn't as much of a priority as it is now, because we have Speaker Corey Johnson at the helm of the administration, which is super important. It's important to be able to amplify those voices and to keep these divisive people that are not representative of what New York City's values are, of the progressive city that we push to be. So, yeah, it's super important that they keep it at the forefront. I can say that, once again, no one in my community actually feels that way.
You emphasized the importance of electing more women during your last campaign. What sort of impact are you hoping to have if you do get elected, both in the Bronx and in the City Council in general?
As I was doing before, before 2017, 2016 on, I'm still pretty much on brand. I've been helping and mentoring women up until this very point. I hope that if and when I get elected to office, I can be a resource and I can be a woman that reaches back and brings more women in. But also someone that stands firm legislatively on policy, ensuring that we're creating safe spaces for men and women, we're creating safe spaces for a woman to come forward and holding electeds accountable. I'm going to just continue mentorship and continue pushing to get more women, more trans women and more women of color and LGBT folks in the office so we can ensure equity in policy and representation in the city.
Correction: Farias said she "ran my race for my community members," not "committee members." 
Powered By
NEXT STORY: The most unlikely allies in New York politics