Donald Trump
Lynne Patton: From Trump Tower to a NYCHA "shithole"
Lynne Patton, the U.S. Department of Housing and Urban Development's regional administrator for New York and New Jersey discusses her relationship with president Donald Trump and her work with NYCHA.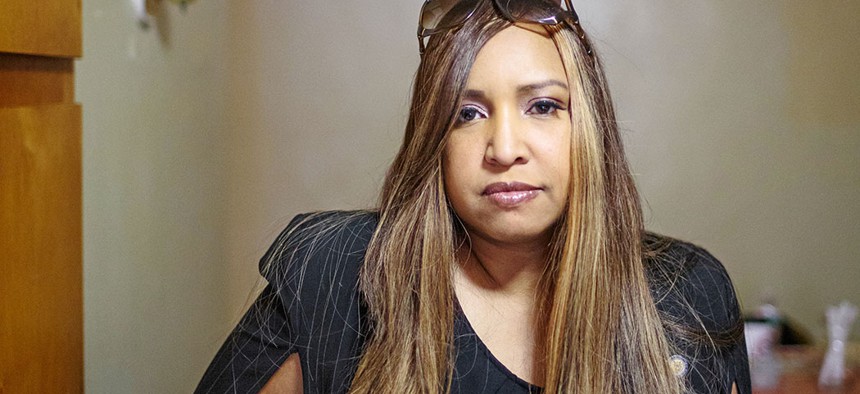 One of President Donald Trump's most loyal foot soldiers stood in front of the door to apartment 2E. "Hi there!" she said as a woman opened the door to her. "I'm Lynne."
Lynne Patton, the U.S. Department of Housing and Urban Development's regional administrator for New York and New Jersey, strode into the apartment, leading a dozen reporters, TV cameras and photographers through the door. In the middle of the pack was a HUD aide holding an iPhone aloft to livestream the whole thing on Patton's HUD Facebook page. The reporters – plus the hundreds of people who have watched it on Facebook Live – were on a tour of the Patterson Houses, a typical cluster of South Bronx high-rises beset by problems typical of the New York City Housing Authority: mold, leaks, poor heating, lead paint, rats. But in apartment 2E, the home of Judith Maldonado, leaking water was the day's main attraction. Photographers jostled for position as Patton looked at a wall in Maldonado's bathroom, paint peeling and plaster soggy. "Do you have your work order number?" Patton asked, promising to pass it along to NYCHA management and get the problem, which has plagued Maldonado since 2017, resolved once and for all.
That effort, getting long-delayed capital repairs finally completed, is the most straightforward goal of Patton's experiment in radical empathy. She, the well-compensated, upper-class Trump family personal-aide-turned-administrator, plans to spend a month's worth of weeknights in NYCHA apartments, crashing on an air mattress on her hosts' floors in order to get an up-close and personal look at life in the housing projects her agency oversees. It's a bold plan, and one without precedent among HUD appointees. It has put a human face to the federal agency, which is exerting growing influence over NYCHA, including the appointment of a federal monitor agreed to as part of a major legal settlement in January. Her stays have put public pressure on the housing authority to fix myriad issues, particularly in theapartments and complexes that Patton visits. It's earned her both high-profile praise andcriticism. And it has put Patton back in the spotlight, which she loves.
After Maldonado's soggy walls were sufficiently scrutinized, Patton headed toward the door while thanking her host. A photographer stopped her on the way out, urging her back into the bathroom to pose under the peeling paint. "I'm disgusted … it's very emotional," she said, holding back tears near the sink while the camera clicked. "Not only is this the United States of America, but this is the greatest city in the world."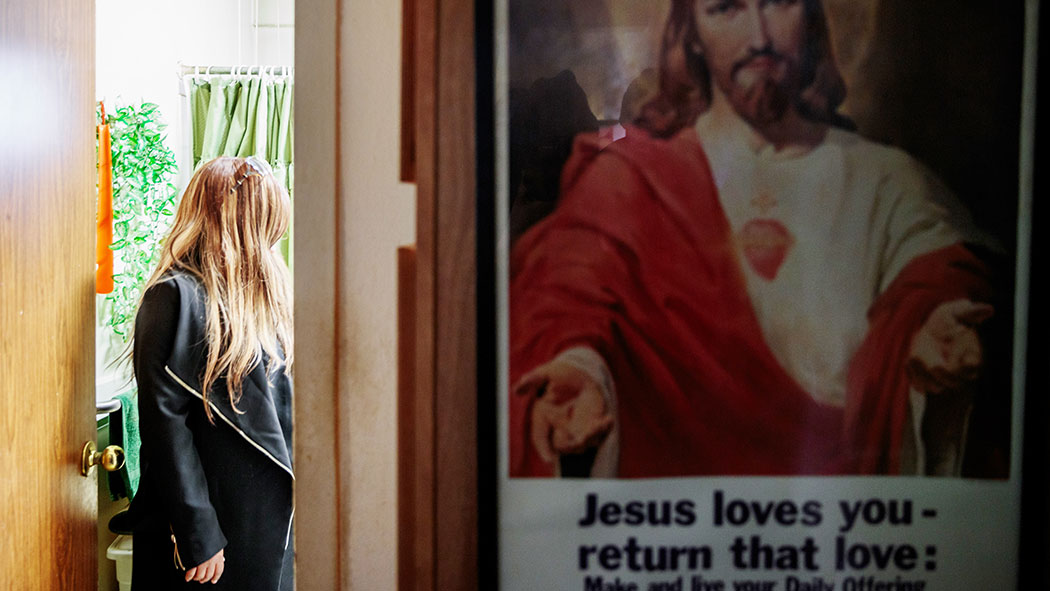 Lynne Patton knows how to put on a show. That does not mean, despite what you may have read, that she is a wedding planner. She was eager to correct the record as she sat down with City & State right after the tour. She sat in the same Patterson Houses apartment living room where she had spent the previous two nights. Monday night, on the air mattress. Tuesday night, on the sofa, after falling asleep watching "The Real Housewives of Beverly Hills."
"If helping Lara pick out a wedding dress makes me a wedding planner," she said, "then I guess every woman in America is a wedding planner!"
Patton is comfortable around the multimillionaire set, thanks to her former occupation as a personal aide to the Trump family. She was hired in 2009 on the recommendation of Michael Cohen, Donald Trump's then-personal lawyer who pleaded guilty in August to arranging illegal hush money payments during Trump's presidential campaign. She started as a personal aide to Eric Trump, the president's second-oldest son, and rose through the ranks to become vice president of the since-shuttered Eric Trump Foundation and chief of staff for the entire family, serving as an all-purpose scheduler and gatekeeper for the younger generation of Trumps: Don Jr., Ivanka, Eric and his wife Lara, and Tiffany. But when it came to Eric and Lara's November 2014 nuptials at Mar-a-Lago, Patton insists she was just a friend pitching in."If helping Lara pick out a wedding dress makes me a wedding planner," she said, "then I guess every woman in America is a wedding planner!" Sure enough, reporting at the time had New York-based Jennifer Zabinski Events as the planner, with help from floral and event designer Preston Bailey. Neither Zabinski nor Bailey responded to a request for comment.
But that didn't stop the Daily News from deeming her the Trump family wedding planner in a June 2017 story on her appointment as regional administrator. Headline: "THE WEDDING SCAMMER." The moniker got picked up widely, in The New York Times, The New Yorker and even Brides, a magazine that usually features stories like "31 Fresh Flower Table Runners for Every Wedding Style."
And even though she quickly tried to dispel it to the Times, the description has stuck – the Daily News called her "Eric Trump's wedding planner" as recently as January. As of last month, Wikipedia still called her "an event planner." Patton said she tried to edit her own page to fix it, but the online encyclopedia sent her a notice back telling her she was wrong. "And I was like, 'but I am Lynne Patton,'" she said, breaking out into laughter.
The persistence of the error fuels her theory that the "#FakeFuckingNews" is full of "glorified bloggers," but Patton seems to take it all in stride. She refused to denigrate the original reporter, Greg B. Smith, who she said has done great investigative work, and the News' "Wedding Scammer" cover now hangs on her office wall. After all, Patton clearly doesn't mind the association with the Trump name. She name drops the Trumps constantly, emphasizing her friendship with America's most famous family. On at least one occasion, Patton invoked Eric's name in an official email. That was in the early days of the Trump administration, and she said she's learned her lesson – even if her taking a government job has made it harder to be a friend. "Eric's even scared to text me back!" she jokes, since Eric has to keep some professional distance while running the family business."Does that mean we're not friends? Of course not. We just had dinner the other night. But it's just, we don't talk about anything that has to do with government."
"We went to a ton of shithole apartments, as my boss would say. We went to a ton of them. They are horrible."
Hours after our interview, Patton was insisting that she understood residents' pain. On Patton's Facebook livestream of a community center town hall that night, a middle-aged man who lived at Patterson Houses could be heard yelling at her for just dropping in for a few days.
"You don't understand! I've been here before! This is not new to me!" Patton shouts back into the microphone, noting that she had visited Patterson Houses twice before. "Go on my page. We went to a ton of shithole apartments, as my boss would say. We went to a ton of them. They are horrible."
The provocative comment earned some press scrutiny thanks to her reference to President Donald Trump's notorious Oval Office aside about not wanting to admit more immigrants from "shithole countries" like Haiti and El Salvador. The phrase would've been shocking coming from any other president. And the term "shithole apartments" would've been shocking coming from a typical government appointee. But Patton isn't a typical appointee, and her social media feeds – Twitter, Facebook and Instagram – are constant streams of pro-Trump ephemera.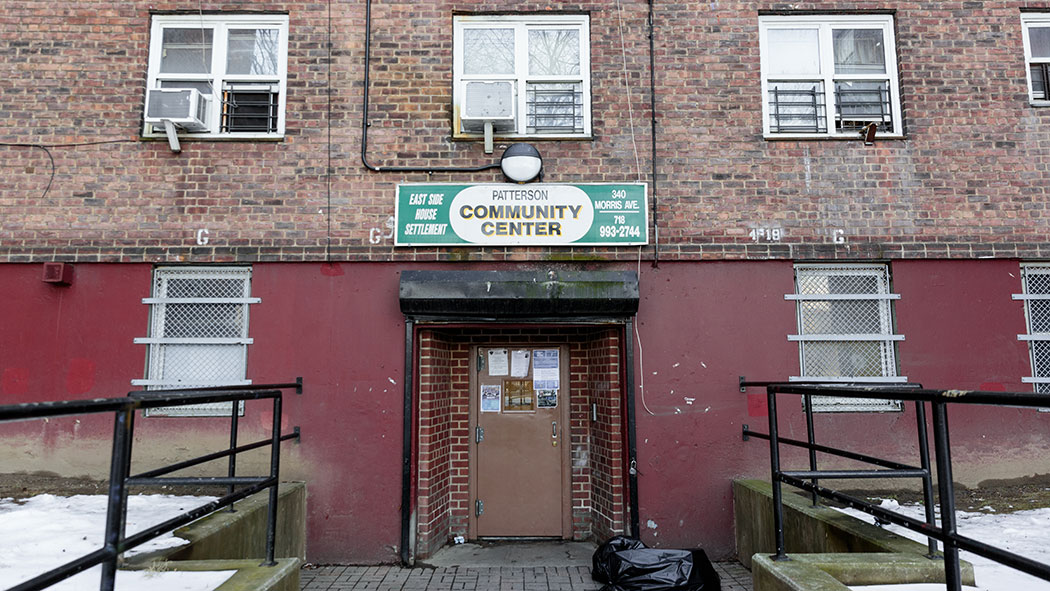 Patton jumped right on the Trump campaign's golden escalator as a senior adviser when he first announced his candidacy in June 2015. As a black woman, Patton served as an important validator with two of the identity groups where the Trump campaign struggled. It was Patton who – allegedly without asking permission – published a heartfelt video in May 2016 defending "The Trump Family that I Know" against claims of racism. In it, Patton speaks over a montage of black and white photos of her with the family while somber piano music plays. "There is no amount of money in the world that could buy my loyalty to a family that subscribed to such intolerant and bigoted ideologies," she says. Patton was subsequently given a primetime slot at the Republican National Convention to make the same point again. Her video played before she spoke.
When Trump took office, Patton was rewarded with a job as senior adviser to HUD Secretary Ben Carson. Five months later, she was appointed regional administrator, despite her lack of experience in housing policy or urban development.
But Patton still prioritizes her role as a black Trump ally over her role at HUD. The City reported that Patton skipped a conference for all HUD regional administrators in order to attend Cohen's riveting testimony before the House Oversight and Reform Committee. She was a guest of North Carolina Rep. Mark Meadows, a Trump ally who was once considered for White House chief of staff. "Do you know Lynne Patton? … You made some very demeaning comments about the president that Ms. Patton doesn't agree with!" Meadows told Cohen, who had sought to portray the president as a racist to the committee. "She says that as the daughter of a man born in Birmingham, Alabama, that there is no way that she would work for an individual who is racist."
"And neither should I, as the son of a Holocaust survivor," Cohen responded. The sentiment left unspoken: But I did it anyway. During the exchange, Patton stood behind Meadows, wordlessly, in a performance that New York Times reporter Nick Confessore called "the 'some of my best friends are black' defense, in human form." Michigan Rep. Rashida Tlaib accused Meadows of using Patton as "a prop." Patton's response: "Today was not about the color of my skin. Today was about two people who know the president equally and who disagree about the way he is being characterized."
But Patton carries out the role of Trump validatorevery single day, in much less dramatic fashion, on social media, where the Trump campaign has never ended. Her Twitter account took a hit after fake followers she purchased were purged by the platform. But many followers are very real and very supportive when shepiles on favored Trump punching bags like Times reporter Maggie Haberman and American Urban Radio Networks reporter April Ryan, whom Patton called "Miss Piggy" in a 2018 tweet. Patton later apologized and deleted the tweet, but hasn't halted the personal attacks, calling Rep. Alexandria Ocasio-Cortez a "DumbAss" on Facebook last month. There are endless #MAGAs and memes supporting a border wall. Every single day of the federal government shutdown, she posted a Twitter vignette of a different American citizen killed by "an illegal alien." She met some the victims' families during the presidential campaign, she explains. "A lot of them are my best friends now. … These particular deaths should never have happened because the person should not have been here in the first place." Unprompted, Patton then drew a bright line between her social media and her politics. "Quite frankly, I don't care who's living in NYCHA that is an undocumented alien," she said. "My goal is to fix NYCHA for every resident."
That's a job she plans to stick with, even as Trump ramps up his re-election campaign. Patton said she consulted with the Trump children before accepting the regional administrator job, and they decided that she should stay there through the end of the first term instead of working for the campaign – even though jumping back on a campaign is common practice in Washington.But Patton still sees herself as a campaign asset. "What better way to effectuate change and actually sort of foster his re-election efforts than improving the largest public housing authority in the country?"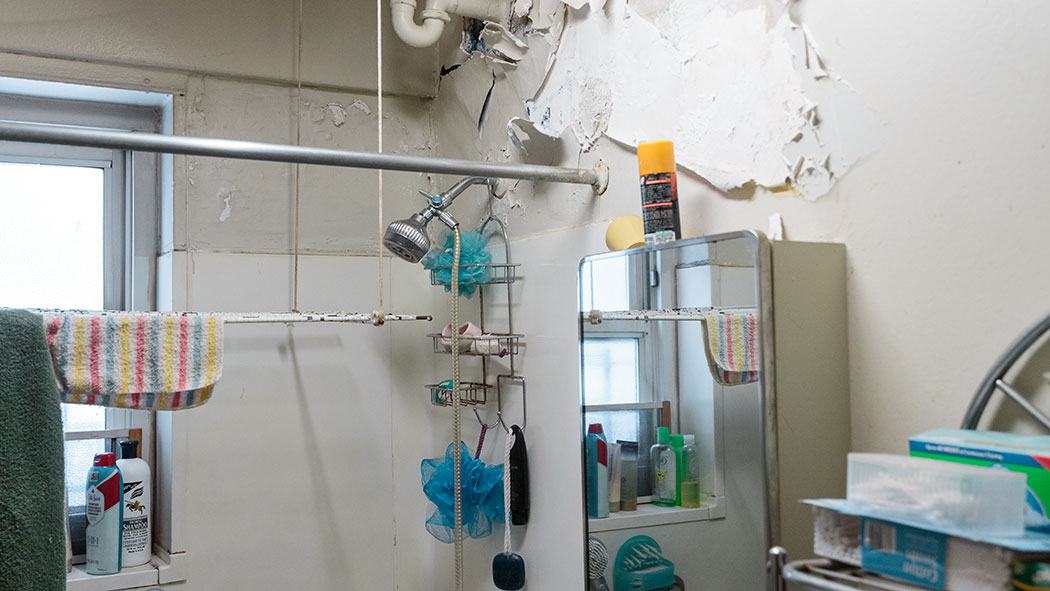 The federal government is the primary funder of NYCHA, which expects to get some $1.8 billion in operating and capital funds for public housing from Washington this year. The federal government, in the form of HUD, also oversees NYCHA – and HUD is tightening the leash. Carson, as HUD secretary, and New York City Mayor Bill de Blasio, at the top of the NYCHA leadership chain, signed a court-ordered agreement on Jan. 31 mandating the placement of a federal monitor to keep the housing authority on track to meet tangible goals like eliminating lead paint and maintaining consistent heating in apartments. By its own accounting, NYCHA needs $32 billion to get every apartment in all 325 complexes into a state of good repair. The agreement requires New York City to spend some $2.2 billion over the next 10 years on capital repairs, but there's no mention on federal funding commitments, which will continue to be negotiated on a yearly basis.
She takes credit for a rare increase in federal funding last year – even though it was Congress that approved a funding increase after Trump first proposed a cut.
Patton hastaken it upon herself to sell the deal to residents. In her eyes, HUD is the savior that will finally bring order to NYCHA and better living conditions for its more than 400,000 residents – #ChangeIsComing. In speeches and statements and on TV, she mentions how much money the federal government alreadysends NYCHA. She takes credit for a rare increase in federal funding last year – even though it was Congress that approved a funding increase after Trump first proposed a cut. Now she's promising the press that the president is personally paying attention to NYCHA. Could more funding be on the way?
Patton's role in the NYCHA agreement appears to have been limited. One former HUD regional administrator, who spoke anonymously to City & State in order to speak frankly, said it's more of a management role than a policy role, and even at that, most New York employees report to higher-ups in HUD's Washington office rather than to Patton. Most of the previous holders of the office had backgrounds in housing or economic development, but not all – most notably de Blasio, who served under then-HUD Secretary Andrew Cuomo. Patton has built a higher profile than any of them. De Blasio earned half a dozen mentions in the Times during his roughly two years as regional administrator. Patton already has 15 mentions, and countless more in the tabloids.
For the record, a NYCHA spokesperson said employees were not instructed to change their normal maintenance routine for Patton, but tabloid stories – and residents' own testimony – suggested otherwise, as Patterson Houses seemed cleaned up during her stay. NYCHA declined comment any further on Patton.
Patton's high-profile role is "wacky," the former administrator said, because she is acting like an advocate, rather than somebody who works for the agency that recommends how much funding to give NYCHA. Patton is taking a gamble with all these public appearances and sleepovers, making promises to NYCHA residents who have learned not to trust NYCHA after being promised a bill of goods time and time again that never seems to come.
"If this works, and there's money or changes at NYCHA that are for the better, that is great," the former HUD administrator said. "If this becomes a huge public media extravaganza that results in nothing, we've just dug ourselves deeper into this ongoing cycle of promises and distrust."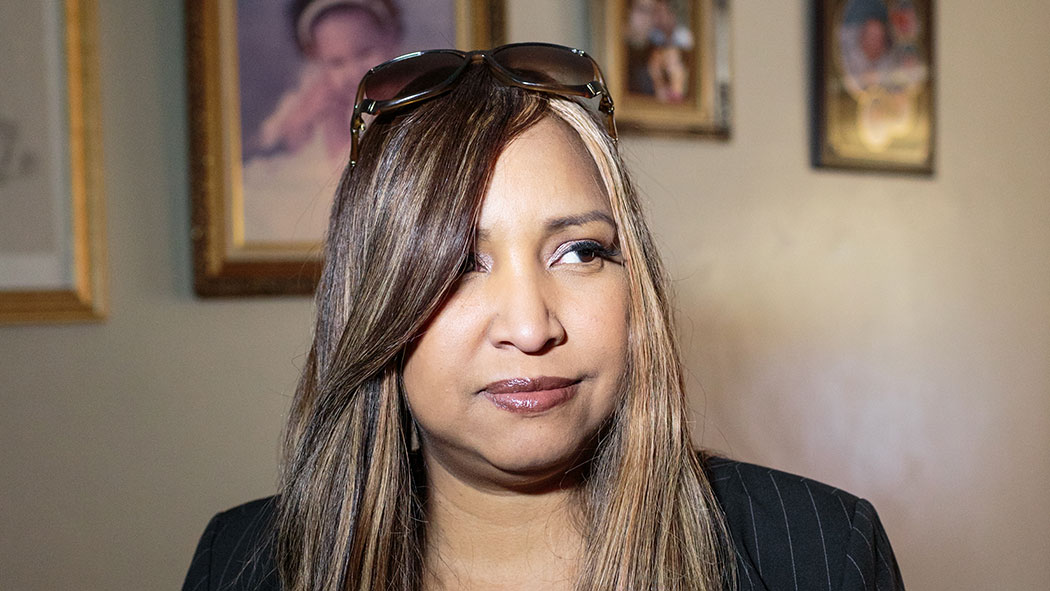 Patton's loyalty to the Trumps is unquestioned, but she has managed to cultivaterelationships and earn respect across the aisle. Those that have worked with Patton all credit herwith studying up on housing policy when she got the job. While she'll defend HUD to the death on Twitter, she has been known in private to push back on official policies, like Carson's scuttled proposal to raise NYCHA tenants' rent to 35 percent of their gross income, up from 30 percent. She has been accessible and eager to work with New York's fiercely anti-Trump elected officials, including New York City Councilman Ritchie Torres, a progressive Bronx Democrat who used to chair the council's public housing committee. "I find (Patton) to be far better than the administration for which she works," Torres told City & State. "Because I've come to know her on a personal level." New York City Councilwoman Alicka Ampry-Samuel, the current public housing chairwoman, meetswith Patton regularly and agreed that Trump and presidential politics have never been on the table.
"When I talk to Lynne, we talk sister to sister," Ampry-Samuel told City & State. "One woman of color to the other. We relate on that level, two women trying to make a difference in the world."
Many who have worked with her agree that she has a genuine ability to connect with people – even those that find her politics abhorrent. "I've toured NYCHA developments with people. And you can tell the difference when somebody cares or they don't care," Ampry-Samuel said. "She seems like she cares."
"I grew up with more money than God in Connecticut."
That empathy has been the glue that has kept Patton's NYCHA sleepovers from becoming a total punchline. Unlike Carson, her boss at HUD, Patton's story didn't start with her growing up in government-subsidized housing. Patton is the daughter of Curtis Patton, a legendary Yale University epidemiologist, and grew up in Connecticut "with more money than God," as she put it in one of her tweets. She attended Tabor Academy, an elite boarding school in Massachusetts, and graduated from the University of Miami in 1996. She briefly went to law school at Quinnipiac University but dropped out and joined the legal world anyway, working as a paralegal for more than a decade while also, occasionally, acting. She was getting ready for job at a Stamford, Connecticut, law firm one morning in 2005 when she caught video on the "Today" show of people struggling after Hurricane Katrina. Patton said she was so moved by the suffering that she called out of work and went straight to the local offices of the American Red Cross to see how she could help. She ended up managing temporary shelters in Louisiana for a couple months in the hurricane's aftermath. She wasn't a storm victim, but she took their pain to heart – just like she's doing now, with public housing residents.It's what spurred this sleepover plan, her own idea after seeing a New York Post headline – "Cold Hearted: Thousands in NYCHA complex left without heat, hot water." So she announced a plan to spend weeknights away from her apartment at Trump Plaza in New Rochelle, away from her live-in boyfriend of a decade, Andrew Hayduk, who works for real estate developer the Cappelli Organization, and away from her Shih Tzu, Winston, to move into into some of the most maligned housing in the city.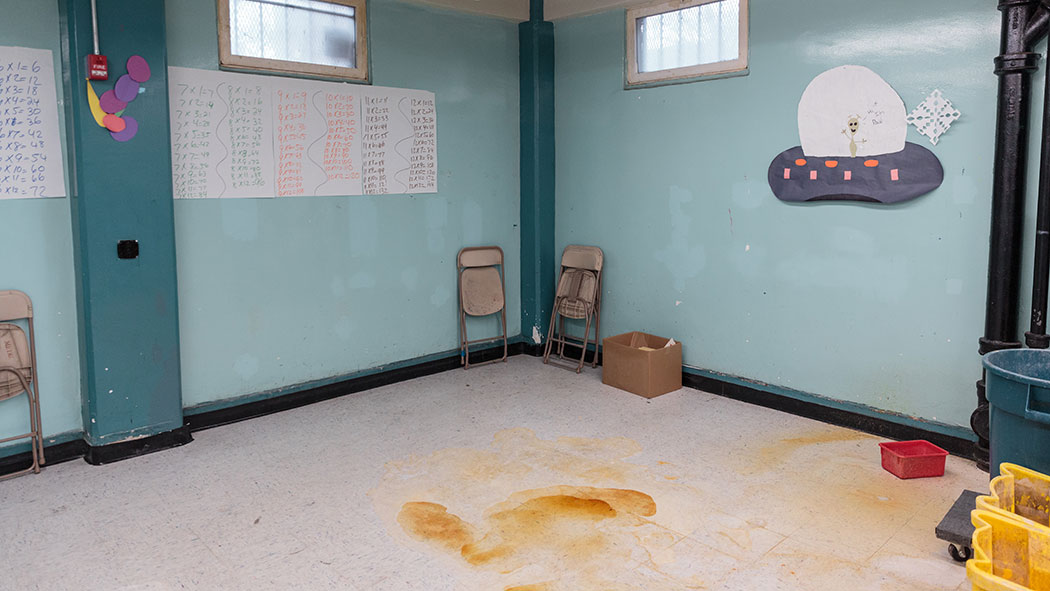 The entire experiment often feels like an awkward publicity stunt. Here's Patton dancing for the cameras. There's Patton tweeting photos of rats. Here's Patton, waving and winking at the camera while stuck – literally stuck, for 20 minutes – in an elevator overloaded with journalists. The spectacle has led Brooklyn state Sen. Zellnor Myrie to dub it "poverty voyeurism" on Twitter – and that's among the lesser insults she's received on social media.
Before our interview, Patton posed for photos for this story, first in the living room where she was staying, then out in the hallway among the graffitti, where she offered a suggestion. "I think this is what people want to see. It's a little more gritty," she said. "Inside, that could be anyone's living room."
Patton asked to keep her sunglasses on top of her her head for the shoot, an idiosyncratic style choice that she maintained in an on-set TV interview with NY1, at the U.S. Capitol during Cohen's testimony, and in countless photos on social media.
"It's kind of become an inside joke at this point," she explained when asked about it. "There's no rhyme or reason behind it."
Then Patton posed by an apartment door that somebody had glammed up, outlining 5B in rhinestones. "To me it's like, even in the worst situation, people can find a way to make things personal and pretty."
After she mentioned NYCHA's "shithole apartments" during the Patterson Houses town hall, Patton got more personal with the crowd. Withhold your judgement about me, she exhorted, even though "I obviously work for a president that some of you may not have voted for."
At best,that was an understatement. According to the Times' detailed precinct vote reports, 1,420 residents of the Patterson Houses voted in the 2016 presidential election. Forty of them voted for Trump, earning him 2.8 percent of the Patterson Houses vote.
But there in front of the cameras, journalists and viewerson Facebook, Patton promised that she and HUD would finally fix up their homes. "This is not about politics. This is about the people. And quite frankly, shame on anybody who does make it about politics, because that's not why we're here. We are here to effectuate real change."
Affordable housing Case Studies
Powered By
NEXT STORY: Why Amanda Farias is challenging Rubén Díaz Sr.