Costa coasts to victory as climate change bills sail through
Costa Constantinides, the Queens city councilman's ambitious bill forcing big buildings across the city to cut greenhouse gas emissions passed this week, while a report that stated freshman state Sen. Biaggi said she did "a favor" for another state senator by backfired — but that's just the tip of this week's political iceberg. So, you tell us who's up and who's down this week.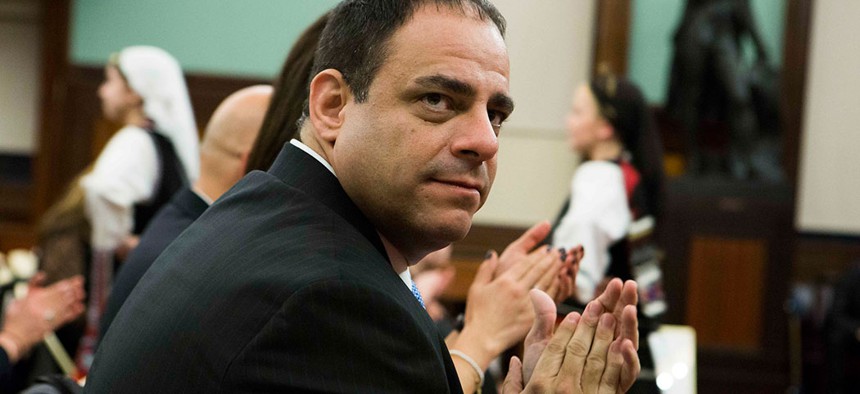 Update: New York City Councilman Costa Constantinides coasted to victory in last week's winners poll, thanks to an aggressive package of climate change legislation he shepherded through the City Council. And while the new laws may ultimately help New York City Mayor Bill de Blasio burnish his progressive credentials as he eyes a presidential bid, it didn't help the mayor in the short-term, as he was voted last week's biggest loser. 
A win for McDonald's and a strike against Dunkin' this week, after the state agreed to streamline security getting into the state Capitol. Long waits used to deter visitors from eating at the Golden Arches outside the cordon, leaving them no choice but the Capitol Dunkin' Donuts.
But Politico's squeaky wheel reporting got results – and more lunch options – for civically engaged New Yorkers. Read on for more, less gastronomical news.
WINNERS:
Judith Clark -
Prisoner to parolee, pariah or peace proponent, the 69-year-old getaway driver in a 1981 bank heist will soon be free. She's been behind bars for nearly four decades, but earned some friends in high places, including Gov. Andrew Cuomo, who made her eligible for parole after deeming her rehabilitated. Locals thinking of the victims aren't happy, but in this all-too-rare case, the correctional system seemed to live up to its name.
Costa Constantinides -
It's a good time to be in the HVAC business, thanks to the Queens city councilman's ambitious bill forcing big buildings across the city to cut greenhouse gas emissions – part of a "NYC Green New Deal" that passed the City Council ahead of Earth Day. Also in the package: Constantinides' bill to study whether the city can close the power plants that ring Astoria and – on occasion – make New Yorkers fear alien attacks.
Phil Eng -
Phil Eng is on a winning streak, with the Long Island Rail Road improving on-time performance for the third time in the past four months. But March in particular represented a victory for the LIRR president, with on-time performance reaching a three-year high in the same week that Eng celebrated a year on the job. The LIRR has had no shortage of bad news this winter – maybe this is a sign that spring has finally come for the railroad.
Steve Hawley & Robert Ortt -
Revenge is sweet for state Sen. Robert Ortt and Assemblyman Steve Hawley, the sponsors of a bill that aimed to expand a college financial aid for the families of troops killed in action. After Assembly Democrats blocked the proposal, the Republican lawmakers helped kick the outrage machine into high gear – and were rewarded with a presidential tweet. Democratic lawmakers were soon scrambling to pass the bill anew before Cuomo bailed them out through executive action.
Eva Moskowitz -
Just a few weeks ago, things were looking pretty grim for New York's charter school movement: New York City hit its charter school cap, and champions like John Flanagan and Jeff Klein were unable to help. Even Gov. Andrew Cuomo seemed focused on other matters – but now there's a glimmer of hope, as the governor is calling for raising the cap. That's good news for the Success Academy founder and charter school hero, who also was awarded $10 million from the feds to expand her empire.
LOSERS:
Alessandra Biaggi & James Skoufis -
There's been plenty of positivecoverage about fresh-faced politicians shaking up Albany. But youth can be a liability as much as an asset, as these two state senators are learning. A report that Biaggi said she did "a favor" to another state senator by not pursuing an investigation didn't play well, especially after her shot at Gov. Andrew Cuomo's fundraising backfired. And Skoufis' bathroom break during a vote on Cuomo's pay raise might have gone over better had he called it a protest from the get-go. In the end, they both were exposed to attacks by Cuomo – who's always looking for another Democrat to crush.
Bill de Blasio -
How is Hizzoner like The Terminator? He may not be on every Winners & Losers list … but he'll be back. And he's back with a vengeance this week, thanks to an investigation by The City – or really, the city Department of Investigation – that exposed his unscrupulous solicitation of donations from people with business before the city, despite warnings not to do so. He also took heat for his atypical response to President Donald Trump's plan to send immigrants to sanctuary cities and for the city's heavily subsidized and increasingly scrutinized ferry system.
Ellen Victoria Futter -
The American Museum of Natural History president has had a tough year. First, the museum got grief over ties to the Sackler family, which owns the company that makes Oxycontin. Then came a legal fight with local activists over the museum's expansion. This week, the museum had to cancel an event for the controversial Brazilian President Jair Bolsonaro following a public backlash. If everyone would just stick to talking about the dioramas, life could become a bit easier for the embattled Futter.
Matthew Parker -
Imagine a single bike falls down and takes an entire rack of bikes down along with it, like a row of dominos. That's the kind of week Motivate CEO Matthew Parker had, as safety concerns about the brakes on Citi Bike's pedal-assist e-bikes led to the removal of all of Motivate's e-bikes from service. Motivate, which operates Citi Bike and is owned by Lyft, had to pull its 3,000 pedal-assist e-bikes from New York City, Washington D.C. and the San Francisco Bay Area, throwing a wrench in the company's plans to expand its electric fleet in the coming months.
Kendall Stewart -
Former New York City Councilman Kendall Stewart gave his former Brooklyn constituents something to watch during his latest attempt at breaking bad. It all began with a dispute over several thousand dollars in fines for a hookah lounge that rents space in a building he owns. A bit of door smashing and gun-waving climaxed over the weekend when police arrived and hauled Stewart away in handcuffs.