New York State
How will New York meet its energy goals?
City & State caught up with Alicia Barton, President and CEO of New York State Energy Research and Development Authority to hear the latest on how NYSERDA is helping to develop new technologies and business approaches that will help the state eventually eliminate its greenhouse gas emissions.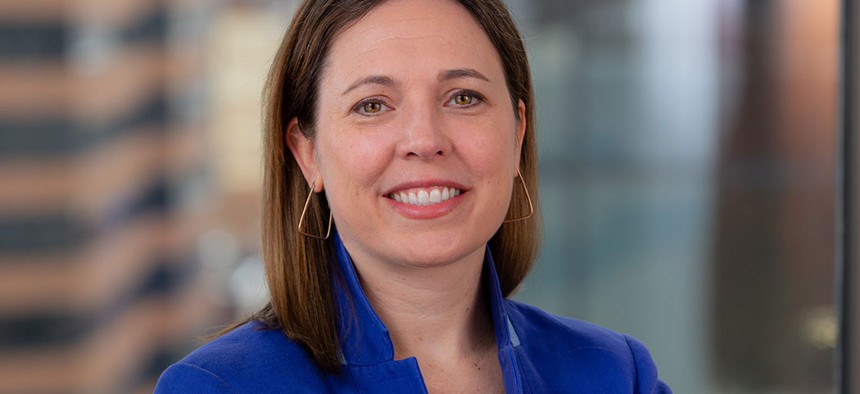 The New York State Energy Research and Development Authority is not the most high-profile state agency – but it could be the most important when it comes to meeting one of the biggest threats to the state economy: climate change.
NYSERDA plays a key role in the development of solar and wind power that New York will need to phase out its use of fossil fuels in the coming decades. But changing how the state generates electricity is just one part of the department's efforts to confront climate change, according to NYSERDA President and CEO Alicia Barton. The agency will also need to overhaul how the building, transportation and manufacturing sectors impact the climate.
As state lawmakers prepare to debate historic legislation on climate change, City & State caught up with Barton to hear the latest on how NYSERDA is helping to develop new technologies and business approaches that will help the state eventually eliminate its greenhouse gas emissions. A lot remains to be done, she said, but there is reason to be optimistic that the state can get big things done in the coming years. This interview has been edited for length and clarity.
Wind and solar power currently meet just a few percentage points of our energy needs. Is there any hope they can be developed fast enough to meet these climate goals before it's too late?
Look at the track record of what's happening in those markets now. They are small, but they are growing so fast. We have been able to award really cost-competitive contracts to 46 new renewable energy facilities across the state over just the last two years. Those 46 projects collectively represent 3,000 megawatts of new clean generation. That in and of itself could meet about 10% of the state's electricity needs. We are also continuing to run solicitations and there's just a really robust pipeline that is growing very fast, particularly if you look at our opportunity to bring offshore wind into the mix. We have under review right now an RFP for approximately 800 megawatts of offshore wind. So that would be on top of those 3,000 megawatts of new contracts that I mentioned.
There has been a lot of talk about making the electricity sector carbon-free. What's NYSERDA up to in other sectors and how does it relate to efforts to combat climate change?
I guess the best way to think about it is the governor's overall strategy to transition to a carbon-neutral economy. There are three main pillars: the electric sector, the building sector, transportation and then there really is a fourth one that doesn't get discussed as much: industrial.
For the building sector, there is a long-standing effort by the state to focus on energy efficiency. For example, in December, the Public Service Commission for New York issued a really landmark order on energy efficiency that was the outcome of work that NYSERDA and the Department of Public Service had done together to issue a white paper called "New Efficiency: New York." The governor has put in place by executive order a target of 40% reduction below 1990 levels by 2030 – the so-called 40 by 30 target. That's our near-term emissions reduction goal. Based on the outcomes in the New Efficiency: New York white paper and order and now the programs that are coming forward to implement that order are expected to deliver approximately a third of the greenhouse gas reduction that we would need to see to hit 40 by 30.
On transportation, we have really been focused on trying to stimulate investment and adoption of electric vehicles, and we're seeing some very good results. Last year, the year-over-year increase in EV sales in New York state was approximately 60% and the prior year, 2017, the year-over-year increase in electric vehicle sales was 70%. So we're seeing these very significant jumps in the number of electric vehicles being sold in the state. We have (the) drive clean electric rebate that allows consumers to get a rebate in addition to the federal tax credit to buy down the cost of electric vehicles and we're seeing that being an effective tool as I just said driving those those high adoption rates. We're also very focused on deploying the charging infrastructure and have been working toward a goal of 10,000 charging stations statewide in the coming years.
I think the fourth one, industrial processes, is going to be the hardest nut to crack. It's not just about energy use, meaning electricity or fuel. Some of it's about chemicals like refrigerants that have emissions potential. We have been working on strategies to phase out some types of refrigerants that have those harmful pollutants. So if you tackle the first three, you will get yourself maybe 90% of the way there, and then we will have additional work to do to focus on emissions reductions.
What has NYSERDA been doing to promote entrepreneurship?
We have the Ignition Grant program, which gives small grants to startups. If a startup has a prototype and they visit their potential customers and say: "This technology can save you money and it's cleaner than what you're using now. Would you like to be a customer of ours?" The customers often will say: "Well, the sounds great, but has it been validated?" Some of the grants help the startups – and they can be small grants of $20,000 to $30,000 – to go to a lab and get validation testing. Then, they can take those independent validation results to their customers and actually convert that into sales. Some of the grants can be for intellectual property protection. A startup has a long way to go from from conception to scaling their product in the market.
One program that we talked about a lot that's been really successful and is the 76West competition out in the Southern Tier, which has attracted world-class startups to participate in a clean tech competition that ultimately is aimed at incentivizing those companies to start manufacturing operations in the Southern Tier.
We've seen carbon capture companies, clean transportation companies, smart grid sensor companies come out of that competition, as well as energy storage. A number of them have actually started to build manufacturing operations in the Southern Tier. It's with the assistance of programs like 76West that they're getting traction and really starting to, you know, put these put these technologies in the marketplace.