New York City
Inspired by AOC, democratic socialist takes on Meeks
A twenty-something, democratic socialist bartender is aiming to pull off an incredible upset in Queens – and it's not AOC. Shaniyat Chowdhury is taking on Rep. Gregory Meeks, just the latest leftist aiming to oust a moderate House Democrat.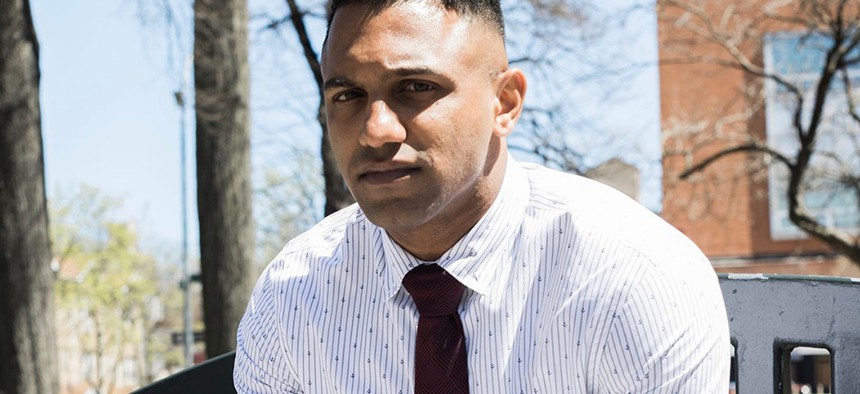 A twentysomething democratic socialist bartender pulled off an incredible upset in 2018, beating one of Queens' longest-serving House members who also chaired the borough's Democratic Party.
Shaniyat Chowdhury wants to replicate the feat next year – by beating Congressman and Queens party boss Gregory Meeks in the Democratic primary.
Chowdhury plans to challenge Meeks from the left in New York's 5th Congressional District, which covers Southeast Queens and a small piece of Nassau County, he told City & State in an exclusive interview. The first-time candidate's bid is a long shot – and these aren't the only parallels to Rep. Alexandria Ocasio-Cortez, who beat Joseph Crowley in the 2018 primary. Chowdhury is a 27-year-old bartender at Terraza 7, a Latin jazz club in Elmhurst. Like Ocasio-Cortez, he's a member of the Democratic Socialists of America and a racial minority, as the Muslim son of Bangladeshi immigrants.
In some important ways, his biography is more traditionally campaign-ready. While Ocasio-Cortez lived and attended school in Westchester County, Chowdhury said he has lived in his district since 2007, in the New York City Housing Authority's South Jamaica Houses. He went to public schools, Information Technology High School in Long Island City and John Jay College of Criminal Justice. He was a U.S. Marine for six years, an experience that has launched other political careers. He's a handsome rugby player, who will captain the Indian Jungle Cats in a match in Brisbane, Australia this July.
Two years ago, he started volunteering for Ocasio-Cortez' congressional campaign, then became a staffer, working as an organizer. Her upset victory inspired Chowdhury to run himself, making him one of the handful of candidates this cycle in New York who were inspired to challenge more politically moderate House incumbents from the left.
"We don't have to wait our turns," Chowdhury told City & State. The district "has the opportunity to be one of the most progressive seats in the country, but currently it's being wasted on a corporatist that hasn't represented our interests in a very, very long time."
But as unlikely as Ocasio-Cortez' win over Crowley was, Chowdhury may face an even more difficult opponent in Meeks. While Ocasio-Cortez, a Latina, had demographics on her side in a 48% Hispanic district, Meeks is black and his district is 47% black. Chowdhury is part of a smaller Asian population, which makes up just 15% of the district. Meeks has never faced a serious primary challenge, and a candidate with a similar name to Chowdhury's – middle-aged tech entrepreneur Mizan Choudhury – garnered just 9% of the vote in the 2018 Democratic primary. And while Ocasio-Cortez won over progressive voters in rapidly-gentrifying neighborhoods in western Queens, Meeks' district has lower-than-average turnover, with neighborhoods typified by more moderate, middle-class homeowners. As New York City Councilman Donovan Richards, who also represents southeast Queens, told City & State in March, "the Ocasio-Cortez effect means nothing in our district."
Meeks boasts a strong donor network, and already has some $280,000 in his campaign account, while Chowdhury hasn't even opened an official campaign committee yet, but the upstart says his pledge to reject corporate PAC contributions and his unabashed support for the Green New Deal, "Medicare for All" and free public college will win over the district. "A lot of my politics is really about representing the needs of marginalized communities like Southeast Queens," Chowdhury said. "We shouldn't just be putting (those voters) in a box because of the one option they've had for 20-or-so years."
Meeks' own politics can be difficult to characterize. He rakes in lots of campaign cash from corporations and didn't co-sponsor U.S. Sen. Bernie Sanders' bill for free public college, though he has signed onto both the Green New Deal and "Medicare for All" legislation. But to Chowdhury, Meeks is a "type B" politician. "He'll sign on to legislation, but not really advocate for it," he said.
Publications like The New York Times and Business Insider have covered other candidates who, perhaps inspired by Ocasio-Cortez, plan to challenge Democratic incumbents. Former advisor to Gov. Andrew Cuomo Lindsey Boylan is taking on Rep. Jerry Nadler and PR consultant Robert Zimmerman may run against Rep. Tom Suozzi. But Chowdhury is one of the few potential candidates whose leftist politics seem to match Ocasio-Cortez's. The same could be said of Isaiah James, a 32-year-old Army veteran and Central Brooklyn DSA member. He's challenging Rep. Yvette Clarke, who nearly lost to Adem Bunkeddeko in the Democratic primary last year. While Bunkeddeko's campaign attacked Clarke's alleged lack of accomplishment, James' campaign is likely to focus more on his democratic socialist politics. Bunkeddeko is also expected to run for the seat again.
Another DSA member, 36-year-old Peter Harrison of the East Village, told City & State he was "pretty seriously thinking about" mounting a primary challenge against Rep. Carolyn Maloney, whose district spans the East River from Manhattan, to Queens and Brooklyn. Maloney faced an energetic primary in 2018 from Suraj Patel, who also told City & State he was "strongly considering another run" in 2020.
Ocasio-Cortez may have caught lightning in a bottle, but the 2018 campaigns of Bunkeddeko and Patel were reminders that even well-funded challengers, or those with endorsements from the Times, face formidable obstacles against entrenched incumbents. And while Ocasio-Cortez has served as an inspiration to some first-time candidates, her win over Crowley actually may be making things more difficult for challengers, election lawyer Jerry Goldfeder told City & State.
"It would be more difficult," he said, "because incumbents have been paying more attention to their districts as a result."
Powered By
NEXT STORY: Modern-day carpetbagging