New York State
Zellnor Myrie, a "Mariano Rivera" in the state Senate
Brooklyn state Sen. Zellnor Myrie outlines what he and his allies are hoping to accomplish during the remainder of the legislative session.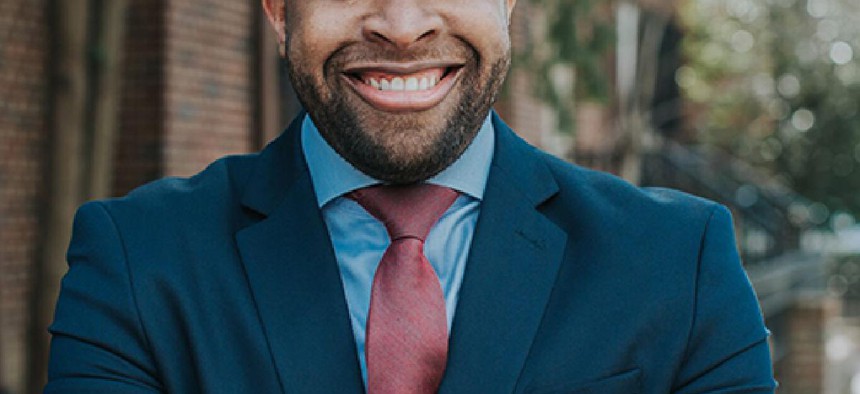 The budget is done; the battle over rent regulations is only beginning.
Among the most vocal advocates of strengthening tenant protections in the state Legislature this year has been Brooklyn state Sen. Zellnor Myrie. The freshman lawmaker is teaming up with colleagues and activists to push not only for a renewal of the rent regulations that will expire in June, but also a big expansion of tenant protections statewide. If all goes well in the coming weeks, vacancy decontrol, the preferential rent "loophole" and other landlord-friendly provisions of state law could be kaput – and Myrie says that is only one part of what he wants to get done.
But the real estate industry is fighting back and there are no guarantees that progressive lawmakers like Myrie can accomplish all their goals before the Legislature adjourns towards the end of June. In an exclusive interview with City & State, Myrie outlines what he and his allies are hoping for in the remainder of the state legislative session – and why the Yankees former closer Mariano Rivera is the right example for them to follow. The interview has been edited for length and clarity.
There is a calendar on the front door of your Albany office counting down to the June 15 deadline to renew rent regulations. What is up with that?
It is meant to impress upon people that this is a very urgent issue and I want to keep it at the forefront of people's minds. Everybody that walks into my office is going to see that this is something that we have to address and we have to address it sooner rather than later.
What progress has there been on rent regulations legislation since you took office?
When people saw how quickly we were getting legislation passed in January, I would tell people new lawmakers like me are like the Mariano Riveras of the state Senate. A lot of the work on rent regulations has been done before and we have come in to close the deal. These are issues that have been talked about for years, such as getting rid of vacancy decontrol and reforming major capital improvements.
But there is some new stuff like the Emergency Tenant Protection Act extension across the state that Sen. Neil Breslin just introduced. That has taken more work. We've been talking to experts and advocates to really put forward the best piece of legislation possible and we are still discussing strategies about whether these should be individual bills or parts of one omnibus bill. I really trust the judgement Housing Committee Chair Sen. Brian Kavanaugh on this.
Is repealing the Urstadt Law still a goal? Repealing this 1971 law would give New York City authority over rent regulations but some activists have said that doing that would reduce the urgency behind a statewide tenant rights movement.
It might be somewhat counterproductive to say "let's take away the power of the state to protect tenants statewide." I think we have to push for as much of the broader agenda as possible this year. People have seen the downstate-upstate coalition as unusual in the housing fight and focusing on Urstadt repeal at this point would not be the best thing for that effort.
Sen. Julia Salazar has proposed a "just-cause eviction" bill. How does that fit into that effort?
As bad as our rent regulations laws are in the city, outside of the city, the situation is even more dire because folks have no protections. You have folks in Rochester and Buffalo who can be evicted without any cause. They have no recourse. There is no agency they can appeal to. They have no statutes to rely on and that's a huge problem. It's critically important that we expand these protections across the state.
The property tax cap has become permanent, is it time to do the same with tenant protections?
I would like to see that. That, to me, would be the goal. I would love to see rent regulations be a permanent thing. I don't think that we should be fighting for this every few years and we should have it extended as long as possible. But we are up against some pretty powerful forces that are going to fight against that. They have successfully fought against it for as long as rent regulation have been in existence.
Who are some of the activists you are working with?
These are people that I have been working with prior to getting elected. Take Metropolitan Council on Housing, for example. Almost ten years ago, when I worked for the City Council and was coming up with the Tenant's Bill of Rights for the city, I was working very closely with them. They continue to be involved in this fight. New York Communities for Change are also there. Really the entire Housing Justice for All coalition. We have been talking very frequently and you are going to see us working very closely, the legislators and the advocates, in making this a reality.
What have you seen from Gov. Andrew Cuomo that concretely shows that he will be working with legislators on this?
There were some proposals in the executive budget that spoke to some of the issues that we care about. There was an explicit reference to ending vacancy decontrol. There was a reference to reforming preferential rent in some type of way. And there was a call for an examination of the current status of rent regulation. I do think there is a desire there to get something done. I suspect that we want to get much more done than what was laid out in the executive budget and like all things in Albany, this is going to come down to negotiations, but I want to be unabashedly clear that this is my number one issue. I'm going to be very forceful in my advocacy.
Let's say there is a compromise that would allow a commission to determine how some of these proposals would work in practice. What do you think?
We've had enough lead time. We've had enough discussions for what these policies should look like. There is no need for us to create a commission to look at these things that we've already examined. I think that would be a highly unfavorable outcome.
Correction: An earlier version of this post had the incorrect deadline to renew rent regulations. The deadline is June 15. 
Powered By
NEXT STORY: Todd Kaminsky's award-winning performance