Every day's Earth Day for Englebright and Kaminsky
Who's up and who's down in this week's Winners & Losers poll?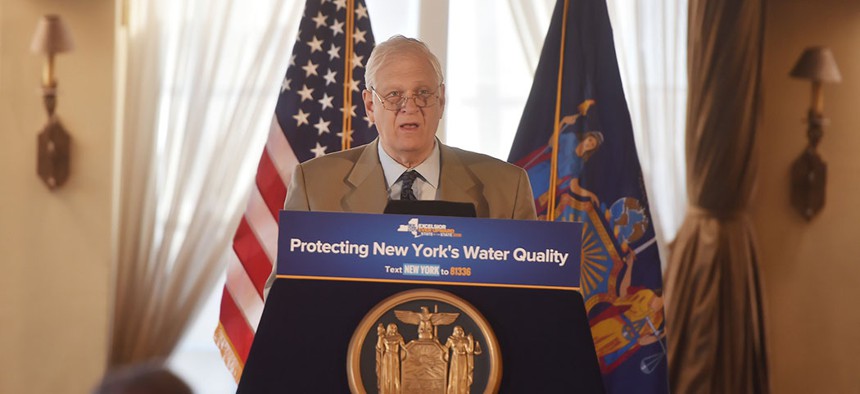 Update: For most of us, Earth Day comes once a year. But for state Sen. Todd Kaminsky and Assemblyman Steve Englebright, every day's a good day to protect the environment – and City & State voters rewarded them for passing legislation targeting toxic chemicals, even if they didn't get it done in time for the official holiday. Meanwhile, Nomiki Konst's avid Twitter following didn't help her with this online poll, in which accusations of campaign fraud made her last week's biggest loser.
By reading this article, you agree not to run for president of the United States in 2020 or in any future presidential race. You agree to focus solely on your current job here in New York, which you are not excelling at.
Just kidding, do whatever you want! But certain members of New York City Mayor Bill de Blasio's YMCA don't feel the same way, and left flyers discouraging Hizzoner from a run. But you've got to have shame to feel ashamed, and we know that's not a problem for de Blasio. Read on, for news about folks less immune to embarrassment.
WINNERS:
Dan Clark -
On any given day, the hallway outside the legislative chambers on the third floor of the state Capitol is loud and crowded. This looked like a job for … the president of the state Legislative Correspondents Association! A full-on media boycott of press conferences was averted this week after Republican and Democratic leaders began holding press conferences on the quieter fourth floor. The First Amendment does not encompass the right to good sound and lighting – but maybe it should.
Steve Englebright & Todd Kaminsky -
The eco-friendly legislative tag team weren't the lead sponsors on all of the bills in a package of environmental legislation that passed the Legislature this week. But anybody can see their guiding hand at work in limiting the use of lead, mercury and other toxic chemicals statewide. Next up? Getting New York to help save the planet by passing the Climate and Community Protection Act, which would commit the state by law to reaching zero net carbon emissions. In the meantime, mark your calendars because June 8 is officially Dragonfly Day in the Empire State.
Jim Tedisco -
The GOP lost the state Senate, but that doesn't mean bipartisanship is dead. This upstate Republican lawmaker made it his personal mission to help 7-year-old Brendan Mulvaney, whose lemonade stand got shut down by the state Health Department last summer. Now, Tedisco's "Brendan's Lemon-Aid Law for Children," which would exempt children from needing a license to operate a lemonade stand, has made it out of the state Senate Health Committee. That's what you call making lemonade when life gives you lemons.
Ben Walsh -
The Syracuse Surge may get a high-speed charge in the near future, thanks to Verizon's plans to make Syracuse one of the first cities in America with a citywide 5G data network. Verizon would install 600 small cell towers on city streetlights over the next six years. As long as the tentative agreement is approved by the Common Council, Syracuse Mayor Ben Walsh will have bragging rights over New York City, which has been slow to welcome the new technology.
LOSERS:
Sherry Chan -
As New York City's chief actuary, Sherry Chan should know all about risk. And with a salary approaching $300,000, she presumably had the wherewithal to afford a spot in a nearby parking garage. But despite Mayor Bill de Blasio's pledge to crack down on the practice, Chan put a premium on her own needs and apparently abused her parking placard privileges by keeping a car and driver waiting for her outside the annual "Inner Circle" show.
Ann Ferracane -
Ride-hailing companies like Uber, Lyft and Juno may be taking a beating lately, with a new slate of regulations restricting their once-mostly free rein in New York. But Ann Ferracane, Lyft's general manager for New York and New Jersey, has another headache, now that the company has lost its petition to block New York City's new minimum pay rules for drivers. With both Uber and Lyft on a hiring freeze in New York, it seems that the age of regulated ride-hail may be here to stay.
Andy King -
It seems that the sensitivity training didn't stick. A year after the Bronx city councilman was sent to class for sexually harassing a staffer, he has been accused – again – of harassment, not to mention the allegations that he let his wife harass staffers and break various other rules. The council is looking into it, but the King family is sticking to the code of silence and refusing to cooperate.
Nicholas Singer -
The past year has been a roller coaster for anyone invested in the future of Westchester's amusement park, but it seems we have finally reached the end of the ride. After months of conflict between Singer and Westchester, County Executive George Latimer called off a deal to hand over management of the county-owned Rye Playland to Singer's company, Standard Amusements. Latimer claimed the company did not live up to, ahem, standards, Singer accused Westchester of gross mismanagement, and nobody was amused.