New York City
Former Manhattan DA Robert Morgenthau remembered
The media reacts to the loss of Morgenthau, gives his a pass for the Central Park Five.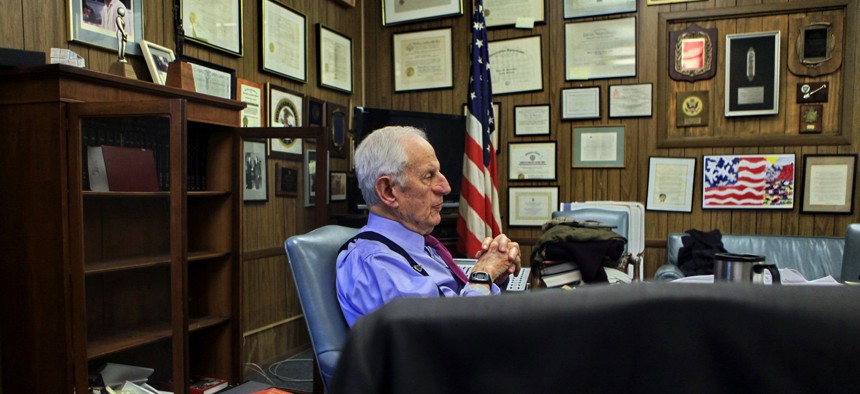 Former Manhattan District Attorney Robert Morgenthau died on Sunday, at the respectable old age of 99.
Morgenthau was the longest-serving Manhattan district attorney, working from 1975 to 2009. Elected nine times in succession, Morgenthau is credited with cracking down on organized crime and innovating the office, like hiring interpretors, creating sex crimes and consumer affairs units and taking a bipartisan approach to cases he oversaw. Some of the most notable cases Morgenthau worked on included his investigation of Bank of Credit and Commerce International, his conviction of John Gotti and his involvement in the Central Park Five case.
Since his passing, multiple media outlets have shared comprehensive obituaries detailing his long and well-lived life, dating all the way back to his younger years frollicking with the Roosevelts and the Kennedys. 
The New York Times' thorough account of Morgienthau's triumphs and failures highlighted some of the most memorable ways he changed the office, through his use of modern technology and seeking out an array of new kinds of employees. "To pursue financial crimes, he hired scores of accountants and detectives with financial expertise," the Times wrote. "He promoted DNA testing and other modern investigating techniques. Enlarging the homicide bureau and other units, he hired Spanish-speaking interpreters and hundreds of black, Hispanic and female prosecutors, and he created the office's first sex crimes and consumer affairs units."
Morgenthau's achievements were highlighted by the New York Post, which paid particular attention to his work on cases involving celebrities and the finance industry, such as Boy George, John Lennon's killer Mark David Chapman, an entire slew of rappers and the Bank of Credit and Commerce International. "During his DA tenure, he presided over a steady succession of misbehaving Hollywood royalty, rappers, and wealthy and international crooks from behind a desk cluttered with paperwork, an ashtray holding a part-smoked cigar, and his legendary five Rolodexes," the Post wrote.
The Guardian brings attentionto Morgenthau's reputation, so well known it inspired the creation of a popular television character: "Morgenthau cultivated a dignified, above-the-fray presence and was widely acknowledged by allies and foes alike as effective, nonpartisan and incorruptible. From that emerged a national reputation. Tall and distinguished in appearance, he was the model for the avuncular prosecutor Adam Schiff, played by Steven Hill on the long-running television series Law & Order."
The Wall Street Journal waxed poetic about Morgenthau's practices that lacked "political motivation," which helped set him apart from many of New York's civil servants. "In a career that long, there were many close and controversial decisions," the Journal writes. "But his record was so distinguished that he was easily re-elected. Morgenthau's greatest asset was a careful prosecutorial judgment that was remarkably free of political motivation. The contrast with the abuses of New York prosecutors Eliot Spitzer, Eric Schneiderman, Preet Bharara and Rudy Giuliani was stark."
Aside from praising his successes, nearly every publication – aside from the Post and the Journal – covering Morgenthau's death brought attention to his involvement in the Central Park Five case, and how he helped to convict five young black and Hispanic men of raping and beating a woman in 1989, then 13 years later called for the case's dismissal following the revelation – provided by DNA testing and a confession from the actual killer – that they were innocent. "If only we had DNA 13 years ago," Morgenthau told the Times, long ago.
While Morgenthau's career and reputation remained untainted by his involvement in the Central Park Five case, other prosecutors involved have not been so lucky. After being featured prominently as characters in "When They See Us," the hit Netflix show about the case, one former prosecutor, Elizabeth Lederer, was ousted from her teaching position at Columbia University Law School, and another, Linda Fairstein, was dropped by her longtime book publisher. It seems, in large part, Morgenthau's insistence on having the convictions overturned helped to preserve his reputation. 
"Very few D.A.s would have done that, but he could with his stature, self-confidence, guts and commitment to principle," Barry Scheck, a founder of the Innocence Project, which uses DNA to prove the innocence of incarcerated individuals, told the Times. "In that and other cases I've seen, I believe he has asked, 'Is this the right thing to do?'"