New York City Council
Simcha Felder's lonely days are over
The four-term Brooklyn lawmaker, state Sen. Simcha Felder has a new life in the Democratic conference.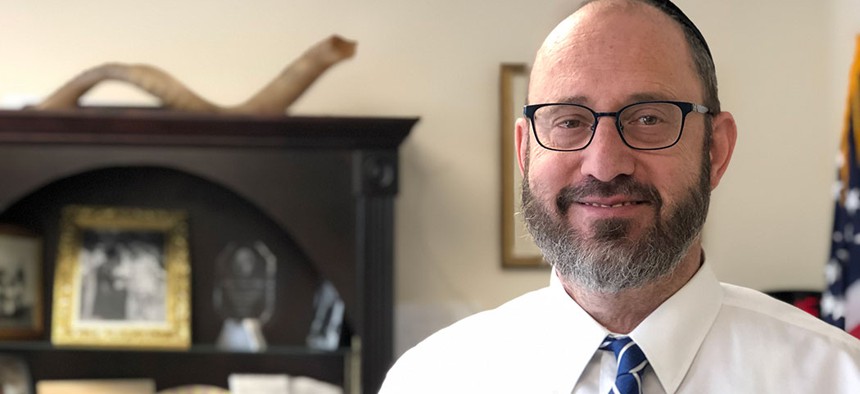 For many centrist Democrats, the chances of facing a competitive primary challenge have risen in recent months as the progressive and centrist wings of the party duel for supremacy at the state and national levels. State Sen. Simcha Felder, however, is resting a little easier in recent weeks because he finally has a political home in the Senate Democratic caucus.
Felder's alliance with state Senate Republicans allowed them to retain a one-vote majority last year, and Democrats were in no hurry to readmit him to their conference after they won control of the chamber in November. While progressives were not able to unseat Felder last year, he returned to the Capitol a diminished figure, a senator without a conference. But vote by vote, Felder was able to get into the good graces of Majority Leader Andrea Stewart-Cousins, who announced on July 1 that Felder would be a member of the conference once the new legislative session begins next January. His 2018 primary challenger Blake Morris, meanwhile, says he has not yet decided whether he will run again against Felder, who won with about two-thirds of the vote last year.
City & State caught up with Felder on a recent afternoon at his district office. He spoke about why he's glad to be back in the fold, and what he did with all that free time last session. This interview has been edited for length and clarity.
So what's it like to be a Senate Democrat now?
For the last six months I'd say I was isolated. It was pretty lonely. I'm delighted that I'm back and look forward to doing a lot of good things with my colleagues in the upcoming session. Of course I wanted to be back right away, but I also understood why I wasn't. 
You gave Democrats several key votes this past year, particularly on the Green Light bill that will allow undocumented immigrants to get driver's licenses and a proposal to raise the sales tax in Westchester County. Was this your way of endearing yourself to their conference?
As a general rule, I will not vote in favor of a bill that compromises my religious, ethical or moral values – or if I have some compelling reason that I can't vote in favor. A "yes" vote in general means that you're doing something to help your constituents. You mentioned a few bills. Some of them fit into the answer that I gave you. Some of them don't. 
Was the Green Light bill something you thought benefitted your constituents?
Yes.
What about the sales tax bill?
You got me on that one, but I would say I'm not in favor of raising taxes in general because it doesn't fit into what I just said to you. They were not my constituents in this case, but I'm not saying to you that I don't care as long as somebody else is paying the bill. I would say my Democratic colleagues made a compelling argument that they needed the sales tax. On this one I'm a little fuzzy. I would have to admit to you that it doesn't fit right into my general rule.
What did you get done this year? Did you get much legislation passed?
I would say I was frozen out. I don't want to harp on it, but that's how I felt. The silver lining was I tried calling the office more often to find out about constituent cases that we were working on. In a normal legislative session, I wouldn't have had the time to do as many cases but this year I was trying to take more cases so that it would keep me occupied. The goal was to continue providing our constituent services, which I believe is the most important part of my job. That's something that goes on whether I'm in this caucus, that caucus, or anywhere else.
For example had this elderly Italian woman who was having a problem with National Grid because her heat was turned off. Even if we were successful, it was going to take a day for it to get back on. We went out and bought two heaters and brought it over to her house. More recently with the measles outbreak, we were doing testing to see whether people's measles vaccines were still effective. Some people had measles shots years ago and the question was whether they were still immune. This is my bread and butter. If somebody said to me now, what would you like to be remembered by? I'd say, you know, helping people out with their day-to-day problems.
There are a lot of voices in the national political discourse that were considered fringe just a few years ago. Where do you draw the line between what's acceptable and not?
There can be no compromise on hate of any sort. There's no such thing. You cannot bend. I want to believe that it's ignorance and a lack of education that causes people to say things that are really hateful. I want to believe that it's the lack of education and ignorance that causes someone to compare the Holocaust to the situation at the border. How can a rational person compare people that were transported to their deaths to the situation at the border? I'm not minimizing the situation at the border, but not every tragedy is the same.
But what do you make of elected officials who, for example, do interviews with fringe websites like Breitbart, which has trafficked in anti-Semitic tropes before?
Certainly people who have an interest in running for office are trying everything possible to get attention and if you're trying everything possible to get the attention then you do desperate things.
Do you think that your career has been overshadowed by issues like your past relationship with the Senate GOP or your effort to get the New York City Council to ban pigeon feeding?
I would say that's accurate. Because I'm an Orthodox Jew, some people have the impression that I have nothing else on my mind besides a very limited focus and it's just not so. For example, the HALT bill limiting solitary confinement is something that I'm very, very interested in. If somebody follows my career, they can see a slew of different issues besides constituent services that I've been involved with. There's an old Yiddish expression that sort of says: "I don't want to be treated special. I just don't want to be treated not special."