Chuck Schumer's ridiculously specific pressers
Somehow, the Senate minority leader finds time for canned wine, robocalls and a slow Post Office.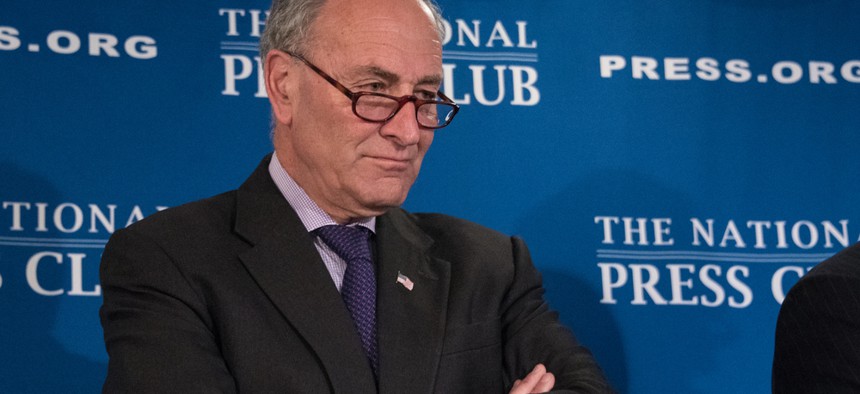 Politico New York once called U.S. Senate Minority Leader Charles Schumer "the man who invented the Sunday press conference." Schumer has long been famous in the media for dropping in on different upstate suburbs every week to try and solve local problems – the type that might be troubling the Baileys, the imaginary Long Island family he claims to represent – with a press conference. And more often than not, he'll do it on Sunday, the traditionally slow news day, when newspaper editors are desperately searching for something – anything – to fill out Page 3.
Some of the issues he picks are serious – flooding, health insurance, border security – but many are wildly specific to the community. And even though he's since become one of the most powerful Democrats in the nation, he hasn't stopped trying to impress the Baileys.
Here are some of Schumer's greatest hits, both on Sundays and not, replete with his cheesy lines, puns and hyperlocal concerns.
Honey bee census
Sunday, 07/28/2019, in Bryant Park
The U.S. Department of Agriculture decided to stop collecting data on honey bee populations across the country, and Schumer is not OK with that.
Cheesy line: "We are a hive of productivity – and it's because of the bees."
Runner-up: "To know that … the USDA has gone and clipped the wings of a critical data collection program on honey bee colonies ... really stings."
Canned wine
Wednesday, 07/03/2019, in Yates County
According to Schumer, the federal Alcohol and Tobacco Tax and Trade Bureau is preventing New Yorkers from drinking local canned wine from a normal-sized can. Schumer called for the bureau to update its policy.
Cheesy line: "TTB is leaving New York's wine industry hanging on the vine."
Robocalls
Wednesday, 07/03/2019, in Corning
Schumer stopped by the Corning Senior Citizens Center to address the issue of excessive robocalls, along with a bipartisan proposal to fix it.
Cheesy line: It's time to hang up robocalls once and for all.
Sunscreen safety
Sunday, 06/09/2019, in Bryant Park
The Food and Drug Administration banned two chemicals formerly used in sunblock and Schumer asked them to just double-check the other 12 while they're at it.
Cheesy line: "The FDA must uncloud all additives in sunscreen."
Beer permits
Monday, 02/11/2019, in Buffalo
Schumer headed to a brewery when the government shutdown threw a wrench in the approval process for new beer flavors and products, threatening the production of seasonal flavors.
Cheesy line: It's time for TTB to approve ALE of Labatt USA's applications in the CLINK of an eye.
Greek yogurt
Friday, 10/26/2018, in Chenango County
Schumer went to Chobani's facility to call on the U.S. Department of Agriculture to update its credit system to make it cheaper for schools to include Greek yogurt in the National School Breakfast and Lunch programs.
Giant hogweed
Friday, 08/24/2018, in Wyoming County
Schumer asked for federal assistance to combat giant hogweed, an invasive plant growing in the region. Contact with the plant can cause severe burns.
Cheesy line: Time to nip giant hogweed in the bud.
Juul flavors
Friday, 05/25/2018, in Monroe County
Schumer joined parents and educators to call out Juul and other e-cigarette companies for allegedly using flavored pods to entice underage students into vaping. 
Cheesy line:"The just-out letter from America's top doctors and health groups detailing how this addiction continues its creep into high schools and middle schools is no doubt nails on the chalkboard for teachers and parents alike."
Toy bots
Sunday, 12/03/2017, in midtown Manhattan
At the beginning of the 2017 holiday season, Schumer urged retail associations to do a better job blocking bots from buying all the hottest toys and marking them up on third-party sites.
Cheesy line: "Grinch bots cannot be allowed to steal Christmas, or dollars, from the wallets of New Yorkers."
Larchmont mail service
Friday, 09/08/2017, in Larchmont
Apparently the mail service in parts of Westchester County was so bad that Schumer visited Larchmont to pressure the U.S. Postal Service to release the results of an internal audit of the area. 
Cheesy line: "It is simply mail-practice that for over a year residents in Larchmont, and now New Rochelle, continue to have shoddy service."
Cheese names
Friday, 09/06/2013, in Franklin County
Schumer went to a dairy farm to call out the European Union for trying to trademark the names of certain cheeses.
Cheesy line: "Muenster is Muenster, no matter how you slice it."
Fishing tournaments
Friday, 07/08/2011, in Clayton
Schumer stopped by the Antique Boat Museum in Clayton to bring Canadian and American border patrol agencies together to find a solution for permitting people to fish freely on both sides of the border.
Commercial trucks
Monday, 05/12/2008, in Skaneateles
Schumer teamed up with then-Gov. David Paterson to create new state Department of Transportation rules to prevent commercial drivers taking back roads and shortcuts to avoid tolls and weigh stations.
Stand-alone press releases
Schumer can't always travel – but that doesn't stop him from producing his iconic press releases.
Food safety
Sunday, 04/28/2019
Meat and veggies are one thing, but a large-scale recall of ice cream was the last straw. Schumer called for an increase to the Food and Drug Administration's inspection budget after an investigation found that ice cream production plants were contaminated with bacteria that was making people sick.
Cheesy line: "Consumers will be in for a rocky road if the FDA does not continue to get new investments to help provide the latest tools it needs to cone-off contaminated foods."
Guns
Sunday, 02/18/2018
After the White House released its proposed 2019 budget, Schumer zeroed in on a proposed budget cut to the National Instant Criminal Background Check System, which he said was crucial to keeping firearms out of the wrong hands.
ATM fees
Monday, 10/12/2015
After finding out that New York held the title for second-highest average ATM fee, Schumer called on the Consumer Financial Protection Bureau to address the problem. 
Cheesy line:"A fast stop at the corner could eat your lunch money."
Tide pods
Wednesday, 03/11/2015
Schumer was hyperconcerned about kids eating Tide detergent pods, saying that they looked more like candy than soap. Turns out he was right – in early 2018, a joke about eating Tide pods circulated on the internet and led people to actually eat them.
Four Loko
Tuesday, 11/16/2010
Schumer's beef with the caffeinated alcoholic beverage goes back to 2010, when he worked with other senators to urge the Food and Drug Administration to make its findings public about the health risks of Four Loko and similar drinks. The caffeinated formulation of the drink was banned in New York state toward the end of 2010.