New York City
Shaun King is still salty about Cabán's loss
A Q&A with the Black Lives Matter activist on his foray into NYC politics.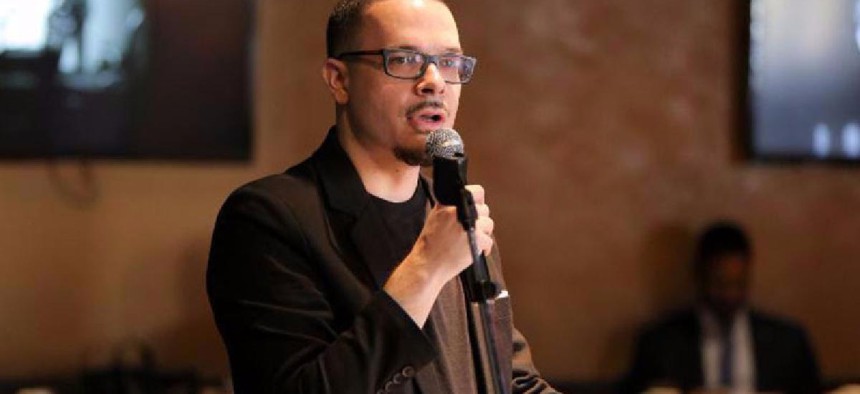 Shaun King is known around the world for his activism related to the Black Lives Matter movement, but despite a stint writing for the Daily News, King hasn't been too involved with local politics in his home city of New York. But that changed with Tiffany Cabán's campaign for Queens district attorney. After King's political action committee, Real Justice PAC, endorsed the public defender, he became one of Cabán's most vocal supporters – and was heartbroken when her fortunes turned after an apparent victory on election night. City & State caught up with the 40-year-old Brooklyn resident to discuss that race, his support for U.S. Sen. Bernie Sanders and what he expects from NYPD Commissioner James O'Neill's discipline decision on Officer Daniel Pantaleo.
You've always had more of a national focus, but you got really involved with Tiffany Cabán's campaign for Queens district attorney. Why was she different?
Me and two other people are the founders of a political group called Real Justice. We have now been a part of 21 district attorney campaigns all over the nation. The Queens race was the first opportunity (in New York) to really identify and support a progressive person for the role of district attorney. Real Justice sent out almost half a million text messages to voters. We knocked on thousands of doors, made tens of thousands of phone calls and we raised nearly $100,000 for her campaign. It was a roller coaster and a devastating loss for sure.
You were criticized, even by the Cabán campaign, for basically saying there was dirty politics at play in the vote counting. Do you still think there was dirty politics going on there?
Yes and no. When I said that, I literally spoke to two people who were in the room when votes were being counted. I think the way I first presented it made it look like there were people in the room who were cheating, and as I look back on it, I don't think that was the best way to present it.
I will say this. New York passed a law that I think would have counted maybe a thousand more of those votes. It passed in the last legislative session, to this day it has not been delivered to Gov. Andrew Cuomo to be signed. The very last line in that bill – the bill is literally a paragraph – the very last line says that this bill goes into effect immediately. We felt like politicians deliberately held that bill and kept it from being signed.
And ultimately there were several thousand votes that weren't counted because New York is consistently rated one of the hardest places to vote in America. When you have a race that is decided by tens of thousands or hundreds of thousands of votes, those things still are the reality, but nobody really cares because the margin of victory is so significant. It happens in every election, but when it's so close, it just puts a spotlight on it.
Man, I am still salty about the whole thing. I am salty about people who supported Katz for DA who say they are for criminal justice reform. Katz has no history of fighting for criminal justice reform. She has literally no history of even being in the courtroom. It was a peculiar race. I learned a lot about New York politics, and it's a bitter pill to swallow to lose by 60 votes or 90 votes, or however many it ended up being.
What is your take on what Rep. Gregory Meeks said, basically that Cabán's support was all from outside activists?
I'm disgusted by that, man. We live in New York. (Rep.) Hakeem (Jeffries, who supported Katz) and I both live in Brooklyn. And the Bronx borough president, (Ruben Diaz Jr.), also supported Katz. Is he an outsider? Is Hakeem an outsider? I live in New York; I love New York.
In fact, I literally knocked on doors and I don't know that I ever met anybody who came in from outside of New York one day, ever. These were New Yorkers who were there supporting and voting for (Cabán).
And I have major beef with Meeks in general. If you Google the words "most corrupt members of Congress" and his name, he's consistently rated one of the five most corrupt members of Congress. And the Democratic Party of Queens chose him to be the head of the party!
Do you have any other campaigns brewing locally?
Our group, Real Justice, is already interviewing and talking to candidates for the Manhattan DA's race. I like all the candidates who stepped up to say they are running. I think they learned a lot from the Queens DA's race. I'll fight tooth and nail for a candidate to challenge and replace (Manhattan District Attorney) Cy Vance. I hope Cy just looks at it and says, "Hey I am bowing out. I am going to retire and go work for a think tank."
You're a big Bernie Sanders supporter. How do you think Bernie's 2016 campaign impacted local politics?
I think Bernie has caused New Yorkers to just not be ashamed of their progressive politics and not feel like they have to hold it close to their chest. New Yorkers have strong political views all over the spectrum, but I think Bernie has encouraged a lot of people to just be open with their progressive ideas and values. 
His 2016 campaign taught people the value of grassroots organizing for presidential campaigns. Probably the most known (New York) political leader is Alexandria Ocasio-Cortez, and she was a volunteer for Bernie's campaign. I think now she is a local and national force to be reckoned with. I think how she campaigned for that seat and how she moves now, I think Bernie's campaign had a lot to do with that.
Do you think that NYPD Commissioner James O'Neill will fire Daniel Pantaleo for his role in Eric Garner's death?
No, I don't think so. He could have already done it a long time ago. Multiple police commissioners could and should have fired Daniel Pantaleo right away.
Let me be clear: New York police officers regularly get fired. You can do something today and get fired this week in the NYPD. It happens all the time. It doesn't always make the news, but the force is so big that dozens of officers get fired every year. And not for things that happened five years ago. They have protected Daniel Pantaleo, they have protected his employment, provided around-the-clock security for him, defended him at every cost. They have played hot potato with the family's heart. To this day, each one of them can hardly talk about it.They feel betrayed by the mayor, by the governor, the police department.
Powered By
NEXT STORY: What's changing the New York insurance industry?