New York City
The many nicknames of 'Tallman' de Blasio
Even his name is a nickname.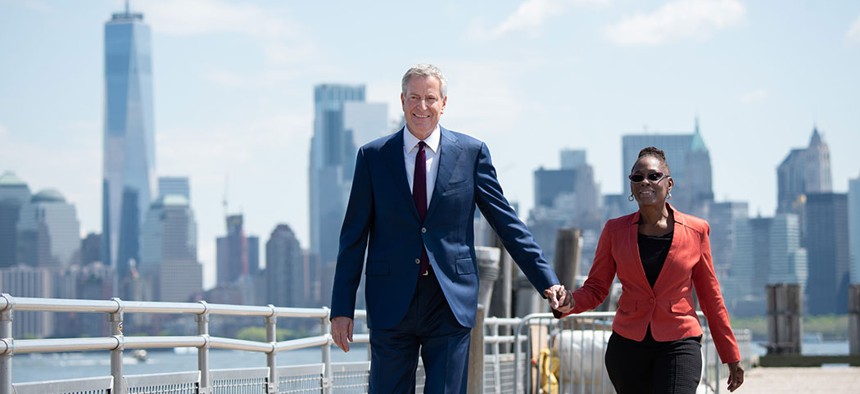 New York City – a town of many nicknames of its own – was once led by a man they called "the Little Flower," Fiorello La Guardia.
Today, the city so nice they named it twice is led by "The Tallman." That's New York City Mayor Bill de Blasio's possibly self-appointed nickname that he used in a 2015 email with Rep. Yvette Clarke, uncovered by The City. It presumably refers to his height, and not the state park in Rockland County. Of course, the man has picked up some other nicknames after more than five years as mayor.
BdB – The original. The classic. Fits in a headline. Brings to mind JFK, FDR or AOC.
DeB – Some folks in de Blasio's inner circle prefer this shorthand to the more common BdB.
Hizzoner – Not de Blasio's alone, this bastardized version of the title "his honor" has been used by the tabloid press to refer to any mayor for generations.
Lurch – A favorite insult of right-wing Twitter trolls who think the 6'5" mayor looks like the tall, lumbering butler of The Addams Family.
De Bozo – Another favorite of the Twitter trolls. It's funny, you see, because Bozo is a clown.
Big Bird – Popularized by de Blasio's middling 2017 electoral challenger Bo Dietl, the mayor embraced the name earlier this year at a press conference with the "Sesame Street" star.
Bigfoot – Anonymous New York Post sources gave de Blasio the nickname, not for his shoe size, but for his habit of stealing other politicians' policy ideas.
Senator Provolone – One of de Blasio's high school teachers recalled to his hometown Boston Globe in 2013 that this adolescent nickname referred to both "the generous Italian sandwiches he would bring to lunch and to his 'overweening investment in political life.'"
Blas/Blaz – The rivalry between the city's top tabloids extends to their style guides. The Post prefers "Blas." The Daily News likes "Blaz."
High-taxing mayor of NYC – This, as well as "our very dumb and incompetent Mayor of NYC" was bestowed upon him by President Donald Trump on Twitter. De Blasio has desperately tried to bait Trump for a better nickname by calling him "Con Don."
Bill de Blasio – Born Warren Wilhelm Jr., the mayor legally changed his name in 2002, but he'd been using it for years before that.
Powered By
NEXT STORY: This week's biggest Winners & Losers