New York State
Why the GOP's Chris Jacobs wants to take down Chris Collins
"Collins is the only person putting this district in jeopardy of not staying Republican."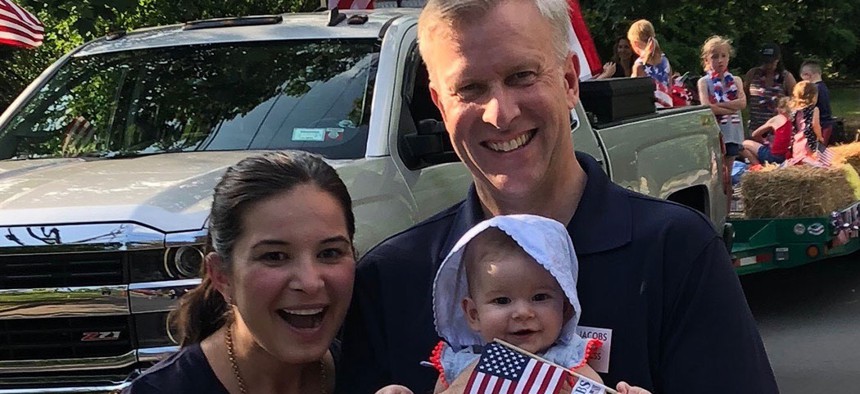 Rep. Chris Collins has not officially declared whether he will seek reelection as federal insider trading charges loom over him, but rising star state Sen. Chris Jacobs is prepared to take on the incumbent and anyone else who may jump into the Republican primary for the 27th Congressional District. He faces a tough race if Collins decides to run, if a recent poll showing Jacobs trailing by roughly 20 percentage points is any indication. But it hasn't dampened his resolve, since he believes that if Collins wins the GOP line, the district will be lost to the Democrats.
Jacobs spoke with City & State about why he entered the race, attacks by Collins and the future of the state Senate Republicans in his absence.
What inspired you to run for Chris Collins' seat?
I believe I have gained the experience over the last number of years of my career as a business owner, as the founder of a scholarship fund for kids in Western New York and also that I've served in various stints of government. That I have a diverse skill set that would really make me, I believe, a really impactful legislator. I think that it's important that we have a representative in that seat that can fully utilize all the tools that are typically at the disposal of members of Congress to advocate for this district. And I just believe that Congressman Collins, he's done some good things in the past, but currently due to his insider trading indictments, he's limited in what he can do.
Nate McMurray recently announced he would run again in the Democratic primary. How would you approach that race if you win the Republican primary?
The big thing is this is a heavily Republican district; it should remain Republican. The only way it's in jeopardy of not being a Republican district, and someone like Nate McMurray winning, is if Chris Collins runs. I think that is really a major issue. The situation that Chris is in with his indictments, he won this district by, I think, 1,000 votes – he barely won. And that will be even more challenging this year. Chris Collins is the only person putting this district in jeopardy of not staying Republican.
Collins has accused you of being part of the Never Trump movement and a former Republican. What's your response to that?
It's completely false. There was a Politifact done a couple weeks ago after they started that narrative, and it determined it to be false. But unfortunately, Chris Collins plays fast and loose with the truth. That's part of the reason he's in trouble with the FBI and others. But I won't be going tit for tat with Mr. Collins, but more talking directly to voters about my record and my vision for this district and serving the president.
The outlook for state Senate Republicans is a little bleak, and you're leaving a potentially vulnerable seat open. Does the GOP have a pathway back to power in the state?
I think my seat, even though it's 3-to-1 Democrat, has a lot of moderate Democrats and a lot of independents and will vote (based on) the person. And I believe there's a lot of districts like that. I really believe that two years ago, several moderate Republicans lost to Democrats and I believe these Democrats are not what they billed themselves to be when they were running, that they were level-headed and moderate. I'm not saying we get the majority right back, but I think we will be in a much stronger place next term. I will also be very involved in identifying the best candidate to take over this seat and help him or her – and I have a "her" very much in mind – to make sure that they're victorious.
Powered By
NEXT STORY: Mark Levine wants to bail out taxi drivers