New York City
Prince Royce crowns a mayor
The bachata star talked to kids about ending gun violence.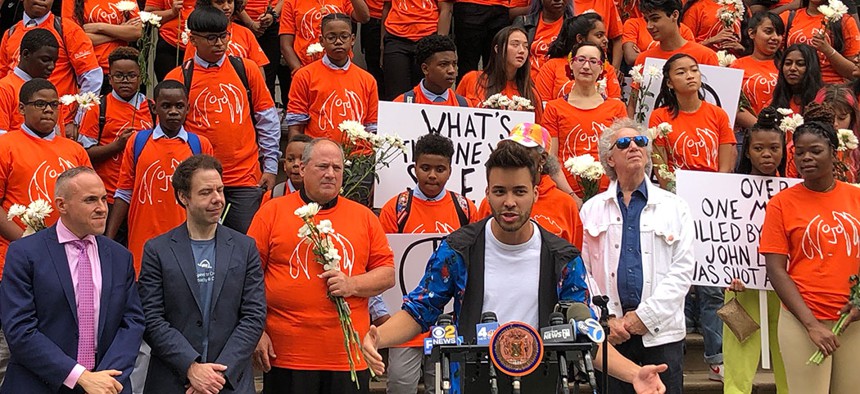 Before Prince Royce topped the charts and toured the world as a Latin pop superstar, he was a New York City public school student at the Bronx Academy of Letters. On Monday, the 30-year-old bachata singer joined current city students – including some from his old school – for a conversation about preventing gun violence. It was organized by the John Lennon Educational Tour Bus, a nonprofit promoting peace and music.
After Royce and dozens of students rallied on the steps of New York City Hall, City & State caught up with the "Darte un Beso" singer about growing up in a NYCHA apartment, his appreciation for the Bronx borough president and his thoughts on Bernie Sanders.
There are a lot of worthy causes. Why are you involved with ending gun violence?
I grew up in (NYCHA's) Patterson projects, across the street from the Bronx Academy of Letters. Growing up, you hear gunshots all the time at night. And you're always afraid of getting robbed or being shot at. You hear the stories of a stray bullet hitting you. I thankfully haven't directly been affected by gun violence. I had an uncle of mine that died by a gun in the Dominican Republic.
I know what the kids feel like, and I know as a celebrity, I can have a bigger voice. I try to get involved with things that can help motivate the youth and help promote peace. I think nowadays, bullying is just so much stronger than before, for whatever reason. It just feels like people are going through so much. We're seeing the shootings in schools across the country. We're seeing them in the clubs. We're seeing people get murdered or stabbed up for anything that's random. You're like, "Damn, why would a person do something like that?" People are hurting in our communities, and we've got to try to find that root of that. People get the misconception that it's like, let's take guns away. We're not trying to say change the Constitution. I think it should be controlled. There's definitely no reason why AK-47s should be in a community of regular people.
Do you still have connections at the Patterson Houses?
I go back! I have a lot of friends that still go there, and I think things are pretty much the same or worse, maybe.
No improvement at NYCHA?
No, definitely no improvement. And it starts with the youth. One of the things we talked about in the roundtable is maybe getting some more psychiatrists or social workers to help these kids. And also social workers that are happy to be there! We know how the system could always be so corrupted, whether at school or anywhere else. We want to make sure we've got teachers in there that want to help these kids out, that are happy with their pay as well. If there's a problem that a kid's going through, they could really talk to somebody.
You're a Bronx native. Bronx Borough President Ruben Diaz Jr. is running for mayor – 
Ruben Diaz! You know, we've worked with him a few times. Hopefully he can do it. He's someone that cares. He's also a Bronx native, so best of luck to him.
Is the city overdue for a Latino mayor?
Why not! I think the city is overdue for so many different kinds of things. What Obama did, I think, was historic. I think it motivated so many people to be like, "Hey, I could be president too. I could be mayor too." So definitely good luck to him. I'd love to see him out there.
Your fellow Bronxite Cardi B is behind U.S. Sen. Bernie Sanders. Do you have a presidential candidate yet?
Not yet! I think a lot of people love Bernie. What Bernie's done in the past, we've seen his passion. We've seen how he's always worked for the people. We'll see how the election goes when it gets closer.
Powered By
NEXT STORY: Son of a preacher man