New York State
The junior/senior tag teams of New York politics
It helps if voters already know your name.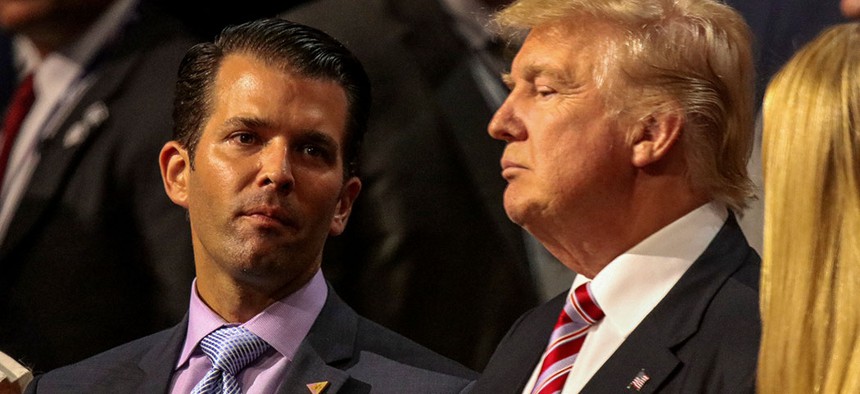 There has been no shortage of political dynasties in a state led by King Cuomo II, nor a lack of political insiders who share the same names as their peers, whether they go by Charles Barron, Bill O'Reilly or Pat Lynch. But only a few in the Empire State have brought a namesake of their own into the family business.
Here is the ultimate list of New York officials who have relatives with the same names in politics.
Joseph Addabbo
The state senator hasn't followed his dad into the halls of Congress, but he's looking out for many of the same constituents in Southeast Queens. The nephew of Joseph Addabbo Jr. – also named Joe Addabbo, but with a different middle name – is an assistant district attorney in Queens.
William Boyland
Longtime Brooklyn Assemblyman William Boyland resigned in 2003 so that his son could take over. William Boyland Jr. lost the seat in 2013 after being sentenced to 14 years in prison for corruption. Now it's up to William Boyland III, born in 2002, to someday restore the family dynasty by winning back the Assembly seat first won by his great-uncle Thomas Boyland in 1976.
Ruben Diaz 
If Bronx Borough President Rubencito wants to be elected mayor in 2021, he'd better start praying that his papi, the New York City councilman and ordained Pentecostal minister, spends more time shopping for new cowboy hats – and less time telling everyone about his anti-gay views.
Hamilton Fish
After serving as New York governor from 1849 through 1850, Fish the First was elected to the U.S. Senate. The next two Hamilton Fishes served in the Assembly before moving on to the halls of Congress. Hamilton Fish IV went straight to the House, while Hamilton Fish V ran but never made it to Washington.
Robert F. Kennedy
Senior tried to go all the way in politics by running for president in 1968. Junior has stuck to the courtroom. While the elder's advocacy for civil rights and the younger's work on environmental issues were well received, RFK Jr.'s anti-vaxxer efforts have undermined the good name of America's second-favorite Kennedy father-son duo.
Theodore Roosevelt
The former president – himself the namesake of a well-known philanthropist – was not the last TR in public life. Teddy III won a seat in the Assembly at the beginning of a long career in public service. While Teddy IV largely stayed out of politics, Teddy V has served on the New York League of Conservation Voters board – and made a splash in 2016 by endorsing John Kasich for president.
José Serrano
The retiring Bronx congressman and his son, a state lawmaker, share first and last names – but not a middle name (it's Rep. José E. Serrano and state Sen. José M. Serrano). However, they do have the rare distinction for a father-son pair to be serving in office at the same time.
Donald Trump
If you worried that things are going to be too boring when the time comes for the Donald to vacate 1600 Pennsylvania Ave., don't worry! There's been a lot of buzz recently about a Trump dynasty … and Don Jr. has been reportedly mulling a run for mayor of New York City.
Peter Vallone
"Fortunate" is literally the middle name shared by this pair of former New York City councilmen who both represented Astoria, Queens. Senior was council speaker and a gubernatorial and mayoral hopeful, while Junior later followed in his grandfather Charles' footsteps by being nominated for a judgeship in Queens County Civil Court.
Cyrus Vance 
Senior became a committee aide at the behest of then-U.S. Sen. Lyndon Johnson before serving in the executive branch under three presidents, including a stint as secretary of state. Junior is the Manhattan district attorney, but his present political troubles suggest that's probably as far as he's going to go in politics.
Robert Wagner
The elder Wagner – a longtime U.S. senator – achieved the ultimate political trifecta by serving in all three branches of government. His son would follow him into the state Legislature and later became the mayor of New York City. Robert Wagner III added a few other titles to the family collection, including city councilman, deputy mayor and president of the city Board of Education.
Powered By
NEXT STORY: Keeping the power supply safe from terrorists