New York State
George Latimer: Lawn Ranger
How the Westchester County executive got tax-wary suburbanites off their high horse.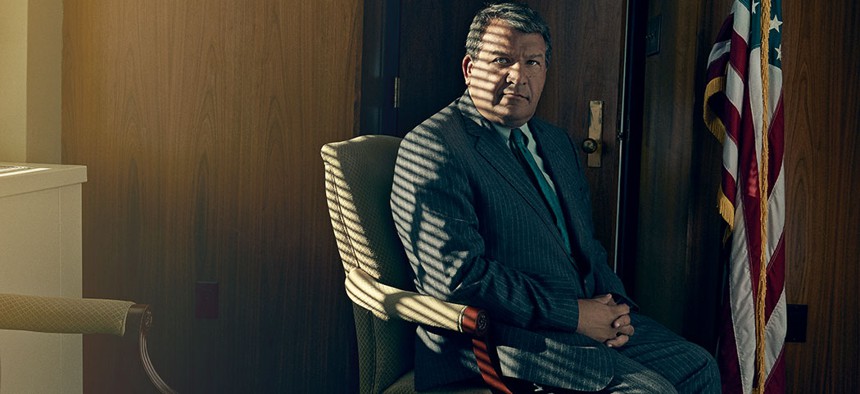 Westchester County Executive George Latimer, an inveterate self-chronicler, once told a story about his quixotic run for lieutenant governor of New York. He told it straight, without a hint of self-pity.
The year was 2002, when Republican Gov. George Pataki was going for his third term. The lieutenant governorship was up for grabs too, with Mary Donohue running for reelection. A handful of Democrats vied for the lieutenant governor nomination – and Latimer was one of them. (In New York, political parties select the lieutenant governor and gubernatorial nominees individually.)
This may seem comical because no kid dreams of growing up to be lieutenant governor, a position with scant power and few possessions, besides a desk and a giant pair of scissors for cutting ribbons.
But at this point in his career, Latimer was subsisting on the part-time pay of a Westchester County legislator and a few lieutenant governors have gone on to big careers in the past, most recently former three-term Gov. Mario Cuomo. Latimer had paid his dues and steadily risen in the ranks, starting his political career as a city councilman in Rye, where he proved he had the charm and chops to woo Republicans over to his side. A die-hard New York Mets fan fond of baseball metaphors, he saw himself in 2002 as a promising prospect mired in the bush leagues of local politics.
Latimer knew all the jokes, but he viewed the lieutenant governor post as an opportunity, a portal to the big leagues of Albany politics.
Besides, at 48, he was no kid. It was time to make a move, even if it was a long shot.
So Latimer did what he does best, maybe better than anyone: He campaigned. He got in his car and drove all over the state, introducing himself to every local Democratic leader he could find. It didn't matter where or what time of day. Latimer came alone, carrying nothing with him but goodwill and ambition.
One day, a group of Democrats somewhere upstate had a picnic. Latimer showed up and was warmly greeted. Things were going great. He made connections, forged new relationships.
But then, seemingly out of nowhere, a giant bus rolled up and ruined Latimer's day.
The behemoth on wheels carried the well-appointed campaign of Andrew Cuomo, the former U.S. Department of Housing and Urban Development secretary, who was seeking the party's nomination for governor. Being Mario Cuomo's son, Andrew was a celebrity. Showered with the requisite fanfare afforded to a prince of New York politics, he drew everyone's attention away from the nice man from Westchester who sought only to be the next gubernatorial nominee's sidekick. Latimer quietly left the picnic.
His candidacy was not to be. The party favorite was Dennis Mehiel, a former chairman of the Westchester County Democratic Committee and a wealthy donor who made his fortune in the corrugated cardboard business. In the interest of party unity, Latimer dropped out of the race.
Cuomo eventually dropped out too, ceding to then-state Comptroller H. Carl McCall, who along with Mehiel, lost to Pataki in the general election.
Undaunted, Latimer went home to Rye and repositioned himself for the future.
Over the next 15 years, he popped up again and again, impressively winning races for the Assembly and state Senate and, finally, in 2017, the county executive seat in Westchester, which pays $161,000 a year.
Latimer, now 65, has not lost an election – except for that abortive lieutenant governor bid – and he never takes his success for granted. In between elections, he stays in constant candidate mode, feverishly filling his days with visits to Rotary Club luncheons, nursing home soirees, obscure municipal meetings, elementary schools, hotdog eating contests, church coffees and so on. If all that isn't enough, he regularly records local meeting announcements for Westchester's lone community radio station, WVOX. That kind of retail politicking has drawn him accolades from across the aisle.
"I think Latimer is a politician the way the men – notice my choice of words – of our fathers' time imagined them to be," said William O'Shaughnessy, WVOX's president and pro-Trump editorial director. "Latimer has taken retail politics to its highest level. You could not work harder. There are not enough hours in the day for this guy."
And he can be generous with his time. Elaine Price, a former Mamaroneck supervisor and a fellow Democrat, remembers how Latimer helped her years ago when he was still a councilman and she was running for county legislator. She needed to meet voters.
"His perseverance was extraordinary," Price recalled. "He brought me everywhere. He never stopped knocking on doors in Rye. And sometimes doors were slammed in our faces. But he never, ever skipped a beat or got upset. He just kept going."
Once a GOP stronghold, Westchester is overwhelmingly Democratic now. In 2016, Hillary Clinton defeated Donald Trump 65% to 31% countywide.
Rob Astorino, a conservative Republican who briefly served as a county legislator, was a decided underdog when he faced three-term incumbent Andrew Spano in the 2009 county executive's race. But he pulled off a major upset, defeating Spano by double-digits thanks to fewer Democrats voting in the off-year election. The Great Recession had taken hold and people who generally tend to vote with their wallets took out their frustrations on incumbents like Spano. This was fueled in part by the emergence of the Tea Party, which helped create an anti-county government sentiment in Westchester and motivated Republicans to go to the polls.
Astorino's fiscal policies appealed to a constituency fed up with Westchester County's dubious distinction of having the highest property taxes in the nation. (At an average of $17,392 per single-family home, it still has the highest taxes.) His accomplishments include holding the county's property tax levy flat for seven consecutive years after slightly cutting it in his first year. Meanwhile, the population grew and each taxpayer's share actually went down slightly, but the savings was limited.
After winning reelection in 2013, Astorino faced Latimer in an inordinately expensive race in 2017, with Astorino outspending Latimer roughly 3-to-1. Latimer beat him handily, winning 57% of the vote.
Latimer had easily won a primary against Ken Jenkins, a county legislator from Yonkers, that had been waged on friendly terms by mutual agreement.
No one at first expected Latimer to defeat Astorino in the general election, but the race tightened as Democratic enthusiasm swelled. After he won the general election, Latimer made Jenkins his deputy county executive.
It's often been said that Democrats don't turn out in large numbers in off-year elections. That bromide was disproved in the 2017 county executive's race. Latimer received about 36,000 more votes than the losing Democratic candidate, New Rochelle Mayor Noam Bramson, got four years earlier.
One prime motivating factor was the anti-Trump "blue wave" that swept the heavily Democratic county, led by Indivisible Westchester, a well-organized group of progressives. Its Facebook group boasted 4,136 members who championed Latimer and relentlessly lambasted Astorino as a Trump toady.
But Latimer, ever the hand-shaking sultan of schmooze, deserved credit too. After 30 years of indefatigable networking, he had finally arrived.
As county executive, Latimer has delivered on a slew of campaign promises he made to his party's activist base during the 2017 election. He banned gun shows on public property, outlawed gay conversion therapy, expanded the role of the county's human rights division and signed the Immigration Protection Act that limits the county's cooperation with federal investigations of undocumented workers.
Early on, a number of controversial worker protections were put into place – for instance, the "ban the box" law, which removes criminal background questions on job applications. Asked about this, Latimer said employers are not prevented from asking such sensitive questions during the interview process, since the intent is to give a rehabilitated job seeker a fair chance at securing a job. "Otherwise (the application) goes in the dumpster," he said. "It never gets to the point of an interview."
John Testa, the GOP minority leader on the county Board of Legislators, condemned this and other measures as activist-driven overreach and a "death by a thousand cuts" for small businesses.
Of criticisms from Republicans that he has governed too far from the left, he asked rhetorically, "Do you think that the far left thinks I'm a liberal Democrat?"
Yet Latimer takes pride in defining himself as a fair-minded pragmatist willing to reach out to members of the opposite party. He points to naming Republican Jim Maisano to be the director of the Department of Consumer Protection, a plum job. He also retained many of Astorino's people, among them Ron Tocci, the director of the Veterans Services Agency.
Both Tocci and Maisano had been political rivals of Latimer's. "Go over the Assembly and Senate and you'll see both Ron and Jim supporting my opponents in visual ways in every single race," Latimer said. "I didn't care." Of criticisms from Republicans that he has governed too far from the left, he asked rhetorically, "Do you think that the far left thinks I'm a liberal Democrat?"
Centrist Democrats, on the other hand, certainly see Latimer as one of their own: Gov. Andrew Cuomo, the bête noire of his party's left wing, has praised Latimer as a "pragmatic progressive."
Latimer also enjoys friendly relationships with some Republicans, such as Herman Geist, a 94-year-old legend in Westchester politics, who served as the first chairman of the county Board of Legislators after it was created in 1970. He saw Latimer's natural talent from the start. When Latimer was 18, he voted for Geist for county legislator – a biographical nugget Geist loves repeating. The fact that Geist was a Republican was irrelevant to Latimer, who says he voted for the person, not the party. "I enjoy him," said Geist about Latimer. "George is a people person. And that's what we need."
After taking office, Latimer signed a host of executive orders and legislative bills – driven by what he calls a "different philosophy" than that of Astorino. Latimer was helped by a 13-4 Democratic majority on the Board of Legislators.
Indeed he was the un-Astorino, passing his first budget with a 2% property tax increase, arguing that eight years of austerity and dipping into the county's reserve fund did little more than demoralize the county's government workforce, threaten its bond rating and leave its finances in a "mess."
This year, he obtained state approval for a 1 percentage point sales tax increase but with an accompanying promise that he wouldn't raise the property tax levy for two years. He named it the Westchester County Property Taxpayers Protection Act. Anti-tax opponents called that turn of phrase putting lipstick on a pig.
"Heavy-duty voodoo sophistry," said William F.B. O'Reilly, who served as Astorino's campaign spokesman. "The idea should be shrinking the cost of government wherever possible. It's just another tax on top of a tax that's chasing families out of the state."
Latimer's supporters see it as the least painful method to generate revenue for the county as well as town governments and schools, which get a piece of the action. In an op-ed for The Journal News, North Salem Supervisor Warren Lucas wrote that money received from the sales tax hike will save his town from having to overborrow in order to make sorely needed road repairs.
Still, taxes of any kind in Westchester are a sore subject. And it hasn't helped Latimer's cause that his own wife owes $77,000 in back taxes and interest penalties on a house she inherited from her mother seven years ago. In August, he announced he would take out a bank loan to pay off the tax bill.
Even some Republicans, however, have expressed gratitude for the county's assistance. Gordon Burrows, a Republican county legislator from Yonkers commended Latimer for the repair and reopening of the pool at Sprain Ridge Park in Yonkers, calling it "a very essential park and pool to the people of this community."
Latimer was born on Nov. 22, 1953; he has often poignantly remarked that his 10th birthday coincided with President John F. Kennedy's assassination. He grew up on Mount Vernon's rough-and-tumble Southside in a blue-collar household. His father was a maintenance worker at a country club and his mother worked in a factory – and both were FDR Democrats.
Latimer attended Mount Vernon public schools during a time when the city was transitioning from having mostly white residents to being predominantly African American. It also fell on hard times economically. To Latimer, Mount Vernon and its problems – 15% of its residents live below the poverty line – represent the needier side of "two Westchesters," which informs his thinking about serving the county's poorest citizens.
After graduating from Mount Vernon High School, Latimer went to Fordham University, where he received a bachelor's degree, and a master's in public administration from New York University.
Though he showed an interest in politics as a young campaign volunteer in Mount Vernon, his early professional experience was in the private sector. He was a sales representative in the hotel industry. He met his future wife Robin while working for Stouffer's. After marrying, the couple lived out of state briefly before moving to Rye, where Robin grew up.
In 1987, Latimer ran for Rye City Council for the first time, beating a field of six candidates.
He's been running ever since and it's hard to imagine Latimer, a grandfather of two, ever slowing down. According to his own estimate, he averages about five hours of sleep per night. As county executive, his goal each month is to visit each of Westchester's 25 towns and cities. And if he's not chewing the fat, he's engaged with his followers on Facebook, ruminating on disparate topics and often late at night. He logs 50,000 car miles annually but he refuses a driver, which fits perfectly into his self-presentation as a humble Everyman who eschews the perks of his predecessors. As Latimer put it, "I'm entitled to have two detectives pick me up in the morning and spend 18 hours with me, and I never do that."
Latimer has never lost an election, but he nurses the wounds and scars of every hard-fought campaign.
"This is my life," he once told me through clenched teeth, amid one of the darker episodes of his first successful state Senate campaign in 2012 – a race that was notable for its total combined expense of $5 million and its ruthless mudslinging. The Republican opponent, Bob Cohen, a wealthy New York City landlord, repeatedly attacked Latimer as a tax-loving liberal and at one point sent out a mailer with Latimer's image photoshopped onto the body of infamous Revolutionary War traitor Benedict Arnold under the words, "Meet the Benedict Arnold of Westchester County Property Taxes: George Latimer." In turn, Latimer's campaign accused Cohen of being a slumlord.
Latimer has never lost an election, but he nurses the wounds and scars of every hard-fought campaign. After the 2012 state Senate race, he recounted the attacks against him in, of all places, his victory speech. "I was called Benedict Arnold in this race," Latimer told supporters. "I was called public enemy No. 1. I was called a magician. I was called a guy who eats too much – which is probably the one true part. I was called a guy who missed meetings and isn't diligent, but you know what? You can call me senator from now on!"
His most bruising campaign came in 2017 against Astorino. Astorino's side accused Latimer of being a tax-raiser who skipped out on a state Senate budget vote in order to take a trip to England. The Astorino campaign also called Latimer a "pathetic tax deadbeat" – pointing to the tens of thousands of dollars in back taxes his wife owed.
Latimer hit back, attacking Astorino's civil rights record for his resistance to certain facets of a 2009 federal housing settlement that he had inherited from the previous administration. In a debate, Latimer said Astorino had "stood in the schoolhouse door," an obvious reference to segregationist Alabama Gov. George Wallace blocking black students from entering the University of Alabama in 1963.
In a recent interview, he gave a mid-term self-appraisal. Reaching for a baseball metaphor, he compared himself to Tony Gwynn, who made the Hall of Fame for his prolific hitting ability, despite his modest power.
"A lot of singles and doubles, no home runs," Latimer said. "But we're doing very solid, good things. I like that definition."
An early hallmark of the administration was its barrage of media alerts, photo ops and pressers – an aggressive strategy that made some modest initiatives seem more like home runs than singles. Case in point was the official hype that accompanied a new policy to end the practice of putting the county executive's name on county park signs, proof, Latimer said, that he was not an egotist.
In interviews, he is invariably self-effacing while eager to give credit to others. Several times in our most recent chat, he praised the team of appointees surrounding him – namely county Attorney John Nonna, chief of staff Joan McDonald and a fiercely protective communications staff headed by Catherine Cioffi, a former CBS radio reporter.
"A lot of singles and doubles, no home runs. But we're doing very solid, good things." – George Latimer
This temperament is perhaps unusual in chief executives, especially those in elected office. "I know I can't do it by myself," Latimer said. "I'm not a 'Look at me, I'm the answer.' Donald Trump's 'I'm the Chosen One.' I'm not the Chosen One. But it's a chance now for me to have some influence when I didn't before, where I can actually have some end product."
Latimer can tick off a thousand items that remain on his to-do list, including fixing environmental and infrastructure problems at the county-owned airport and finding a solution to a decadeslong problem of preventing tractor-trailers from hitting bridge abutments on county-owned parkways. 
A much more controversial issue revolves around the future of Playland Amusement Park, a 91-year-old county facility in Rye that has been operating in the red for many years. Before he left office, Astorino arranged to have a private company take over the management of the amusement park – a 30-year deal that the Latimer administration said favored the outside firm because it allowed them to recover their initial investment before the county could share in the profits. Latimer canceled the contract. Now the matter is in court, with both sides accusing the other of breach of contract.
Latimer strenuously rebuts the charge that he is, in O'Reilly's words, "intent on erasing all things Astorino." For evidence, he points to his support of an Astorino initiative – "which I gave him full credit for" – the North 60 project, a $1.2 billion mixed-use development plan slated for an 80-acre parcel of land in Valhalla.
Latimer said he hoped one day to pull off something that neither Astorino nor any other county executive has done: persuade the state to pick up at least a share of the Medicaid payments made by counties outside New York City. "We could probably lower property taxes and at the same time improve infrastructure," Latimer said. "That's a huge game-changer." Cutting taxes, Latimer imagines, might even mute his detractors, "who will not be pleased by anything I do because I don't share their philosophy."
"I'm watching every move you make, and we will be there every single time to call out your BS and beat you at the polls. Count on a full response for every attack you generate. Full and complete response. Denise baby." – George Latimer, to a critic on Facebook
He added, "When I think about keeping a public park for public purposes, they don't agree with that philosophically. They say, 'My taxes are the biggest problem. I want to have access to my guns. I don't want abortion in this society. That's the package of things I want, and George Latimer is never going to be that.'" Latimer clearly thinks about his critics a fair bit, as they easily get under the county executive's skin – especially if they voice their opinions on radio call-in shows or post their criticisms on Facebook. Latimer calls them partisan "attack dogs" and feels obligated to call them out by name and answer them in kind. One antagonist who is adept at pushing his buttons is Denise Pagano Ward, a politically active New Rochelle attorney.
A memorable Facebook dust-up started when Ward scoffed at the sales tax increase and referred to Latimer as "Georgie." Latimer shot back: "I'm watching every move you make, and we will be there every single time to call out your BS and beat you at the polls. Count on a full response for every attack you generate. Full and complete response. Denise baby."
County Republicans seized on Latimer's outburst, firing off a press release accusing him of "threatening her like a stalker." But Latimer wouldn't apologize, defending his response on the grounds that Ward is "purposely nasty" and "an agitator from the word go." He told City & State he takes most of the abuse thrown his way but refuses to be a "pincushion" for Ward or anyone whom he feels deliberately misrepresents him.
Even if he succumbs at times to being a part of it, Latimer said the current tone and tenor of American politics is a source of irritation to him. He told City & State that he looks forward to a time when his public career is over and he can "deal with people without this overhanging 'I hate you because you're in office and you're in the other party' stuff. … It bothers me, but I can't change it."
In the meantime, he won't tip his hand about any future plans, though he acknowledges the likelihood that he will run for reelection in 2021. "I don't know what I'll do after this," he said. "There could be any number of things. I'm not going to worry about it too much."
Observers are curious about this and some – including Ward – have speculated he's got his sights on the governor's office. ("He better be able to take more heat than he's taking now," Ward said.)
Two Westchester County executives, both Republicans, have been their party's nominee for governor and then fell short in the general election: Andrew O'Rourke in 1986 and Astorino in 2014. Democrat Alfred DelBello was elevated from county executive to lieutenant governor in 1982, although he quit after two years because he said he was bored and there wasn't enough for him to do.
One gets the sense that Latimer wouldn't have that problem. If a job consisted mainly of speaking to Rotary Clubs and marching in parades, he'd throw himself into it with the same enthusiasm that has gotten him to where he is today. Where it takes him next is anyone's guess.
Powered By
NEXT STORY: This week's biggest Winners & Losers