New York State
As Quart runs for DA, can a novice steal his Assembly seat?
The 22-year-old running against Assemblyman Dan Quart has liabilities and little chance, but could still come out ahead.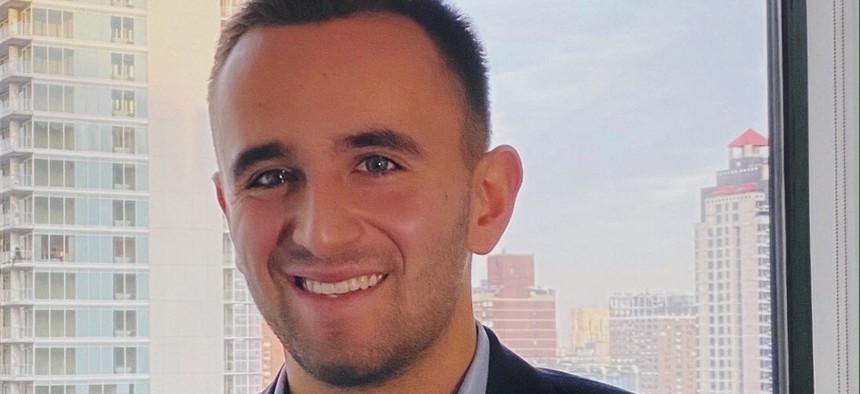 Of all the first-time candidates challenging incumbents in 2020 Democratic primaries – and there are many this year – 22-year-old Cameron Koffman might actually be the least qualified. The Upper East Side native has accumulated three months of professional work experience since graduating from Yale University earlier this year. Besides his longshot bid to unseat Assemblyman Dan Quart, who represents a district that stretches from the Empire State Building to 96th Street on the East Side of Manhattan, Koffman has no job. He lives at home with his parents. He wasn't even a member of the College Democrats. To make matters worse, he also may not even be legally eligible to run for the office. 
Koffman – a great-grandson of real estate magnate Samuel LeFrak – announced his candidacy on Nov. 12 and has quickly found a niche in the upcoming legislative primaries. As is the norm among the young and uncredentialed, Koffman casts his candidacy as representative of a new generation that can tackle the particular economic and political issues that face it. "A lot of people in Generation Z – given the lack of affordable housing and given the current economy – a lot of people are living at home out of college," Koffman said in an interview. "We have a student debt crisis, and I think that that should be addressed on a statewide level as well." 
The problem with that life-experience argument? Koffman grew up wealthy, has no student debt and doesn't pay rent. 
Despite his generic call for generational change, Koffman is quite different – opposite even – to many of the other aspiring insurgents. Most challengers are running to the left of incumbent lawmakers in the outer boroughs. Koffman is running on a centrist platform that includes opposition to congestion pricing – which will toll drivers to enter Manhattan below 60th Street in order to raise funds for the beleaguered subway system – and the expansion plans for Lenox Hill Hospital. He opposes single-payer health insurance at the state or federal levels, favoring a federal public option. 
Koffman's most effective line of attack might be a non-ideological one: Quart is running for reelection next year in the Assembly when he has already announced plans to run for Manhattan district attorney the following year. Past election results suggest that Quart, however, remains popular in the district and is a prolific fundraiser. He has never faced a primary challenge until now and has won reelection four times by landslides against his GOP opponents. 
Even if some voters are looking for a change, it remains far from certain that they would consider voting for Koffman, who describes himself as a "pragmatic progressive." Aside from his inexperience, if Koffman's candidacy picked up a head of steam he would surely face questions over his conservative political activism as a college student. While at Yale, Koffman became the president of the William F. Buckley Program, a nonpartisan group named after the famed conservative writer that has a self-proclaimed mission to promote free speech and combat "woke" culture on the Yale campus. 
Past classmates of Koffman's said that he cultivated a reputation as a left-of-center student devoted to protecting free speech even where it is unpopular. "There'll be like ten prominent conservatives on campus in any given year and he was never in that conversation," said Jacob Malinowski, a Yale senior who is active in campus politics. However, Koffman was often cited in student publications such as the Yale Daily News to provide a counterweight to the comments of students on the political left. As a voter, he was a registered independent in Connecticut. 
The state constitution requires that candidates for the state Senate and Assembly be residents of the state for the five years preceding a general election. The fact that Koffman went to college in another state for four years, even that he registered to vote in Connecticut, does not necessarily disqualify him. But the fact that Koffman voted in another state within the past five years makes it a little dicey, because that could be interpreted as a declaration of Connecticut residency. Legal experts say that determining whether a candidate is eligible to run for office depends on a wide variety of criteria, from voter registration to where someone vacations or keeps most of their clothes. "There's a substantial issue regarding his residency being in compliance under the New York state constitution," said Sarah Steiner, a prominent election law attorney in New York. Koffman acknowledged that he voted in Connecticut while at Yale, but told City & State that an election lawyer who is a friend advised him that he would meet eligibility requirements.
The fact that he only became a registered Democrat in 2019 could also present challenges in the upcoming 2020 primary. Voters might doubt his commitment to the party or its values – an especially dangerous liability in the polarized Trump era. 
For qualifications, Koffman told City & State that his curiosity and eagerness to hear from constituents will make him a capable legislator. "I think that anybody who genuinely goes and just tries to listen, whether it's listening at a community meeting, whether it's listening at a town hall, whether it's listening in Neil's Coffee Shop, I think that's what makes someone a viable candidate for the state Legislature," said Koffman, whose biggest gig in New York politics thus far was a 2015 summer internship in the office of U.S. Sen. Charles Schumer.
Koffman's announcement video lays out his message to voters, which cleverly identifies a few potential wedge issues. He blasts congestion pricing as creating an undue burden in a district that straddles the proposed boundaries of the congestion zone. The video also features footage of his appearance at a recent meeting of Community Board 8, where he makes an appeal to maintain the historical character of the Upper East Side by blasting plans by Northwell Health to build a $2.5 billion project on 77th St. that includes a 516-foot hospital tower and a 41-story apartment complex next to a current hospital. He also adopts a few conventional issues that are unlikely to give him much of an edge on Quart, such as calling for "safer streets" – a slightly curious emphasis for a state legislative hopeful from a relatively safe area in an era of record-low crime – and investment in renewable energy. 
"There is no time to waste," Koffman says in the video. In a swipe at the incumbent, he adds: "Instead we have a representative who has forgotten that we elect officials to serve their communities, not individual ambitions for higher office."
Quart was dismissive of Koffman's criticisms. "He does not know what he is talking about," Quart said regarding claims on Koffman's website that he has been an absent lawmaker in Albany whose political ambitions for district attorney should disqualify him for reelection. Quart told City & State he remains engaged with legislative work as he gets ready for the 2021 district attorney race. "The work from myself and my district office on the individual problems of constituents never stops," he said. "My opponents, whether a Republican in a general election or someone running in a primary, can say what they will, but I'm focused on improving the quality of life for people back in the district."
In recent years, Quart has been the lead sponsor on legislation that includes the legalization of gravity knives – removing a source of racially disproportionate prosecution – as well as an open meeting law that requires public authorities to broadcast their meetings on the Internet. He was also the sponsor of legislation that created a state fund to help local property owners to purchase more energy-efficient boilers for their buildings and has sponsored other legislation aims to increase air quality and provide property tax relief. 
Polling has shown congestion pricing, which Quart supports, to be unpopular in the city as a whole, but no district-level polling exists. Significant opposition remains to plans by Northwell Health to redevelop the Lenox Hill site it owns on the Upper East Side, an issue that Quart signaled he will support or oppose based on the findings of the community board he sat on for eight years before he ran for Assembly. Quart's co-sponsorship for the New York Health Act, a bill that would create a single-payer healthcare system at the state level, could theoretically make him vulnerable to a centrist opponent in a district that is wealthier and whiter than most others in New York City. However, political insiders say that Koffman faces long odds to prove that voters in the district are looking to replace Quart. "Dan Quart has positioned himself very well in the progressive movement and it will be difficult to defeat him in a primary," said Harry Giannoulis, a political consultant who is president of the Parkside Group. "Primaries are referendums on the incumbent and simply running for higher office is not a disqualifier ... So it's clearly an uphill battle."
As a scion of one of New York's most prominent real estate families, Koffman is also not in any position to attack Quart for accepting donations from the real estate industry, something Quart's opponents in the district attorney race are using to draw a contrast with Quart. (In addition to his great-grandfather, Koffman's mother and grandmother have worked at Sotheby's International Realty.) 
Nor is Koffman, even with his well-connected background, likely to compete with Quart's fundraising. "Cameron may come from family money, but Assemblyman Quart is one of the top fundraisers in the Assembly, and that's been the case for a number of years," said Jake Dilemani, a Democratic district leader in the Assembly district and a political consultant at Mercury. "I would not rate this as competitive. That said, I would always advise every incumbent to take every challenge very seriously and I know that Assemblyman Quart will do that."
His personal connection to the real estate industry might also raise other challenges for Koffman. The LeFrak family has long-running ties to the Trumps. Samuel LeFrak was friends with President Donald Trump's father, Fred Trump (the U.S. Department of Justice sued both of their eponymous companies in the 1970s for allegedly violating the Fair Housing Act) and Koffman's great-uncle Richard LeFrak is a personal friend to the president – Trump even asked LeFrak early in his term to build a border wall. Koffman said that he has spent holidays in the company of Richard LeFrak but that he has not talked politics with him. 'It's been brought up at the dinner table," Koffman said. "I've never had an individual conversation (with him)." Koffman's ties to real estate, however, are not limited to his family. His summer job this year working as a development analyst at Related Companies could also turn off Democratic primary voters. A fundraiser for the president hosted by Related Companies Chairman Stephen Ross last summer inspired a boycott of popular gym chains Equinox and SoulCycle, which Ross owns. Related is also the developer of Hudson Yards, a $25 billion real estate project on the West Side of Manhattan that was partially financed through the questionable use of an immigration program that allows foreign nationals to get visas if they invest $1 million in the United States. 
Koffman's candidacy has its origins in a Yale dormitory suite that included several young men with big political ambitions, according to his freshman roommate Haci Catalbasoglu. Catalbasoglu winning an election to the New Haven Board of Alders showed Koffman the possibility of political success early in life. However, Catalbasoglu had the luck to ultimately run unopposed in his election. 
The appearance of several dozen people at his campaign launch on Nov. 12 – including congressional hopeful Erica Vladimer – shows that Koffman is not entirely alone in having confidence in his electoral prospects, despite the odds. If Koffman is able to somehow beat Quart from the right, it would be an upset victory that is both very similar and very different from what other young candidates have done in recent years. Koffman would show that he, like 2018's upset victors such as Rep. Alexandria Ocasio-Cortez and state Sen. Julia Salazar, can use youthful enthusiasm to win despite his inexperience and with a very different platform than those left-wing freshmen.
But like more progressive challengers, Koffman has the youthfully optimistic belief that he can beat the odds if he just works hard enough. Whether Koffman wins or loses, he stands to make his name as a young man in a hurry. In that sense, he has already won simply by throwing his hat in the ring.
Correction: An earlier version of this story incorrectly said Koffman had not been an intern for a member of Congress; he was a summer intern for U.S. Sen. Charles Schumer in 2015. This story also initially misspelled Sarah Steiner's name.
Powered By
NEXT STORY: Rep. Peter King on retirement